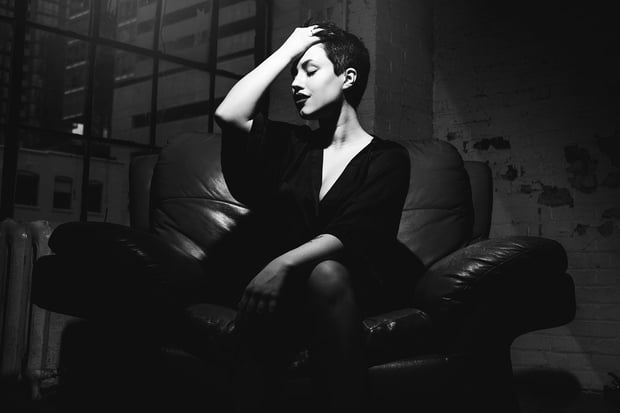 Photo courtesy of the artist
Starting her professional music career at only 16 years old, Sydney Delong, now 19, had the opportunity to take her folk-fueled sound to Canadian Music Week, one of North America's biggest music industry events that books 300 of its acts through Sonicbids. Similar to CMJ or SXSW, performers put on shows at venues all over Toronto for four days in front of over 3,000 top industry professionals, which, as we'll see below, proved to be a particularly special experience for Sydney.
She knew how grand the opportunity was, and she didn't waste a second of her experience there. CMW is a tough festival to get selected for, so we caught up with Sydney to find out what she did to stand out among the competition at such a young, inexperienced age, and the unexpected opportunities that resulted from it all.
Through Sonicbids, you were selected to perform at Canadian Music Week, which is a huge success! Tell us about the application process and how you think your EPK stood out.
For a huge festival like CMW, I know they've got their big-name headliners and then all the hot indie bands, and then they've got lots of spots to fill with up-and-coming acts who play the spots before 11:00 p.m. So I know that's my target. My EPK focuses on the fact that I'm just barely legal [in Canada], but at the same time, it shows I've done tons of other big-name festivals so the organizers know they can take a chance on me. Before I submitted my EPK, I made sure I was up to date in my bio, my shows, my videos, and my press.
[5 Ways to Make Your Sonicbids EPK Stand Out From the Crowd]
What was the biggest lesson you learned from performing at such a large, renowned festival?
I'm a young performer, so when I play these huge festivals, I know that I'm getting an early slot and I may be performing before the venue fills up. But the lesson I've learned is to not let that bother me. I was so pumped to just do the best show of my life, no matter how full or empty the venue was! I was lucky that lots of people I know came to the show, and I talked to everyone before I performed and right after I performed to thank them.
What challenges did you run into at CMW as such a young, new artist? How did you make your performance stand out?
The best thing about this year's CMW was that, based on my profile on the CMW site, an Australian music mag found me ahead of time and picked me as one of their top 15 acts not to miss at CMW. I've never had unsolicited buzz before a show like that, except within my own social media and hometown newspaper. So it was exciting, but I felt like it added to the pressure. So I rehearsed a ton, wore my best kick-ass performing outfit (which was a see-through wedding dress I found at a vintage store), and sang like hell.
Did any other opportunities open up as a direct result of your CMW performance?
A couple of really great things happened because of playing CMW. The first is that I got the best review I ever had from that show – it was like the kind of review you dream about getting when you are unsigned and trying to stand out. I have used quotes from that interview in my EPK, my website, and my promo cards because I think it would make people want to see my shows.
The second is that a journalist at the show ended up doing an interview that was published online about me that I thought was very real and allowed me to explain my music and my aspirations. After CMW, thanks to my EPK, I got picked for another festival where I performed right before Neil Young's sister, and then I got a gig via Sonicbids at Toronto's Hard Rock Café, which was another great show.
You started using Sonicbids when you were 16. With a resume that extends from NXNE to Indie Week Canada to the Folk Alliance Conference, it's no mystery that you're already rocking it. Now at 19 with all of those accomplishments to your name, what's still on your music career bucket list?
My bucket list is pretty simple – I'd love to play all those festivals again, but be seen as enough of a draw to get to perform after 11 or 12 when the venue is packed and the crowd is pumped. I'd also love to tour around Ontario, into Quebec, maybe out west, and then eventually do a show or two in New York. Of course, after doing NXNE, I've set my sights on someday doing SXSW!
If you could give one piece of advice to an independent musician looking to be selected for an event like CMW, what would it be?
I have found that a lot of young artists don't go after festivals because they don't pay. I think playing festivals is a great way to build credibility and recognition. The best advice is to realize that festivals need to fill seats over tons of venues over as long as a week, so you have to make it easy for them to pick you for a slot that may not be the same as a headliner, but it gives you a chance to network and take advance of the PR work that the festival does. That's worth more than getting paid for the show. Your EPK has to show how you're unique so you stand out, but not so different that the festival people don't know where you fit in.
Up to 300 performance slots are reserved for Sonicbids artists at Canadian Music Week 2016. Apply by December 29, 2015 for your shot to play one of the most renowned music festivals in North America!