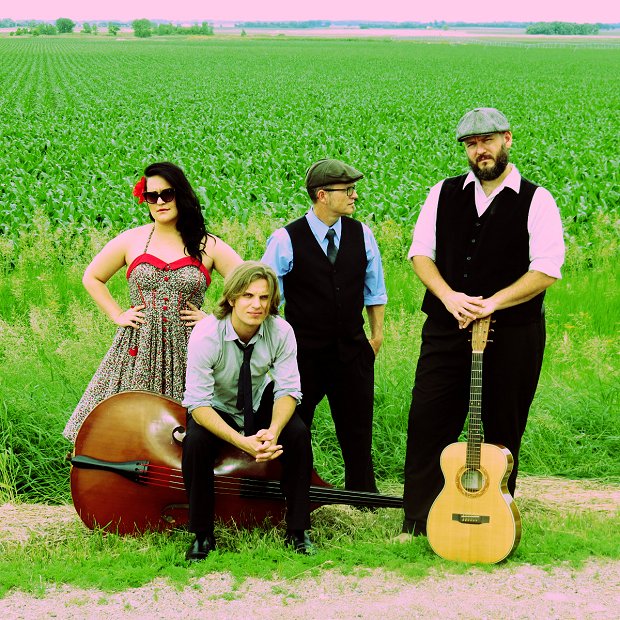 The Afterwhile (Image via sonicbids.com)
So you've registered for Sonicbids. Congratulations! It's clear you understand the value of an electronic press kit. By creating an EPK, you're making it that much easier for promoters, booking agents, and press to gather info about your band and help you land great opportunities. But how do you make your EPK stand out from the crowd? Take a look at what these five Sonicbids bands got right, and then go spruce up your EPK accordingly!
Don't have a Sonicbids EPK yet? Get started right now with a Free EPK
1. Create a standout elevator pitch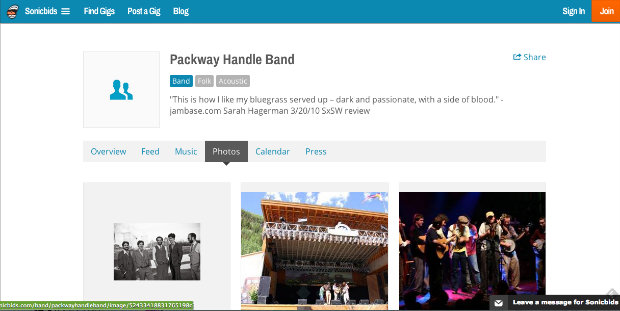 Grab the reader's interest with a catchy blurb at the top of your EPK. Packway Handle Band, an Athens, GA-based folk group, does just that with a blurb from a jambase.com review of a SXSW set. By referencing a well-known site and one of the nation's top music festivals, the band immediately establishes authority.
Need help crafting your elevator pitch? Get in-depth pro tips here and here.
2. Picture it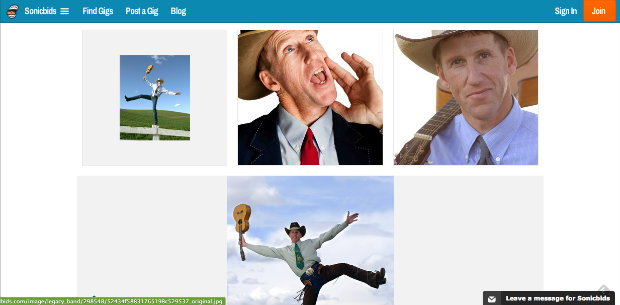 A picture's worth a thousand words – or so they say. So why not make your EPK stand out with top-notch photography? Wylie & The Wild West, a cowboy act out of Texas, does just that with playful, professional band photos. The images are high resolution, meaning that media outlets can reproduce them with great results, and in most cases, the band has included image credits to ensure the photographer receives his or her due.
Learn what your band photo says about you, how to impress music journalists with your press photos, and how to get amazing live shots at your next show.
3. Make it clear who you are and where to find you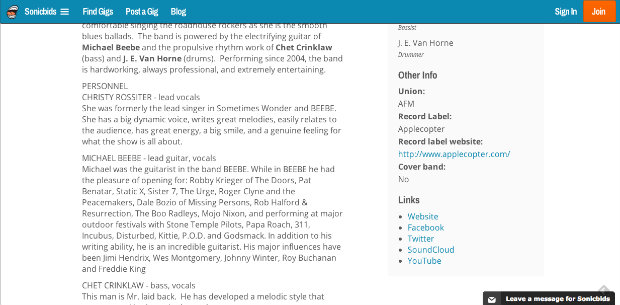 It's not just about the pictures. Omaha, NE's Christy Rossiter & 112 North Duck ensure fans, talent buyers, and press are well-informed about the band's personnel and more, thanks to a complete biography and links to social media and the band's record label. Make it easy for folks to find you wherever you are on the internet. After all, if you're looking for gigs or press coverage, you want to hear from them as often as possible!
Steal a veteran publicist's tricks for telling a compelling story, and find out what music journalists never, ever want to see in your bio.
4. Share your bragging rights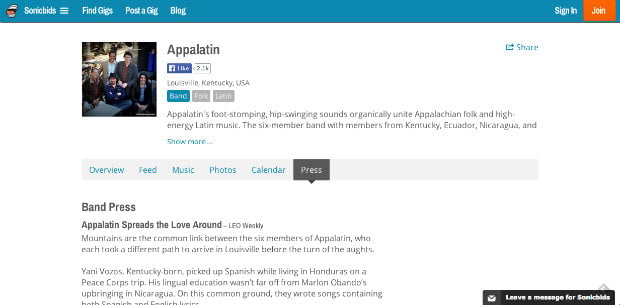 Show your press credentials! Most people are more likely to be interested in your band if others have shown interest before. Louisville, KY-based Appalatin proves that its particular brand of Latin-influenced folk music has resonated with a number of media outlets. Although it may take time to keep track of every media mention your band earns, compiling them in your EPK is a quick way to show that others are interested in what you're doing.
Learn how to create a killer press list, and then use the strategies that top PR firms use to get press for your band. If you want to fully dive in to the world of music press and publicity, check out our Ask a Music Journalist and Ask a Publicist advice columns – they address just about every question independent musicians could possibly have about PR!
5. Go beyond the music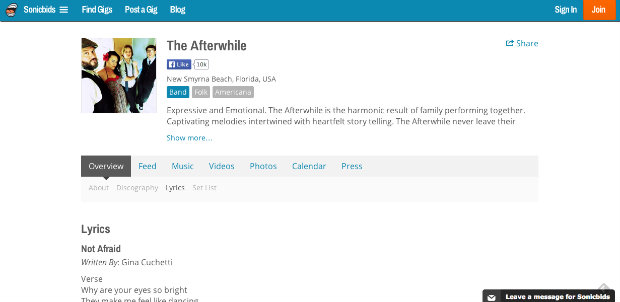 The New Smyrna Beach, FL, Americana band The Afterwhile has utilized Sonicbids to its fullest. In addition to providing information on upcoming performances, samples of their music, and links to where you can find them on social media, the sibling act goes above and beyond by providing a sample setlist and lyrics. This ensures that talent buyers, press, and even fans have all the information they want at their fingertips.
Find out how to create a compelling setlist and how to write songs that get stuck in people's heads.
What aspect of your EPK has scored you cool opportunities? Share it with us in the comments below, and you might just find yourself featured on the Sonicbids blog!
Carla Jean Whitley is the author of Muscle Shoals Sound Studio: How the Swampers Changed American Music and managing editor of Birmingham magazine in Birmingham, Alabama. She has written about music, especially Alabama bands, since 1999. Connect with her at carlajeanwhitley.com.