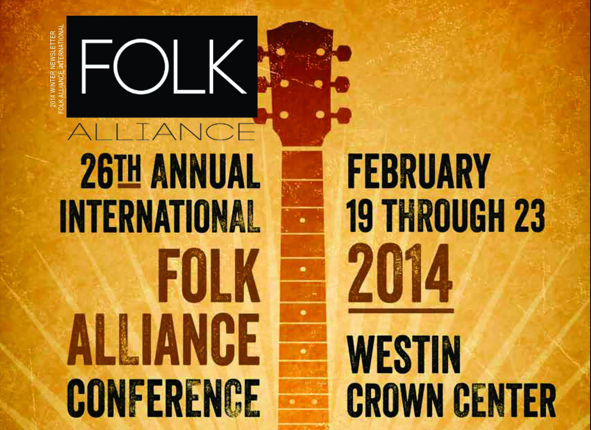 Last week, we introduced you to 12 of the Sonicbids artists playing our private "Sonicbids Presents" showcases at the 26th International Folk Alliance Conference in Kansas City, Missouri. To kick off the first day of the conference, we're bringing you fun facts and songs by 12 more fantastic folk artists who have been invited to perform at our showcases this week.
Meet these 12 Folk Alliance performers, and then click here to get to know the rest!

Artist: Ryan Culwell
Hometown: Nashville, Tennessee
Sound: Americana and folk with a Tom Petty influence.
Fun Fact: Ryan has shared the stage with veteran acts such as NEEDTOBREATHE and David Allan Coe.

Artist: Adam Burrows
Hometown: Hendersonville, Tennessee
Sound: Unpretentious folk music with percussive fingerpicking and catchy melodies.
Fun Fact: Out of over 300 musicians, Adam was a top 8 finalist in Lightning 100's Music City Mayhem contest.

Artist: 100 mile house
Hometown: Edmonton, Alberta, Canada
Sound: Beautiful harmonies, rich arrangements, and captivating lyrics.
Fun Fact: This husband-and-wife duo won the grand prize in the 2013 Calgary Folk Festival Songwriting Contest.

Artist: Hannalee
Hometown: Seattle, Washington
Sound: Blending the sounds of traditional folk music with elements of dark, neverland whimsy, Hannalee create unique music that's both strange and familiar.
Fun Fact: Hannalee was sparked by a cozy living room sing-along in 2010.

Artist: Rebecca Rego & The Trainmen
Hometown: Champaign, Illinois
Sound: Midwestern ideals, small town luxuries, and family make up the DNA of indie folk band Rebecca Rego & The Trainmen.
Fun Fact: The band just released their debut album, Tolono, which was inspired by Dave Grohl's love letter to analog. They recorded all the tracks live to tape in just three days.

Artist: Lyal Strickland
Hometown: Buffalo, Missouri
Sound: Writing about too much rain and not enough of it, economic upturns and downturns, and the intricacies of small town culture, Lyal's acoustic songs come straight from the heart with a heavy dose of reality.
Fun Fact: In addition to songwriting and performing, Lyal raises grass-fed beef.

Artist: Susan Cattaneo
Hometown: Medford, Massachusetts
Sound: New England Americana with a twang. Respectful of tradition, but not bound by it, Susan blends rock, folk, soul, and blues with a healthy dose of country.
Fun Fact: Now a songwriting professor at Berklee College of Music, Susan began her music career early, singing six-part harmonies with her family and performing country songs by the campfire.

Artist: Heather Maloney
Hometown: Florence, Massachusetts
Sound: Heather's music is rooted in adventurous folk, but she uses juicy touches of pop and a little dash of rock 'n' roll.
Fun Fact: Although she went to school for music and had done plenty of singing, Heather only began writing tunes a few years ago after living and working for three years in a silent-retreat meditation center in central Massachusetts.

Artist: Amy Andrews
Hometown: Atlanta, Georgia
Sound: The perfect marriage of Alison Krauss purity and Patty Griffin soul."
Fun Fact: In 2012, Amy traveled across the United States and Canada, playing at feminist bookstores and centers to raise money and awareness.

Artist: Shred Kelly
Hometown: Fernie, British Columbia, Canada
Sound: Traditional folk instruments mixed with a modern electric rock sound.
Fun Fact: Shred Kelly was formed by friends who met at a local jam night, and bonded over their love of music and the Great Canadian landscape.

Artist: Joel Rafael
Hometown: Escondido, California
Sound: Woody Guthrie-influenced songwriting rooted in folk tradition.
Fun Fact: Joel composed music for five sets of Woody Guthrie's lyrics given to him by Woody's daughter, Nora. Two of his co-writes appear in Every 100 Years: the Woody Guthrie Songbook.

Artist: Rachael Sage
Hometown: New York, New York
Sound: Piano-based art-folk-pop that's classically influenced and lyrically adventurous.
Fun Fact: Performing Songwriter magazine named Rachael one of the "100 Most Influential Independent Artists of the Past 15 Years."