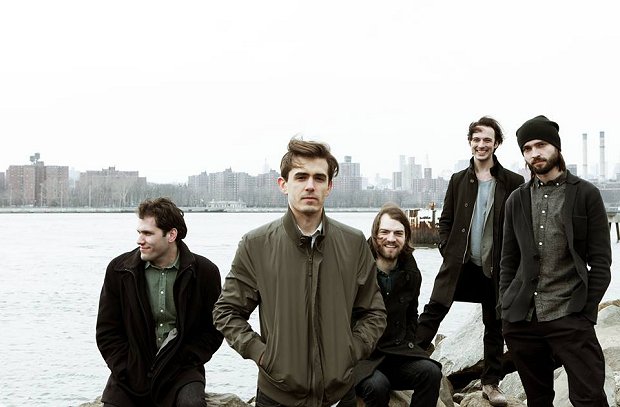 Photo by Josh Wool
Being an independent band without major label backing means taking things into your own hands. We've known DIY has been on the rise for a while with home studios and self-planned tours. The days of a big record label picking up a little-known talent and funding them with professional studio time and big, elaborate music video shoots are pretty much over.
Chamber pop band Miracles of Modern Science (MOMS) has figured out how to make their own professional videos and recordings with simple tools that most people have, like an iPhone and a laptop. They've been able to prove that you don't need the best equipment or the biggest budget to create something worth sharing. It also doesn't hurt that they have over five million hits on their YouTube channel – so you know they're doing something right!
We had a chance to talk with MOMS about their perspective on and approach to DIY video and recording production, and how they've managed to make a career out of it.
You've been incredibly successful in making your own videos and recording your own music. Is there a reason you're opting to do it yourself, as opposed to hiring outside help?
It's always been a mix of stretching our budget and wanting a certain amount of creative control. If we hired a crew for every video we shot, we'd be doing far fewer videos (both because of the budget and needing to align crew members' schedules between their other gigs). And even if our DIY videos and recordings don't always come out perfectly, we're learning skills and tricks each time around that are going to make the next things we do better.
For our new album, Mean Dreams (coming out August 14), we wanted to see what we'd come away with if we took the DIY approach to the extreme – we turned our practice space into a home studio and wrote, recorded, and mixed the whole album there. We were essentially doing all that in a little bedroom, but the experimentation and practice we've done over the past few years allowed us to come away with something that doesn't sound like a "bedroom recording" to us. And since we invested in our own recording setup instead of studio time elsewhere, we can use it for future demos, covers, or recordings.
[How to Create Your Own DIY Recording Studio]
What have you found to be the most essential tool for DIY recording/video production?
A really useful tool for us is something millions of people already have in their pockets: an iPhone. We shoot many of our videos (including some of the videos with our highest view counts) on iPhones. For our video for the new album's first single, "Follow Your Heart (Or Something)," we used an iPhone with a handy Olloclip on a selfie stick.
We haven't used the iPhone itself for making recordings that we release to the public, but as a tool for quickly capturing song ideas in the writing process, it is invaluable. We'd recommend the app Dropvox, which records voice memos and immediately uploads them to your Dropbox folder. So whenever we have an idea, instead of evaluating whether it's worth getting the recording gear out to capture it, we just pull out a phone and lay the idea down in a second, and we can easily evaluate it later on in Dropbox. We sometimes even drop those recordings directly into Pro Tools to layer and chop them up as we get further on in the writing process.
Your video cover of "Get Lucky" has reached over three million views – that's huge! What was the filming and editing process like?
Thanks so much! We shot "Get Lucky" completely on our own. We spent a couple days arranging and recording our version of the song. We then shot the video on an iPhone 4 with a fisheye Olloclip in an afternoon. We did the wide shot with the camera clipped to a shelf, then our singer/bassist Evan Younger shot the close-ups for the shots he isn't in, and I shot his close-up. Evan, who studied filmmaking in school, edited the footage in Final Cut.
[5 Easy Ways to Spice Up Your Cover Songs]
Having successfully made a viral video, can you tell us what you think makes a video go viral? Is it the video itself or the marketing behind it? What was different about your "Get Lucky" video?
If we had cracked the code of how to make a viral video, we'd have many more viral videos, but I do think it's more about the idea and less about the marketing. All of our brushes with virality have come from just putting our videos up on YouTube, Facebook, and over our email list and letting them spread organically. Some of them have ended up on music blogs, but we never start with that as the main goal.
It helps to be able to produce content efficiently and spontaneously so we can jump on the zeitgeist, whether we're doing our take on the biggest song in the world at that moment ("Get Lucky"), lovingly parodying an indie artist as he breaks out ("Bon Joviver"), or making an anthem for the new wave of swipe-based dating apps ("Swipe"). Of course, not every video lands in the way "Get Lucky" did, but we know that there's a much better chance of them being successful if we keep producing and putting things out there.
For MOMS, are cover videos part of a bigger strategy to drive new listeners to your original music?
That's a great question. We don't consider ourselves a cover band, and we wouldn't put as much time into our covers if they didn't help bring fans to our original music. Fortunately, our covers have absolutely done that. Lots of people come up to us after shows and tell us they initially found us through our covers but are now full-blown fans. I think we get more conversions by being pretty selective about what songs we cover and putting a lot of our personality into our arrangements. We're not turning off our composer brains for our covers – if someone likes the quirks of our covers, there's a good chance they'll like our originals.
The covers have also opened up totally unexpected doors for us throughout our career. After the release of our debut LP, Dog Year, we were invited onto NPR Weekend Edition for a performance and interview. We later found out that it wasn't any PR wrangling that got us on – a producer of the program had found us through our cover of Foster The People's "Pumped Up Kicks" and wanted us on the show. And there we got to introduce tons of NPR listeners to our original music rather than our covers. A few years later, the producers of the Elle Style Awards in Istanbul saw our "Get Lucky" cover and invited us to play the event, our first international gig.
[4 Creative YouTube Ideas for Bands on a Budget]
Speaking of driving listeners to your music, how do you transfer online success to offline success, i.e., getting YouTube fans to come out to your shows?
We offer all our music for free download with an email address. That way anyone even casually interested will get on our mailing list, which is better for us in the long run than getting a few bucks (or, more likely, nothing). Then in our YouTube videos, we link to the MP3 download, which has brought new fans from all over the world to our list. YouTube has also recently added "Cards" that can point people directly to ticket and merch links (or crowdfunding platforms, like our Patreon page, if you use those).
Of course, you have to keep an eye on trends and constantly adapt your strategy. Free MP3s are less attractive in the Spotify era, but new platforms and possible incentives are emerging all the time.
As your music career continues to grow, does MOMS ever plan on dropping the DIY approach and start using more typical studios and video production teams?
Our favorite kind of video shows us performing, and our recordings accurately portray our instruments without huge layers of production. I think those will remain at the heart of what we do, even if do things less scrappily. And we are gradually upgrading our video setup. We have a new Blackmagic Pocket Cinema camera that we love, and we're expanding out of the little white practice space you see in so many of our videos. And though we did the first video from Mean Dreams ourselves (literally shooting with a selfie stick), we've been collaborating with some really talented, creative people on other videos for the album.
[4 Creative, Unique Music Videos to Inspire Your Own]
In terms of recordings, it was a great learning experience doing Mean Dreams in-house, and we're proud of how it turned out. But after spending a year recording and mixing in that same little room (pausing every time a roommate takes a shower or a loud car drives by), I think we'd be excited to do our next recordings in a professional studio, challenging ourselves to be creative under the tighter deadlines that would bring.
What would be your number-one piece of advice to independent bands looking to cut out the middleman and learn how to produce their own music and media?
Be prepared to learn as you go. If you're worried that something you do won't be perfect, stop worrying – it definitely won't be perfect! But doing it is the only way you'll get better for the next one.
In our earliest years as a band, we pushed off plans for touring, videos, and recording because we feared we might not do them right. We were waiting for a mystery gatekeeper to come in and help us. Things only started happening for us after we let go of that mindset. There were lots of mistakes on our first tour and in our first recordings and videos, but with each thing we do or produce, we become a better, more capable band.