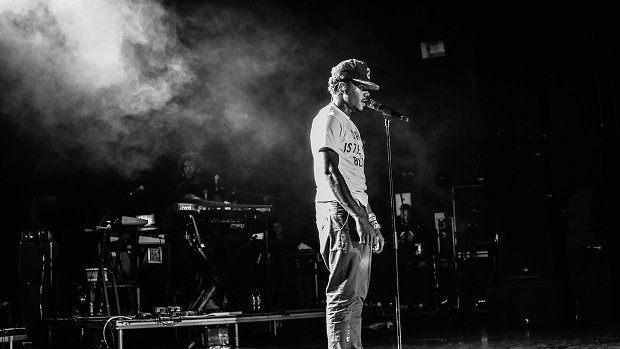 Image via chanceraps.com
In a contemporary world of digital music consumption, mass piracy, rising DIY careers, and free music, hip-hop artists are releasing both albums and mixtapes to gain fans and profit, but the line is blurring. Which is more valuable for an aspiring rapper: a mixtape or album? Fans or profit? And, maybe most importantly, at what point can an artist begin to profit?
Chance the Rapper's Acid Rap mixtape was an enormous success; it opened doors for him to reach fans around the world, play on huge stages like Coachella, and even work with Justin Bieber. Kendrick Lamar spent nearly eight years dropping mixtapes in Southern California, working tirelessly to get local fame. Several mixtapes later, he released his major label debut, good kid, m.A.A.d. city, to universal acclaim. Now he's a Grammy-winning artist with global reach.
With that being said, albums still hold a special place in hip-hop. Mixtapes are certainly not an afterthought, but albums typically go through a deep, conceptual, and vigorous creation process with huge marketing plans and intentions for profit. An artist needs to eat, and while touring, licensing, and selling merchandise are great revenue streams, selling your original music is usually the ultimate goal.
To help put into perspective the differences, we spoke with three hip-hop industry experts about their opinions on the current state of mixtapes vs. albums. Lindsey Gamble, the founder of HITPmusic.com, a leading hip-hop-centric music blog; Eric Bernsen, a music marketing and PR professional and editor for HITPmusic.com; and Latrell James, a rising emcee/producer from Boston who has produced for artists such as Dutch ReBelle and A$AP Ferg.
The evolution of the mixtape
Mixtapes were once a somewhat of a collector's item, something you got through the underground. It was about expressing yourself over instrumentals and getting your feet wet. "The mixtape evolved [and] went from being an exclusive item, which proved your connections to the streets, to a musical format, which helped launch the careers of rap's biggest stars," says Eric Bernsen. Without the internet to share free music from anywhere in the world, you really had to have a big budget to share your music, which often meant a record label funding an album. Now, mixtapes are being blasted across the web with full press and marketing plans behind them. According to Latrell James, "Mixtapes were platforms for artists to display their talents freely over anyone's instrumentals. Over time, the mixtape became technically an album. Artist are composing complete original bodies of work and releasing it for free." The evolution is a significant part of the history of hip-hop.
Lindsey Gamble sees mixtapes and albums as synonymous in today's music industry. "They went from being compilations put together by DJs to artists rapping over industry beats to full-length, original projects. Today, a mixtape is almost the same thing as an album, at least in terms of the music."
Mixtapes, however, empower independent artists who might not have the funding and support of a label. "Eventually, artists put the power in their own hands and people like 50 Cent/the Diplomats were able to dominate the market through the mixtape format," says Bernsen.
Where do mixtapes fit into today's hip-hop culture as a whole?
Mixtapes are the beginning of most rappers' careers; they form the foundation for artists to share their visions with the world. Even established artists still release mixtapes because they keep their fans in mind, and they like the artful ability to just be creative over instrumentals without the whole ordeal of a label-funded album.
"The mixtape represents hip-hop's backbone: the freedom of expression," Bernsen explains. "While commercial labels were (and still are) so focused on which artists would be getting release dates and which records would do well on the radio, unsigned artists were able to promote their brand through the medium of the mixtape. Everything was fair game in terms of beat selection and certain rappers were able to capitalize off this luxury. Mixtapes brought the idea of music distribution to a more human/relatable level, and that is why the format is still prevalent to this day."
Gamble adds, "More and more, artists are jumpstarting their careers with strong mixtapes.... Over the years, we've seen artists such as Gucci Mane, Wiz Khalifa, Migos, and most recently, Chance the Rapper take their careers to the next level with a mixtape alone and become household names. In a way, mixtapes bring a refreshing aspect to hip-hop because artists are more likely to experiment and try something new on a mixtape versus an album. Even with their evolution over time from DJ compilations to original projects, mixtapes have remained a tool for a consistent stream of free music, which pushes hip-hop culture."

With the rise of DIY, is there still a difference between mixtapes and albums?
If an artist releases an album for free, is it then a mixtape? That's a hard question to answer. It's often considered that an album has a more conceptual, thought-out plan behind the music, but if it's spontaneously released for free, doesn't it seem like a mixtape? One of the differences today is really just how the music is released and priced. Mixtapes are beginning to be taken as seriously as albums in terms of creation, but the release is different. Now, anyone with a laptop and microphone can make a mixtape, and essentially an album as well.
Let's break it down a bit further with some insight from our hip-hop experts:
"The lines have blurred when it comes to distinguishing mixtapes and albums. Albums tend to have more of a financial backing and are still deemed as a more 'credible' way of releasing music by some. But these days, many mixtapes are composed of completely original music, and when you combine that with the $0 price tag, it remains as a fan-friendly format. While artists may have less creative control on albums that are being funded by major labels, they're still able to 'feed the streets' with mixtapes and provide the more 'raw' material which garnered their success in the first place." – Eric Bernsen
"The real difference between mixtapes and albums are the purpose of each. Mixtapes are a way for artists to establish their sound, build a fanbase, solidify their reputation, and promote a forthcoming album. On the other hand, an album is a way for an artist to generate money and cater to an already established fanbase. If you take away those few things, then the line between mixtape and album is very blurry, especially for DIY artists. The perfect example is Drake's latest release, If You're Reading This It's Too Late. Although considered a mixtape by the artist himself, the collection of music was actually available on iTunes, then later in stores. It ended up selling nearly 500,000 copies in its first week and went on to become the number-one album on Billboard." – Lindsey Gamble
"There's a thin line between mixtapes and albums with today's standards. Take artists like Chance the Rapper or Fabolous, who recently released major original mixtapes. They were free projects with no label backing. The response from fans made both of those projects successful. An album is a project that is trying to convey a message or feeling within the songs that has cohesiveness. This would also be a major release through a label. DIY changed everything. Artists can compose, mix, master, and release music from one single computer. It has allowed artists to engage with their core fanbase daily." – Latrell James
Which format should aspiring hip-hop artists today focus on?
Sorry to disappoint you, but unfortunately there isn't one right answer. Even the experts have differing opinions on this one, so take their insight into consideration and go with your gut on what's going to be the best option based on where you are in your career right now.
Here's what the pros have to say:
"The most important thing for aspiring hip-hop artists is exposure, and the easiest way to gain exposure is through free music. Mixtapes provide an opportunity for an artist to prove his or herself en route to building a fanbase. Not to mention albums aren't selling like they use to. Even some of the biggest artists have trouble selling units. In almost all cases for aspiring hip-hop artists, the exposure from mixtapes is worth more than the amount of money they will make from an album." – Lindsey Gamble
"Personally, I think artists should focus more on albums. A great album is forever. Mixtapes tend to not have longevity." – Latrell James
"As an aspiring hip-hop artist today, focus less on defining your work as either album or mixtape and put your efforts into creating a quality project with a proper marketing rollout. Releasing your music for free is the way to go as a rising artist. That way you can build your fanbase and easily expose them to your music. Of course, there is no problem with providing an option for fans to support your work, but the choice of album vs. mixtape is less crucial these days. Independent artists have the ability to release free music and still be profitable, and that is a great thing." – Eric Bernsen
The music industry is very fluid, and the evolution of the mixtape is ongoing. It's important to be informed about what you're looking to accomplish before deciding between the two formats. If you're looking to gain more insight on issues like this that directly apply to hip-hop artists, we'd highly recommend checking out the A3C Hip Hop Festival in Atlanta. There's a huge educational aspect to the event, giving up-and-coming artists the opportunity to interact with some of the most influential industry leaders, labels, brands, media, and artists within the hip-hop community.
Plus, at least 50 Sonicbids artists will be booked to play the 2015 fest, so don't miss your chance to get on the bill! Apply by August 31 for free.
Sam Friedman is an electronic music producer and singer-songwriter based in Brooklyn, NY. His music blends experimental ambience with indie-driven dance music. In addition to pursuing his own music, he is a New Music Editor for Unrecorded and is passionate about music journalism. Check out his music and follow him on Twitter @nerveleak.