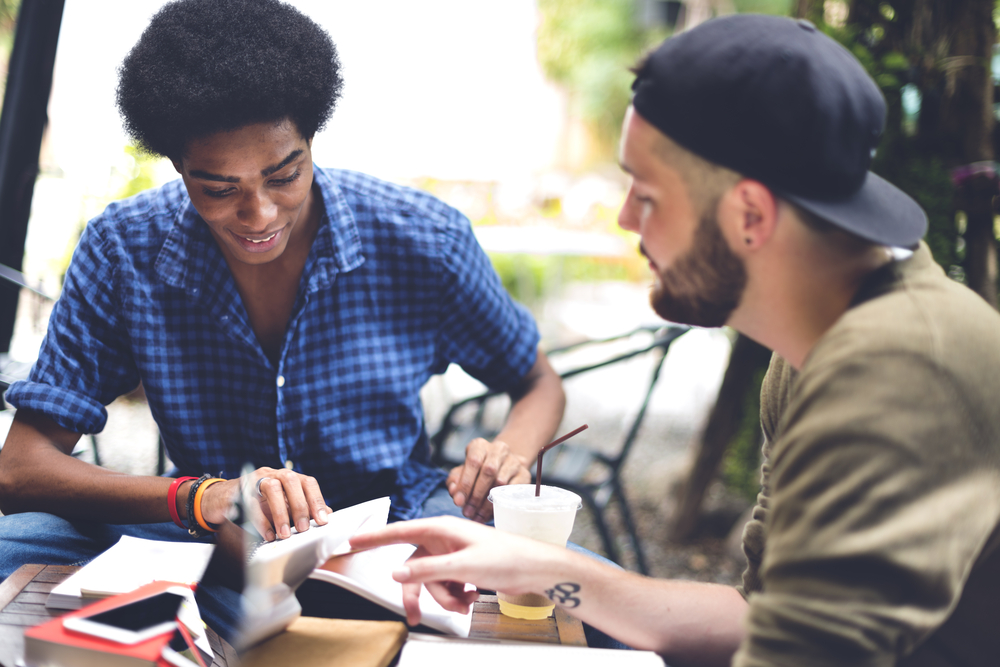 Image via Shutterstock
Young people receive mixed signals all the time when it comes to the question of whether or not they should attend college before entering the music industry. There are countless examples of people who have jumped into the business headfirst without not only a degree but also any real-world experience, and they've been able to make it work.
Whether they be musicians who get their start as teenagers and figure out how the money works or others who simply seem to have an innate gift when it comes to managing, promoting, booking, or publicizing, there are perhaps a higher percentage of successful employees in the music industry who didn't study it in college.
So, is it worth it to go to school to study the music business, or is it worth taking the risk and hoping hard work and quick learning will be enough? That choice is ultimately up to you, but if you're looking for the right fit, here are five of the best schools where you can study the music business.
1. Berklee College of Music
Location: Boston, MA

Any list of fantastic business schools that doesn't have Berklee close to the top or right at number one needs to be revamped. The Boston staple features world-renowned programs in everything from performance to tech to teaching to the business side of music, and it benefits everyone having all those different majors in the same place. The list of successful musicians and industry figures who have emerged from Berklee is too long to place here, and at this point, the college almost needs no introduction.
Berklee offers a stellar Bachelor of Music in Music Business/Management, a Master of Arts in Global Entertainment and Music Business (something not available at all music business schools), and even an accelerated MBA track for those who want to expedite the process.
2. New York University
Clive Davis Institute of Recorded Music at the Tisch School of the Arts
Location: New York City, NY
New York University actually has more than one music industry-focused degree program, but for this list, the Institute of Recorded Music makes the cut (the other, housed under the Steinhardt Business School of Culture, Education and Human Development, is also great, but no need to put NYU on here twice). Clive Davis brought this program to life, and his name carries enough weight to entice plenty of students to sign up for this prestigious course every year... as if New York University didn't do that on its own.
Being in New York City while trying to break into the music business is also a huge plus, as it offers every student better chances at landing internships, jobs, and they can meet more artists and colleagues than in smaller cities around the country.
3. Syracuse University
Bandier Program for Music and the Entertainment Industries
Location: Syracuse, NY
Syracuse may be further north and a bit more out of the way than many musically inclined young people may want to trek to for four years, but if there was any reason to do so, the Bandier Program for Music and the Entertainment Industries, named after Martin Bandier (the CEO/Chairman of Sony/ATV Music Publishing) is it.
The Bandier Program dives deep into topics like entrepreneurship and the marketing of music, and it only accepts between 25 and 30 students every year, so competition is fierce just to get in... but that will prepare everyone who applies for the tough race they're about to run in the industry itself.
4. University of California Los Angeles
Herb Alpert School of Music
Location: Los Angeles, CA
Until now, the options included on this list were mostly East Coast-focused, but that's not all there is to the music business. In fact, the industry itself is spread out across the country, but housed primarily in three cities: New York City, Nashville, and Los Angeles. Any good list of the best music business schools should include at least two of those!
Unlike many of the colleges above that are branded with the name of an industry legend, the Herb Alpert School of Music at UCLA offers more performance and research-based programs of study than ones rooted in business, but, since the school must stay true to the man it shares a moniker with, there is one small option that fits here. The Music Industry minor is offered to all UCLA students, and it's especially helpful to those who want to play or study music for a living, but who can also benefit from an understanding of how the industry functions. (It certainly helped Alpert.)
5. Full Sail University
Location: Winter Park, FL
Full Sail University isn't held in the highest esteem in the music industry by some who believe it's less-than because of where it is and how it operates (it's a for-profit school, a relatively uncommon thing in the field, as most colleges are actually not-for-profits), but it deserves to be on the radar of every young person who wants to work in the music industry.
The school offers one undergraduate item that fits on this list, the simply-titled Music Business Bachelor's degree, but the other options, which are based primarily in performance and production, don't ignore business practices entirely. There is one class that almost every student must take called Fundamentals of Music Business, and at a university that only deals in the entertainment world, there are few places better to at least take in the basics.
Next up: 5 Things I Wish I Knew Before Going to Music School
Hugh McIntyre is a freelance pop music journalist in NYC by way of Boston. He has written for Billboard, The Hollywood Reporter, and MTV, as well as various magazines and blogs around the world. He is also the founder and editor-in-chief of the blog Pop! Bang! Boom! which is dedicated to the genre of pop in all of its glory.