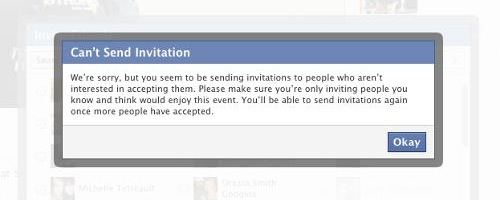 Image via adweek.com
Considering how heavily we rely on Facebook to promote shows, it's crucial we stay up to date on the platform's event policies so we can beef up the reach of our events as best we can.
The latest update on Facebook's event invite policy states that users can only invite up to 500 people each, but if "a large number of invites" aren't responded to on a regular basis, you'll be limited to even fewer for "a short period of time." People who organize a lot of shows – ahem, me – may find themselves with a cap as low as 50, a frustrating hindrance on the ability to promote an event without paying for it.
That's the issue here, really: Facebook seems to be pushing users to pay for sponsored posts. We're not debating the usefulness of that option here, but instead focusing on the scenario in which you're not going to use it and are hoping to maximize the visibility of your Facebook event for free. These four methods won't cost you anything but a little time and effort.
1. Encourage everyone involved to invite friends
Even if every member of every band on the bill is limited to 50 invites, if they each use them all, you'll still reach a decent number of people. In the DIY world, everyone should be involved in helping promote an event anyway, so your request that folks pull their weight shouldn't take anyone by surprise.
[Create a Facebook Event Invite People Want to RSVP 'Yes' To]
2. "Like" any post relating to your event
Most people are aware of the basics of how Facebook's news feed algorithm works: the more engagement there is with a post, the more likely it is to appear in users' news feeds. (There are other factors involved, but for our purposes, that one matters most.) This year, they deliberately began more thoroughly integrating events into news feeds – which means more opportunities for you to "like" your way into free promotion.
When someone marks themselves as attending the event, it may show up in your feed; "like" all of those posts you see, and encourage everyone else involved to do the same. It should go without saying that any mention of the event – its creation, updates, or someone else's share – should get the same treatment.
3. Post within the event
Sharing content within the event not only serves as a reminder to those who've hit "attending," but also points back to the news feed algorithm: increases its engagement, bettering its chances of being seen by more users.
4. Send invites in intervals
Remember that detail in Facebook's event policies about the lower invite cap being temporary? If you were stuck at 50 a week ago, you may not be now. Check the event for the possibility of additional invites regularly.
Jhoni Jackson is an Atlanta-bred music journalist currently based in San Juan, Puerto Rico, where she juggles owning a venue called Club 77, freelance writing and, of course, going to the beach as often as possible.