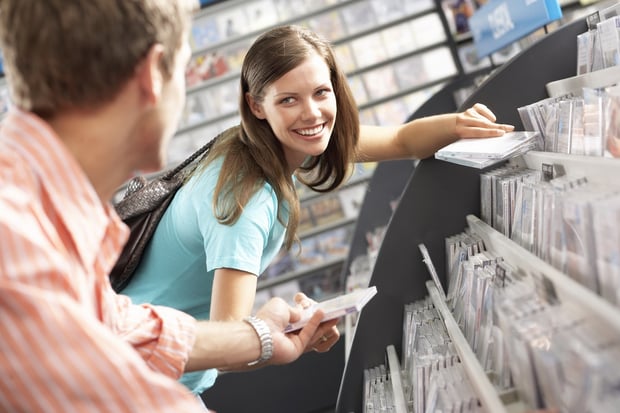 She may be smiling, but this girl's really thinking, "Thanks, but no thanks." (Image via Shutterstock)
As someone who writes about music, I get a lot of CDs. Sometimes they're mailed to me, but the majority of physical albums I receive come when I'm out at a concert, at a meeting, or at a conference. People walk up and hand them to me in the hopes that I'll listen and perhaps feature the artist in some way.
This isn't a "bad" idea in that it makes a lot of sense to give someone music if you want them to hear it, right? Sure, but I have something I need to admit to you: I never, ever listen to your CD. I really don't. I'm sorry you wasted a copy of it, but that's why I'm coming clean now.
I have a few CDs sitting in my apartment, but for the most part, I end up leaving them behind in hotel rooms, conference centers, and so on. I do this because, believe it or not, I don't actually have anywhere to conveniently play your album, even if I found the time.
The computer I use doesn't have a drive for the medium, and I certainly don't have a CD player at home anywhere. On top of that, if I'm traveling, there is absolutely no chance that I'll take up space in my suitcase with an album I've never heard by a band I don't know.
I've mentioned this problem to other music writers, and many of them agree. CDs are inconvenient, they take up space, and for those who listen to new music all day, they're kind of outdated (except for the ones that we really want). Some people like CDs, but they typically ask for them specifically, while everyone else has moved into the digital age.
Now, this isn't to say that you can't intro yourself to someone, hand them something physical, and ask them to give your art a play. Instead of lugging around albums, there are a few other options you should consider.
1. Business cards
Having business cards on you is a good idea no matter what you do for a living. If you're a musician, you should include a few other links in addition to your phone number, email, and so on.
Think about interesting ways to point people to your YouTube, SoundCloud, or Spotify pages before getting anything printed. This might be actual web page addresses written out, or you could simply put those logos on your card next to one name if they can search for the same thing on all platforms. That's a pretty clear sign, but you can also point these sites out to anyone you hand your card to.
[The Simple Guide to Musician Business Cards]
2. USB drives
I've been getting a lot more branded USB drives than I used to, and I find them much more convenient than CDs. If you were planning on spending some money to get albums made just to give them away, the cost of having USB drives made with your name and info on them shouldn't be too much for you to handle.
They're smaller, more colorful, there are a ton of options when it comes to fun sizes, shapes, and so on. They're also especially wonderful because you can add all manner of media to them, so if people do end up plugging one into their computer, they can read a press release, your bio, and look through photos as they play your tunes, effectively getting an idea of who you are as an artist in one step.
3. Get their card and send a follow-up email
If you make a connection with someone and you'd like them to hear what you're working on, feel free to ask for their business card (especially if, for some reason, you don't have one of your own). If they don't have one, either – which might be true, or they could just not want to hand one to you at the moment – it's rarely inappropriate to ask for their info on a piece of paper or in your phone.
Once you've gotten all of that sorted one way or another, feel free to email them your music, but don't send them attachments unless they've specifically requested that. Music files take up too much space, and people's inboxes are full enough as it is without you clogging things up! Links to SoundCloud, YouTube, Spotify, or Bandcamp will do just fine.
4. Play a track for them right there (if they ask)
This is a bit of a stretch, but if the situation is right, go for it! If you seem to have someone interested and they're open to it, there's no time like the present, right? Have a pair of headphones and your own music saved to your device and ready to go. If an influential person wants to listen and you don't have your own music, that's not a very good look, now is it? How can you not have your own life's work on you in this day and age?

Now, I definitely wouldn't suggest this for every single time you meet a person and you would like them to listen. If they ask, it's fine, but if not, you'll come off as extremely pushy, and nobody ends up liking that person.

Hugh McIntyre is a freelance pop music journalist in NYC by way of Boston. He has written for Billboard, The Hollywood Reporter, and MTV, as well as various magazines and blogs around the world. He is also the founder and editor-in-chief of the blog Pop! Bang! Boom! which is dedicated to the genre of pop in all of its glory.