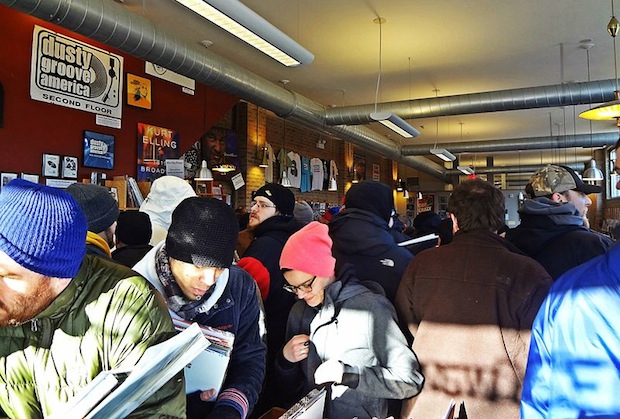 A crowd gathers in Dusty Groove on Record Store Day 2014. (Image via Wikimedia Commons)
Fans of Record Store Day will no longer have to wait months for more beloved, special-edition vinyl releases. The organizers behind RSD are now establishing Vinyl Tuesday, a more frequent dedication to continued support of the medium, as well as physical retail as a whole. Although Vinyl Tuesday will not, in fact, occur every Tuesday, according to organizers, the name signifies that Tuesday is now the dedicated day on which special vinyl releases will be rolled out, instead of any other day.
As detailed by the American Association of Independent Music in a news post on May 20, participating independent record stores will roll out five different types of Vinyl Tuesday releases. This includes special edition releases made especially for the day and new albums released on vinyl before they're available on CD or digitally, as well as old albums now reissued on vinyl.
But this isn't just important news for record aficionados who spurn Spotify and have an entire library dedicated to their collection. Up-and-coming musicians considering what avenues to take for pushing their music should strongly consider the implications here. Vinyl is the new (yet old?) black. And Vinyl Tuesday is a testament to how the record is growing, not shrinking, as a sought-after mode of experiencing music. In 2014, record sales were the highest they've been since 1996, and the trend shows no sign of slowing down. In this digital world, the tangibility and permanence of a record will serve as a way to create a meaningful and lasting connection between you and your audience.
Nevertheless, deciding to start making records is no small move, and if you're considering it at all, you should do your homework to see if pressing vinyl for your next release is right for you. Given the current atmosphere, though, it should definitely be on your radar.
Vinyl Tuesday's official start date hasn't been announced yet, and in terms of availability, A2IM has stated that "Vinyl Tuesday will be offered to the international community of retailers," so keep your eyes peeled for additional information.