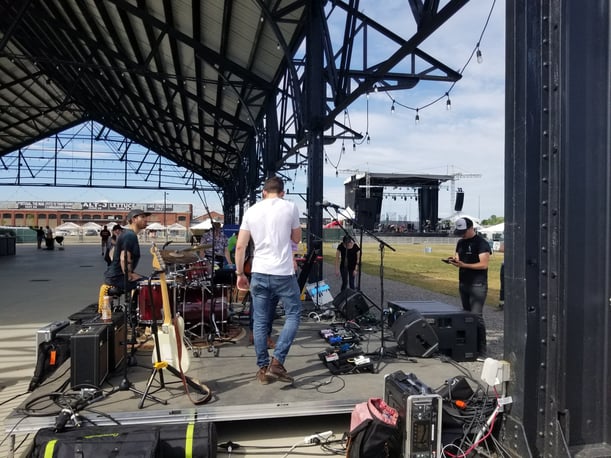 Although every artist's journey is unique, many look back on major milestones as turning points, earmarking the moments where "it all changed." Sometimes, those come in the form of sharing the bill with music's biggest superstars. And, recently, as part of our ongoing Sonicbids Presents series, two Sonicbids bands got that very opportunity as they opened for international touring act Fitz and the Tantrums, X Ambassadors, and Mikky Ekko at Thompson's Point in Maine.
Over the course of a gorgeous evening in the outdoor space, Blue Light Bandits and Epic Season treated excited concertgoers to their signature sounds. As both bands hail from New England, this chance to expand their regional reach was a rare opportunity indeed.
Blue Light Bandits' one-of-a-kind mix of soul and rock perfectly complemented the outdoorsy jam feel, treating the crowd to the kind of dazzling live show their local fans have grown to know and love. Meanwhile, New Hampshire-based "indie" pop/rock band Epic Season kept the energy high, getting the good vibes flowing.
Although their sets were awesome, through Sonicbids Presents, the bands were able to showcase their music in front of a massive local audience. As they expand their reach beyond their hometown scenes, the music-loving masses that were in attendance at Thompson's Point will surely have other opportunities to see them do their thing onstage.
These nudges to feature bands doing big things was a big part of why Sonicbids Presents began in the first place. Now in its second year, the program strives to facilitate artists getting great gigs by hooking them up with huge stepping stones to reach that next level. While any band benefits from playing out and honing their live chops, milestone moments like this one for Blue Light Bandits and Epic Season will hopefully pay off long after the roar of the Thompson's Point applause has died down.