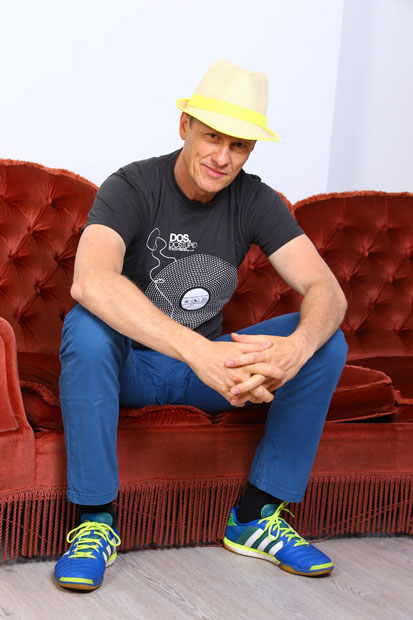 Filippo Gaetani has spent over 20 years producing, engineering, and working on developing young artists. Over the years, he has taken a totally immersive role in the music of the artists he works with, often engineering, producing, and performing as a studio musician simultaneously. In order to give young artists the opportunity to experience the kind of environment that sprouted his career, he has started a new competition project called the Recording Festival. Bands from all over the world can submit their music, with three finalists being selected to each spend 14 days in a state-of-the-art studio in Ireland where Michael Jackson, Muse, Bonnie Raitt, Snow Patrol, and many others have recorded.
Sonicbids members have the opportunity to submit for this once-in-a-lifetime opportunity by December 5, 2014. We recently got the chance to talk to Gaetani about his career path and the inspiration behind the Recording Festival.
How did you get your start in the studio?
The first time I entered a professional studio was in 1985. I was recording a song of mine, and a band asked me to arrange strings and horns for their single.
What prompted you to make your career out of mixing and production?
At home when I was 14, I started playing with a Revox (Studer) B77 1/4 reel to reel, recording my guitar and song ideas. The sound was amazing, and I was fascinated by the possibility of creating my own arrangements. Then came the 4-track and the 8-track...
In addition to your work in the studio, you've appeared as a performer with a number of big name acts such as Sting and Miles Davis. What has been your favorite experience as a performer?
I was in the Gianluca Mosole Group supporting the 1987 tour of Sting/Gil Evans, Miles Davis, and Al Di Meola. I was playing live a lot back then, also with my own band. The big audience was exciting. I guess the gig at Umbria Jazz was the most thrilling... and [playing with] Miles Davis in Milan. But I loved clubs when I played bass. My passion for recording and children took over soon, though.
Could you tell me a little about how you started the Recording Festival? Where did the inspiration come from, and how did you make it a reality?
I spent days and weeks in studios with many talented and inspiring people, both as a musician and as an engineer or producer. The chemistry and thrill of playing live in the studio and capturing the performance onto tape with a great sound is unbeatable. It's like a perfect dinner. Guests are happy, great night, nice talks and drinks. Happiness.
In today's homemade music, we have lost the art of making records the way the great albums that inspired us all were made. I like the idea of offering talented indie artists [an opportunity] to commit to get the best out of their dreams. In order to do that, you need great people who know the tools and a great recording environment.
How did you put together the team for The Recording Festival?
Once I had a clear concept in mind, I talked about the idea with my best friends. I went on brainstorming with creative people I know – a web producer, web designer/developer, graphic designer, and a couple of musicians I respect – to shape the website, and then I asked my friends in the music community if they wanted to be judges. Everyone I asked seemed to love the idea.
What advice do you have to offer an artist that really wants to win a spot?
Send a great song, a convincing picture, and a short bio that talks about who you are, what you do, your music influences, and – most of all – what your dream, project, or vision is.
Having experienced the studio as both a performer and an engineer, how has your perspective on the studio changed? What is the value of a great engineer or producer?
When I first entered a professional studio to record my music with someone else, I wasn't fully convinced of the sound I was hearing. That's when I understood that the person behind the console is more important than the tools you use, and the "right" sound is more important than the "nice" sound. If you want to make a great recording, a great album, you need a great producer and a good engineer. Sometimes those could both be one person.
You say in your bio that you've recorded in all sorts of scenarios. How does it feel to record in a big, high-quality studio? Is there anything you prefer about the smaller production spaces, even though the gear might not be as good?
A high-end studio can sometimes be intimidating at first, but it all comes down to the people and environment in the end. Unpretentious, down to earth, intelligent, and skilled people will make young or inexperienced artists feel at ease, no matter how big the console or the room is. The environment plays a major role, and details such as the furniture and the light can drive the vibe in a certain direction. Small spaces can be convenient, and are often run by passionate people who might have the same musical influences as yours, but it might well happen they aren't technically skilled enough or the gear is just too cheap or insufficient for the given task. It happened to me many times. If I had to choose between a small studio or a home studio, I'd record at home with a great producer and good gear – unless the small studio is run by someone I know well and trust.
How has the rapidly evolving technology over the course of your career affected the way you work?
I like the progression of technology as long as it gives us the tools to improve our productivity. The mind is still the mind; it is nurtured by other things. The tools are important to achieve a vision, not the other way around. So yes, Pro Tools is better than spending hours of tape editing and deleting and performing until it's right. We can do things in one hour that took a whole day 20 years ago.
Recording today can bring tons of options, but we have the choice not to be overwhelmed by options. We still have the choice to see when it's time to stop creating alternatives to our initial vision. It's hard. It takes maturity.
How do you feel about staying committed to the development of an artist, rather than jumping around from group to group?
I definitely am a person who likes to develop a musical and working relationship. Which many times (too often in my case) became a long friendship.