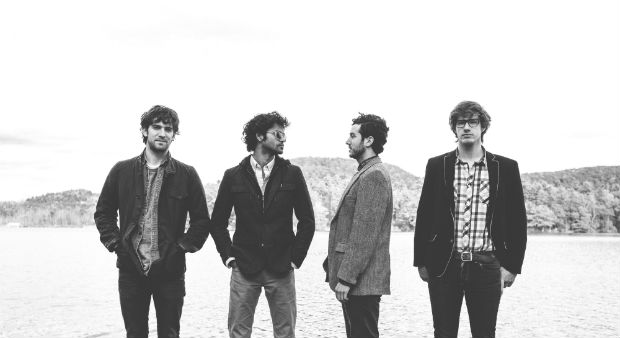 Darlingside (photo by Robb Stey)
One of our favorite bands that has risen out of the Boston music scene is Darlingside, composed of four songwriters, a chorus of voices, and more instruments than we can keep track of. With no front man, the group is a product of true collaboration and diverse talents. Auyon Mukharji traveled to Brazil, Turkey, and Ireland for a year to study the countries' traditional music and instruments, while Harris Paseltiner picked up the cello at age six and appeared twice on NPR with his classical piano trio. Dave Senft learned guitar as a street musician in Boston, while Don Mitchell toured nationally as a boy alto, and later worked as a singer-songwriter on sunset boat cruises in Maine.
Together, these close friends form a powerhouse of musical talent, and the industry and music fans alike have taken notice. They've played popular venues such as Rockwood Music Hall, The Brooklyn Bowl, and The Middle East (where I saw them live a couple of years ago and was completely blown away), and they've been selected through Sonicbids for huge festivals such as South by Southwest, Canadian Music Fest, and just this year, the 26th annual Folk Alliance Conference.
We had the opportunity to chat with cellist Harris Paseltiner about the band's experience at Folk Alliance, the challenge of finding balance in their career, and their simple words of wisdom for fellow Sonicbids artists.
How did Darlingside form?
We were good friends from school, and played in various ensembles together (barbershop, choir, folk, singer-songwriter, classical, pop, rock). We still incorporate these influences into our sound – basically we smash all of these things together and see what happens.
Darlingside is pretty hard to place in any one genre. How would you describe your sound?
We rarely write with genre in mind… typically we write a song for the sake of the song itself. But I'd say we're a vocal-centric band: very focused on the singing, the words, and the core melody. We're creating a bed using folk (mandolin, acoustic guitar), classical (violin, cello), and retro-pop/psychedelic rock instrumentation (12-string electric guitar, pedal effects, bass guitar), and then over that bed we're laying four-part vocal harmonies that pull on barbershop, choral, pop, and folk singing. Then in traditional bluegrass style, we perform live into one large diaphragm condenser microphone. I don't really know what to call it… a barberfolk string pop-tet?
What makes your band unique?
The voices. There's no "front man" for the band – we're all equal singers, players, and songwriters, which is why we clump around one microphone to sing. Songs are written for all four voices together. There are tons of different ways to combine the four voices: all four singing harmonies at once, or two singing in harmony with background pad harmonies provided by the other two, or a bunch of voices singing in unison. This is just scratching the surface of the ways the voices can double up, triple up, or quadruple. By building songs this way, there's a wide range of vocal textures and a shifting dynamic that can ebb and flow within each song.
What's your songwriting process like?
Democratic – so it's slow, often [taking] many months. We write from all directions, so say someone will bring in the "seed" of a tune, and another person might grow it, then another team might work on the lyrics, and then all four of us will play it together and warp it into something new. It's like a game of telephone – sometimes a finished song has passed through so many stages that it barely resembles the original idea.
What's the biggest obstacle you've had to overcome in your career so far?
I can't point to one specific event – rather, I'd say… finding balance. It's one thing to love playing music, and another to love playing music for a living – which we do love, but it takes conscious work and maintenance to keep all people on the same page. Since we're best friends that work together, it's critical to figure out how to make everyone feel happy and at peace day-to-day. That means things like good sleep, good food, decompression time, personal time, etc. Especially important is carving out creative time and space for songwriting, so that we're fired up about new ideas in the pipeline.
How has Sonicbids been helpful for you?
Sonicbids has supported our live gigging from the start, giving us opportunities at venues and festivals alike. We've had some great exposure and built audiences thanks to Sonicbids. Without live gigging, we'd just sit around playing for ourselves. Getting in front of people and sharing the songs is what it's all about in the end –thanks to Sonicbids for helping us get to that critical step.
What was your experience at Folk Alliance like?
It was our first time attending, and Folk Alliance was an absolute blast. For me, the highlight was squeezing down the crowded hallways of the hotel with live music spilling out of every hotel room. I just bumped around aimlessly for hours, sampling different musicians and bands, and was consistently amazed at how much meaningful music is being created out in the world every day. It was an honor to be among so many inspiring performers. There's such an incredible energy that comes from playing unplugged in a tiny box of a hotel room, with people an inch away from a cello bow-stroke and a few feet from our faces while we're singing. I enjoyed the intimacy of the event – the closeness and claustrophobia of the sounds. That's just the way I enjoy music – right up in my face, with no gap between audience and players.
What's your number one piece of advice for other Sonicbids bands?
Gigs don't come to you, you come to gigs.
What moment in your career so far are you most proud of?
This is a seemingly small thing, but I think it makes all the difference: We decided early on to split and share everything evenly, including all songwriting and production credits. By setting the tone early on that we're an equal group, we've had all members digging in and pulling hard for big goals – and at the same time, everyone cares immensely about all the fine-tuning and details. This makes working as a group a pleasure.
Anything else you'd like to add?
Thank you, Sonicbids! We love you!
Check out Darlingside's recently released Audiotree session, and visit their website to find out more about upcoming tour dates and festival appearances at Four Corners Folk Festival and Sisters Folk Festival.