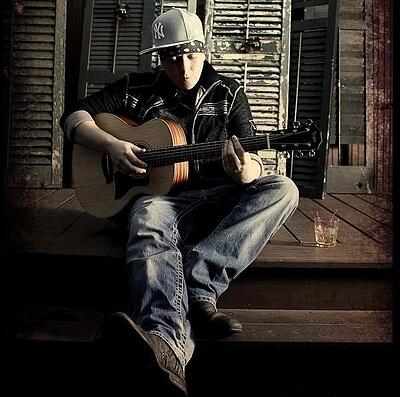 Want to play our next Office Gig and be featured on the Sonicbids blog? Apply here.
11 years ago, Kristy Lee traveled down to Pensacola, Florida, with just her guitar for a small Memorial Day weekend festival. To her surprise, her unadvertised performance drew over 800 fans, and Kristy was subsequently invited to host Unleashed Music Festival every year from then on. Lately, that number has grown to nearly 10,000 fans for what she considers to be her "biggest week of the year."
With a thunderous voice and lyrics that come straight from the heart, Kristy proves within five seconds of opening her mouth to sing that she's the real deal. The Alabama native is currently touring the U.S. with G. Love and Special Sauce, and she made a special stop at the Sonicbids headquarters on Valentine's Day to play an Office Gig (powered by Olympus Audio) a few hours before her show at Boston's House of Blues. We got to hear Kristy's signature "dirt road soul" up close and personal with fellow bandmates Reno Roberts (bass) and Katie Herron (drums). We were especially blown away by her performance of "Raise the Dead," the title track on her new album:
After her set, Kristy hung out with us for a few more minutes to fill us in on her story.
You must have started playing music from a very young age, because you have this incredibly raw talent and you perform with such authenticity. How did you get your start in music and songwriting?
I grew up around bluegrass, and I had an uncle who played a lot of music. For as long as I can possibly remember, I always knew that music was what I was supposed to do for some reason. So I tried to start writing songs when I was younger. My dad wrote a lot of poetry…. I think that if it hadn't been for him, I might not have felt like I could write a song. That's what really got me into songwriting…. All the songs that I play are mainly from all real incidents in my life. So it means a little more to me than just a song – kind of like a chapter in my book, you know?
Who are your musical influences?
I always hate that question, because it's just such a wide range of things. But when I was younger, I started off with people like Bonnie Raitt. Beverly Jo Scott was someone that I admired from my hometown. She's done some pretty wonderful things with music, and she actually got me out to one of my first gigs – I opened up for her. I like Johnny Winter, and a lot of the old school stuff, too. And I was a big Jerry Lee Lewis fan.
You're on tour right now with G. Love and Special Sauce. How's that going so far?
Great. They always take really good care of us. We've had some really awesome venues – and you know, I've been on a few decent sized tours. But getting to tour with them so much, I'm really getting to learn a lot – all of us are – because they're very open. They spend a lot of time with us. It's a really big honor to be a part of their musical family – every single one of them. Crew and everyone.... G. Love actually just recorded one of my songs, "One Night Romance," that's going to be coming out on his new record Sugar on April 22nd, so we've been doing that during the set, too.
How do you fund your tours?
Merch is the answer, especially these days. A lot of these clubs try to give some pretty shitty deals… [so] beef up your merch. I spent years just burning CDs in the car while I was on the road. It's nice to make sure that you have a portable store – that you leave things behind always.
What's one thing about being on tour that most people would be surprised to learn?
It's a lot of hurry up and wait. We have a lot of fun moments, make a lot of memories, [and] meet a lot of wonderful people, but we also have a lot of time that we're just waiting to play, or waiting to load out…. Another thing you may be surprised about is that people fart a lot backstage [laughs]. It gets real personal.
What's your favorite part about playing live shows?
My favorite part is whenever I skim across the audience and I make a connection with someone, and I know that it's really affecting them. Or when it's someone that I've never met before and they're singing the words to my songs. Those are definitely my favorite moments.
Where do you see yourself in five years?
I'm kind of working one record at a time, one year at a time. I'm hoping in these next couple years to have a record out nationally again. So I'm really excited about all this new material that's been coming to me, because it's kind of been locked up for a while. I'm really happy about it, and I feel that it's going to make a really good record.
What's your songwriting process like?
It's a disaster. That's the only way I can describe it – it is a full-on disaster. Whenever it happens, it just happens. Sometimes I'll actually have two different songs going in my head, which is weird. I'll literally have two pieces of paper in front of me with two totally different songs…. The songs come out of the blue. Sometimes I feel like they don't come from me, like 'Did I really write that? It sounds like somebody else wrote that.' The words just show up sometimes, and it's my job to put it on paper or something.
Was there a moment in your career that you feel is responsible for getting you to a higher tier of success?
My first record kind of did that for me. I wasn't playing gigs, really…. I was at a festival, and someone said, 'Hey, you gotta give your tape to [fingerstyle guitarist] Billy McLaughlin!' I gave it to him, and long story short, he was working with this company out of Minneapolis and they offered me this deal. I went to the studio for the first time and recorded all of the songs that I had – it was 10 songs I believe – and it ran for eight months, exclusively in Target, and it sold over 50,000 copies…. So that was kind of cool. It gave me an audience at a level where I was able to start gigging and traveling and stuff like that. Zac Brown Band gave me a good push – sat in with them a few times. Just being in that atmosphere definitely added some momentum to keep going…. But you know, this is the kind of business where you're just constantly going up and down, and riding along. You keep hoping to keep going up, but it sure is a lot of work to keep that momentum going – and also have it be something that you still enjoy as well.
What's your best piece of advice for any artists out there who want to make a living off of music?
Always go with your gut. Your gut is always right. And don't give yourself a ceiling. Some people give themselves a ceiling, and they sit in the same place forever. It's a big business – there are a lot of people out there that can intimidate you, so you have to be sure of yourself and what you want personally. And that can be at any level, whatever your goals are. You just have to know that you're good enough to get there. Oh, and always be genuine. Don't end up being full of shit…. It's never okay to sacrifice who you are for other people.
Visit kristyleemusic.com for Kristy Lee's upcoming tour dates, and click here for more details on this year's Unleashed Music Festival.