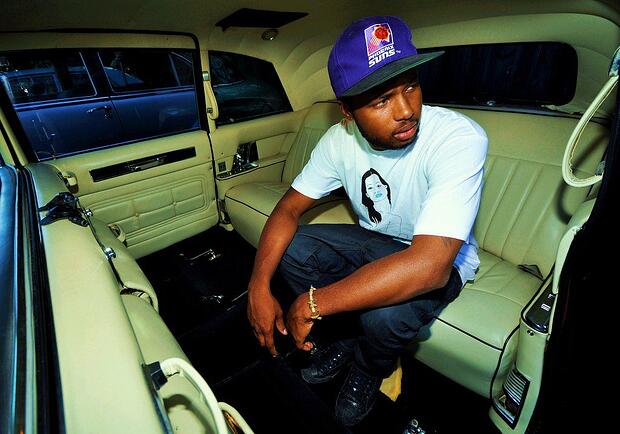 Photo by Wesley Chmielowski
Brooklyn-based experimental hip hop artist Kydd was selected through Sonicbids to perform at the 10th Brooklyn Hip-Hop Festival on July 12, 2014 alongside fellow Sonicbids artist The Audible Doctor and headliners Raekwon and Jay Electronica. It's New York's largest hip hop festival, showcasing the genre's most innovative artists while promoting social change and building community.
Born Randell Jones, he was nicknamed "Kydd" by his older brother because he was the youngest in their hip-hop group, Southern Boys. By age 15, he was picked up by a record label, joined a group called Impact and was performing regularly. In 2009, he won the Austin Hip Hop Award for Best Lyricist of the Year. He is known for his flow, lyrics, great stage presence and performance with a full live band. He has collaborated with acts such as Yelawolf and Kirko Bangz, has opened for The Cool Kids and Aloe Blacc, and has played big festivals such as SXSW multiple times.
Below, Kydd tells us more about his hip-hop career and what he's looking forward to most about playing in Brooklyn this weekend.
How and when did you start your hip hop career?
I started in Austin with my brother Tank Washington around age 9. It was just for fun at first, but then we started recording music in our room at age 13, put out our first tape at 14 and joined some other groups after that. We just always had the passion and respect for the music growing up in a home where very diverse songs were being played and heard at a young age, so music just came naturally to us.
What brought you to NYC from Austin, TX?
I wanted to continue building my music in a different environment, network, gain contacts and learn more about the music scene in general. It was really a breath of fresh air, and I felt it helped me to be more active and driven in my career. You have to keep up with the pace of the city, or you will be out of fashion in two days and no one will remember you in a week. You always have to stay relevant and stay working.
How has Sonicbids helped you along the way?
They've given me the opportunity to rock some shows that I had a lot of fun at and meet a lot of cool people.
How did you react when you found out you were selected to play at Brooklyn Hip-Hop Festival 2014?
I definitely appreciate the opportunity, and hopefully I can show Brooklyn what's up with where hip hop is headed.
What do you look forward to most about playing this festival?
Just rockin' a crowd with some New York heads and givin' em the down south flavor. I've performed in New York a few times and it's been fun, so I don't expect anything different.
What's your biggest achievement so far in your career?
As an artist, that's a hard question to answer, but definitely rocking Club Nokia and Staples Center with Chuck D and Public Enemy. Ab-soul jumping on stage with me during the Red Bull show at SXSW was crazy too.
What's an interesting fact people don't know about you?
I have terrible luck with technology. If Kanye called and needed something, the phone call probably wouldn't go through and my computer would probably crash. (I'd still make it happen, though.)
Do you have any advice for rising artists?
Just grind. It's not easy. Try your best to be original and have good timing.
Anything else about your story that you'd like to add?
My new album GR33D is coming soon!
You can stay up-to-date with Kydd on Instagram and Twitter.