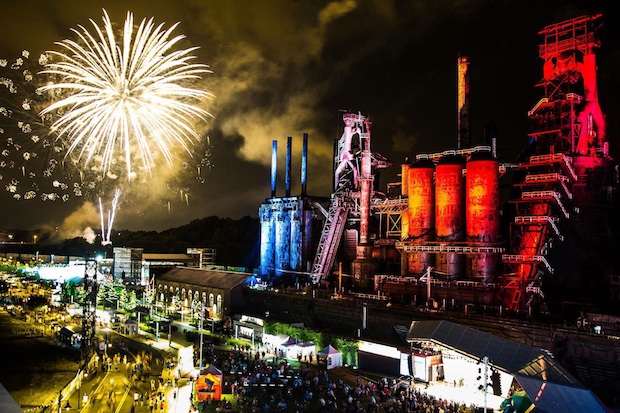 UPDATE: The Musikfest deadline has been extended to March 4, 2014. Click here to apply.
Musikfest has evolved in many ways since its birth 30 years ago in the heart of Bethlehem, PA. It's grown from six stages to 14, it's welcomed bigger and bigger artists to the main stage each year (Keith Urban, The Avett Brothers, Steely Dan, Maroon 5, Ray Charles, Earth Wind & Fire, Carrie Underwood), and it's even changed geographically as the city's landscape has developed (most recently, several festival sites have been relocated to the stunning SteelStacks arts campus).
But one thing that hasn't changed – and sets it apart from many other festivals of the same caliber – is that there's no admission fee to the majority of the festival. That means that instead of spending their money on passes, festivalgoers can instead save their cash to buy CDs and other merch when they discover their new favorite band.
Nearly 500 Sonicbids artists have been invited to perform at the 10-day festival since 2005, with over 70 selected in 2013 alone. Quiet Company, Fox Street Allstars, The Ballroom Thieves, StereoFidelics, Sofia Rei, Girls Guns & Glory, Gas House Gorillas, and Wiretree are just a few examples of Sonicbids artists that have gained new fans and huge exposure as a result of playing Musikfest.
This year's festival takes place from August 1-10, 2014, featuring Keith Urban, The Avett Brothers, The Moody Blues, and Alan Jackson as the headlining acts (plus six more that will be announced in the coming weeks).
With the submission deadline fast approaching, we got the scoop from Musikfest's Senior Vice President of Programming Patrick Brogan on how to get selected for the festival, what bands get out of the opportunity, and why Musikfest was created in the first place.
The first Musikfest was three decades ago. What was the inspiration behind creating the festival?
Musikfest was created in 1984 to give an economic shot-in-the-arm to downtown Bethlehem as the Bethlehem Steel Plant headed towards bankruptcy. A musical party with visitors from all of the region and nation was just what the city needed in a time when not just a leading industry, but the industry the town was built upon was failing, and the community was hemorrhaging jobs and revenue. The area has a strong German heritage, so we played off of that in the creation of the festival's "platzes," as well as the polka and roots performances combined with pop, blues, and jazz.
What makes the festival unique?
Nowhere else in America can you take in over 500 performances from more than 300 different artists across so many genres at no cost. From polka to blues, rock to classical, Americana to world, you can sample just about every genre of music across the festival without paying for an admission ticket. The SteelStacks campus just continues to create unique opportunities for artists playing Musikfest.
What's the vibe of the festival?
Musikfest attracts a smart, music-appreciative audience that comes for the spirit of discovery. It's also a huge party for the community – hopping from platz to platz all night long, drink in hand, enjoying some of the most dynamic and even quirky performers from across the world.
What should bands do to have the best shot at being selected to play?
Demonstrate strong abilities in some of the key factors we are looking for, including:
Being great live (we want to see videos of you being a riveting live performer within your genre and audiences engaged with your performance. That's what we're looking for you to come here and do!)
Playing other festivals and events regularly (we want to see that you go beyond the same bar room venue every Friday night, and play a diverse array of venues and events by keeping up a frequent performance schedule)
Being sellable in some way (there are 300+ other artists that will be on the lineup, so how can we both work to ensure your performance stands out against the rest?)
What do bands get out of playing Musikfest?
The exposure is pretty large – we don't toot our horn here, but we've been told Musikfest looks good on a resume of festivals a group has played. The festival gets a large amount of media exposure, which groups have the ability to capitalize on. I also think the sound crews are great to work with and – most importantly – the audiences are always turned on by a sincere and engaging live performance. The reviews seem to back it up – we have a great team of folks to work with and a great audience to perform to, so come to Bethlehem and give us a show!
How can selected bands make the most of their Musikfest experience?
I think socially promoting your show goes a long way in ensuring a great audience – we'll feature blogs, retweet bits, and share things on Facebook with groups that give us something to work with! I also think showing up plenty early, with all the paperwork filled out well in advance, ensures a smooth day.
What role has Sonicbids played in the festival?
Sonicbids has definitely helped to grow the reach of artists that Musikfest touches to submit for consideration. We've particularly found some younger, emerging artists on Sonicbids and watched them blow up in the music industry.
Describe your favorite Musikfest memory.
I always enjoy walking away from a stage as the band is hitting its peak moments with the audience, and the energy is at its highest. Several years ago, we hit a jackpot of artists through Sonicbids that all lined up on the same night and delivered amazing performances. The Dirty Guv'nahs, Diego's Umbrella, and The Altino Brothers floored crowds across the festival's stages and delivered shows still talked about today! I was so proud to be able to give that to my community.