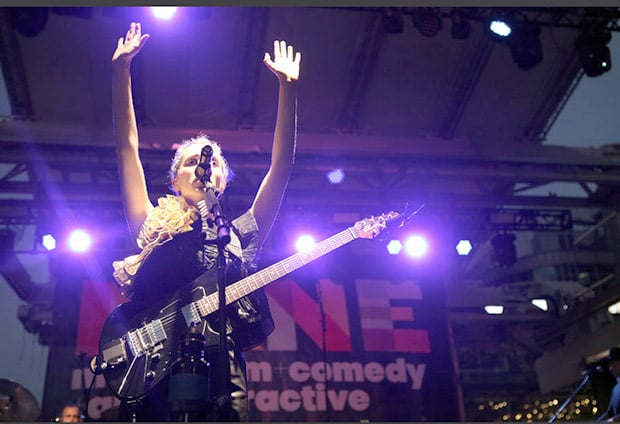 Attracting over 360,000 music fans, the renowned NXNE festival is back on the hunt for at least 250 Sonicbids artists to play across 50 stages in Toronto. Along with top-notch musical performances (past performers include Future Islands, St. Vincent, The Flaming Lips, Grimes, and Ludacris), the fest also brings the best in comedy, visual art, film, and a four-day conference featuring the freshest thinking in music, culture, and technology.
Ryan Tonkin, who got involved with NXNE in its second year and has been with the festival for 20 years and counting, serves as the music and comedy programming coordinator – aka the guy who calls all the shots on which emerging artists get to perform. Read on to find out what it it'll take to get a coveted NXNE performance slot this year.
What makes NXNE a unique experience compared to all of the other festivals out there?
We're a large event, and, to be honest, it can be hard to stand out in a crowded festival market. There's a ton of great things going on in Toronto, but I think it's the caliber of talent that makes NXNE special. We work super hard in programming to make sure we stand behind what we're showcasing. That's not just in music, but in all streams across the festival. We make the same considerations in music programming as we do in interactive, comedy, and film programming. Overall, we promote relevant culture.
How will this year's festival differ from previous years?
The festival differs every year; there's no template, really. There are definitely similarities from year to year in terms of structure, but we don't really try to recreate our achievements. We're way more interested in doing something new and special, maybe stretching a bit and trying something different, in a creative sense. It's always an evolving project. It's an experience we're trying to build.
Why did NXNE decide to partner with Sonicbids in its search for emerging artists?
We've been working with the platform for so long now that [Sonicbids] feels like part of the family! NXNE is a big festival, and we receive a large volume of submissions. Artists come from all over – it's really an international festival in that way. For us, Sonicbids really just streamlines the process. Every submission is obviously different and unique, but using the EPK as a platform just makes assessing submissions easier, since everything is from a template. I don't need to stretch to find all the info to make a programming decision – it's all in front of me in a very organized way. It actually makes finding something special easier, in a sense, when everything is in the same format and there's order to the layout. The EPK really keeps that process very clean.
How are applicants reviewed?
First off, I can assure you that we listen to all NXNE applicants. EPKs are reviewed by at least two different music programmers. Then, submissions go through a rating process, which is done by a team of industry people with knowledge and experience in several different musical landscapes. Our team is very interested in what's happening in an artist's current arc. Are they playing regularly in their local scene? Are they touring regionally or nationally? What is the story, and what's been put in place to support it? Of course, this is in tandem with, "Is there something new here?" both in terms of material and artistry. Every piece of an EPK is of interest. Press shows there is something going on, other gigs and history show us an artist is active and taking the right steps to get in front of people. It's the whole package.
What makes a band stand out in the application process?
Something that is interesting or has a new twist. Far too many bands are derivative. I know it sounds cliché, but we want to be blown away! We're way more into being surprised by someone trying something new, something that stretches the norm a bit, rather than copying a trend or style. Fads come and go and are easy to see through. We're looking for something real.
Once a band is accepted to play the festival, what should they do from there?
Information will be provided to all selected acts upon acceptance. The bands will then deal directly with the programming department and stage manager, who will make sure everything runs smoothly for their showcase. Bands should also do as much self-promotion as they can to help generate interest. A lot of artists believe the myth that just because they've been invited to play a festival, they can just show up and all the glow from the event will magically rub off on them. In reality, once you're accepted, that's when the work of promotion starts. It's tough – with hundreds of bands per night, attendees have to make choices. What makes your show the one they should attend?
What's your number one piece of advice for artists selected for NXNE?
Take the time to make the most out of being part of the event. It's all about relationships, so try to check out some other events and shows while you're in town. Oh, and try to have some fun.
Apply to play NXNE by January 31, 2015.