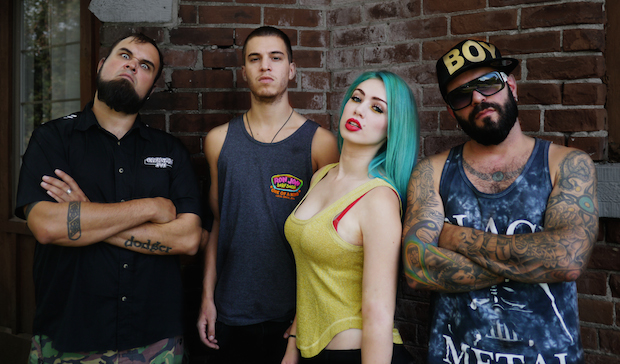 Image courtesy of Sumo Cyco
The name Skye Sweetnam rings a bell with many pop listeners. Her debut album, Noise From the Basement (2004), launched her to mainstream success with her Billboard Top 40 hit "Tangled Up in Me." Since then, Sweetnam has experimented with different music styles, started going by the name Sever, and eventually started the metal/punk rock band Sumo Cyco, with guitarist Matt "MD" Drake. Sumo Cyco has gained a loyal fanbase and made a name for themselves by performing at festivals such as Warped Tour Toronto, NXNE, SCENE Music Festival, and KOI Fest (the latter three through Sonicbids). With their debut album Lost in Cyco City awaiting international release, Sever let us in on what to expect from the record, spilled exciting info on upcoming music videos, and explained how Sonicbids has helped Sumo Cyco open new doors – even for a veteran like herself!
Your debut album, Lost in Cyco City, was released in Canada this past summer and will debut elsewhere in early 2015. For international listeners, what does this album have in store?
I would describe our sound on this album as metal riffs, urban beats, and pop melodies. I love to scream, rap, and use my voice in any way I can think of to create dynamics. The record is about finding your strength; I think that shows through the music and the lyrics. My slogan for the record is, "The greatest war you'll ever wage is the war within yourself." I've been inspired by powerful females in rock music, so I hope I can inspire girls to be strong and fearless.
Your music videos are self-produced, directed, and starred-in. Where do the ideas for your music videos come from, particularly your latest for "Cry Murder"?
We love B-movie horror flicks, and we incorporate our version of the classic horror movie stereotypes in our music videos. "Cry Murder" is a spin on Frankenstein. Also, the one scene in Indiana Jones and the Temple of Doom influenced us for the walls closing in sequence. "Cry Murder" is the third installment to our Lost in Cyco City story arch; we'll continue the "Brave" music video where "Cry Murder" left off.
You all have eclectic musical backgrounds. How does this play into Sumo Cyco's sound?
As the lead singer, I come from a pop music background, so it still seeps through when I write for Sumo Cyco. The other members have been in punk, reggae, and rock bands, but it's the first metal band for each of us. We all bring something different to the table, which makes us unique.
Why did you decide to start using Sonicbids?
We started using Sonicbids to submit to some festivals in our area. Once we were accepted by some of the opportunities, we were very empowered to submit for more.
You've performed at NXNE three years in a row through Sonicbids. What were these experiences like?

During NXNE,
Toronto
really comes alive. We played our favorite grungy rock bar, Bovine Sex Club, for two of the three years. The bar is covered with junk and Christmas lights and is known to be the late-night hangout for celebrities that come through town. I've been there while Kesha stopped by after playing a sold-out concert, for example. It always seems to be packed with eclectic people, so we had great crowds for our gigs.
Yonge-Dundas Square is taken over by a giant stage, and the top acts of the festival perform for free. Yonge-Dundas Square the Toronto equivalent of Times Square, so it really is a sight to see bands rocking out between the billboards and skyscrapers. This past year, our drummer had so much fun at NXNE that he forgot he parked his car on the street. He came to get it the next morning and it was towed! A few hundred dollars later, he learned his lesson.
What other Sonicbids gigs have helped your career progress?

Indie Week has been a very important career-altering experience for us. After taking part in 2012 and making it to the semi-finals, we quickly realized it was was more than a festival showcase – it was a competition where the winner would perform in Ireland. Needless to say, in 2013 we were focused to try and take the top spot, which we did. After winning in 2013, we attended Indie Week Ireland 2014 and used that platform to tour in Ireland and the UK for the first time.
What can fans expect from you next?

We are excited to release the fourth installment of Lost in Cyco City this Halloween with "Brave." This video takes place in an old decrepit house where I meet all different types of characters in each room. This video was a crazy one to film, so everyone should check it out. For our next show, we'll be part of Burly Calling in Burlington, ON, this December. We'll be back on the road in early 2015 when the album is released internationally. US, Canada, and overseas tours are in the works! Stay tuned!