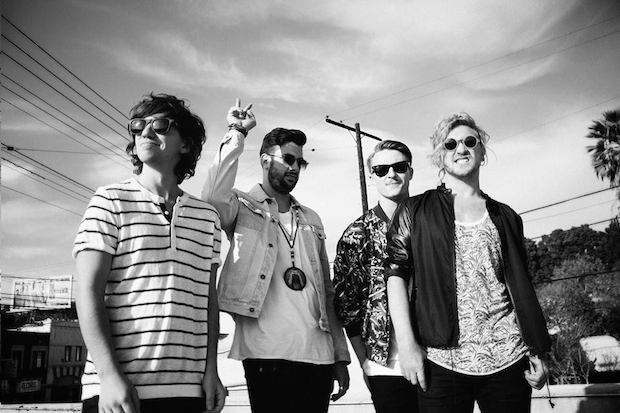 Photo via The Griswolds
With immediately memorable tunes, contagious energy and a laid-back party hearty style to boot, it's no surprise that Australian indie rock band The Griswolds is blowing up around the globe. After posting their song "Mississippi" online in 2012, music bloggers immediated devoured it and wasted no time spreading it. This created the perfect stepping stone for The Griswolds – composed of Christopher Whitehall (lead singer), Daniel Duque-Perez (guitarist), Tim John (bassist) and Chris Riley (drummer) – to launch their careers. The quartet followed up with their debut EP Heart of a Lion, which climbed the Australian charts, and they began to tour in their native country and also made debuts in Europe and America.
The band recently recorded their first full-length album and is touring the States for the next few months. Before they headed off for a show earlier this week at Great Scott in Allston, MA, we were fortunate enough to have them stop by the Sonicbids headquarters in Boston for an office gig. We caught up with guitarist Dan to get the all the details about the band, the new album and what advice they would pass onto aspiring musicians.
What inspired the band name?
It was inspired by a drunken chat in the studio when we started recording our EP. We were reminiscing over the "National Lampoon" movies and The Griswolds just stuck.
Tell us a bit about how the four of you came together.
Chris and I were writing music for other people and playing in other bands, and we were just fed up with it. After a night out talking about our frustration, we decided to quit everything else, move in together, set up a studio and write. So the week after that chat, we just did it.
For those who aren't familiar with your music, how would you describe your sound?
The album that's coming up sounds pretty synth and guitar driven. It's got a lot of hip-hop flavors and a lot of indie flavors.
What was life like on the road for the past year?
It's been outstanding. The shows have been fantastic and we've been able to travel the world playing our music.
What is your songwriting process like, and how do the arrangements come together with the full band?
It's different every time. Chris or I will come up with an idea, then we will show it to each other, work on it for a bit together, then split up and come back together again to finish it.
Tell us about the upcoming full-length album. What's it like working with producer Tony Hoffer?
The upcoming album is something that we are truly proud of. I really don't think anyone is going to see what's coming. It's taken a fairly large departure from the EP. It's darker, it's moodier, it's more contemplative. Working with Tony was the best experience of my life.
How has Sonicbids impacted your career?
Sonicbids helped us get in a lot of festivals early in our career, which put us in front of a lot of new fans. We were also lucky enough to play the SXSW Sonicbids Showcase earlier this year.
What's the #1 piece of advice you would give to up-and-coming bands/artists?
Don't give up, and write what makes you excited – don't write what you think people want to hear.
What's next for The Griswolds?
We have a new video coming out, we are on tour in the USA for the next few month, we've got Bonnaroo, Firefly festival, the album release, and a new song coming out in the next four weeks. There's a bunch going on!
Keep an eye out right here on blog.sonicbids.com in the coming weeks for The Griswolds' office gig video!