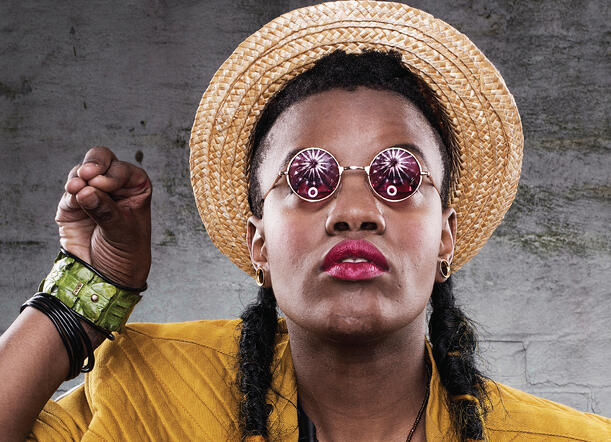 Photo by Morné van Zyl
One of the things we find the most intriguing about Sonicbids members is how diverse they are. From the tiniest, brand new bands to massively successful international artists, we love that musicians in every stage of their careers are able to find value in the platform.
One of those massively successful Sonicbids artists is South African singer and pianist Toya Delazy, who was selected to play 50/50 Music Festival in New York City last month. She's signed to Sony Music Africa, was nominated for Best International Act (Africa) at the 2013 BET Awards, and took home two 2013 South African Music Awards for Newcomer of the Year and Best Pop Album. She rose to fame with her 2011 debut single "Pump It On," and made a major impact on South African Top 40 radio.
With so many accomplishments under her belt, we were thrilled to get to know Toya better and find out what role Sonicbids plays in her career.
You started playing piano at nine years old and ended up studying jazz piano in college. Did you always feel that music was going to be your career?
I always knew I loved music, but I never thought of it as career, especially coming from a conservative background. All I knew was that music made me extremely happy and I enjoyed composing songs. I used to write songs for my friends to sing, but it wasn't until 2010 that I started singing.
It's refreshing to find an artist who is truly speaking their mind and promoting positivity. What's the one thing you want fans to take away when listening to your music?
It's all about self empowerment and not losing sight of your vision. I have gone through various phases in my life where I was not empowered and did not know where to begin to make my dreams a reality. The songs I write help me to overcome my fears, and that's what I want to share with others. They need to know that if they don't believe in themselves, no one will believe in them.
When did you develop your writing style? Do you feel it's changed over the course of your career?
My writing style developed when I switched to jazz in 2009. I was initially a classical composer from 1999. When I switched to jazz, it taught me not to stick to rules as classical writing and reading implies. Over time, that helped me develop my genre, which I call J.E.H.P-SOUL – an eclectic mix of jazz, electro, hip-hop, pop, and soul.
When did you start using Sonicbids?
I started using Sonicbids in 2013. My manager wanted to book me for Musikfest 2014 following my nomination at the BET Awards last year, and Sonicbids was the way to submit. While registering, we discovered that Sonicbids was a catalyst for many festivals, and that it would be a great platform to reach promoters and event organizers.
What advice would you give to those starting out and looking to make a career in music?
Stick to your craft. Don't listen to other people's music and think that you need to sound the same. If you don't expose your gift and keep diluting it with redundant melodic familiarity instead of letting your creative star shine, you risk sounding like everything else. This is the time to be different and share something different with the world. There are seven billion people in this world, so trust that there will be people who love what you do – especially if you love it. Keep it original and fresh, and share it everywhere.
You were recently one of the three artists selected through Sonicbids to play the 50/50 Festival. Can you tell us about that experience?
It was exciting. The event was underground, meaning there were a lot of indie artists, so it was exciting for me to see what's out there at the moment. As I'm working on my new album, it was a great space to unleash and share my new direction.
What do you feel the big turning point in your career was?
I think the turning point of my career will actually be my second album, which I'm working on now. I'm producing my own tracks and excited to share something fresh with my fans.
What are your plans for the rest of 2014? When can we expect to hear new material from you?
I will be releasing my sophomore album in a couple of months, and I'll be performing at the Apollo Theater NYC in October. After the success of my debut album in Africa, there is quite a lot of pressure on me right now. Many people want me to stick to the sound of my first album when it's time for me to take it to the level above. I'm trusting my creative gut, and can't wait to share! It's scary to stand on your own, but it will be worth it when I stand on a stage and sing from my soul, knowing that I didn't let my creativity die.... So all I can say is, get ready!


To keep up with Toya Delazy, check out her Twitter, Facebook, and YouTube.