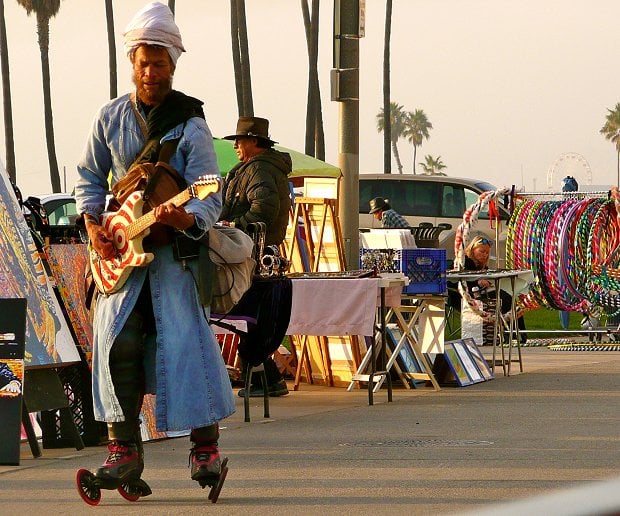 Image via lovethybike.wordpress.com
Los Angeles may not be the most walkable city, but what it lacks in traditional foot-traffic it makes up for in tourists, stars, and film and media executives. If you've ever dreamed of rubbing shoulders with some of the biggest stars in the world, then read on to find out what you need to know about being a street performer on the boulevards, piers, and beaches around LA.
Prime opportunities for busking arise wherever there is a crowd, and although you cannot perform on private property without the permission of owners, consider locations near colleges, farmers markets, shopping districts, museums, and parades. Out west, especially in the sizzling climate around LA, water is a driving source of relaxation, entertainment, and tourism. Accordingly, two of the three most well-known busking locations around Los Angeles are located near the ocean at Venice Beach and the Santa Monica Pier.
Venice Beach
Venice Beach, with its own legendary Muscle Beach, provides space for the creative expression of artists, performers, contortionists, jugglers, dancers, and, of course, musicians. The area has 205 designated spots for performers and vendors, including five double spaces for larger groups. Spots are available on a first-come, first-served basis – but be warned, the competition for all spaces is steep and people will often hover and attempt to mark spaces (which is illegal) before they officially become available at 9:00 a.m. Once in a designated performance space, you can perform until sunset. Beware of selling anything, since you could be required to show a California sales permit. Asking for donations is legal as long as you don't harass passersby in the process.
Santa Monica Promenade and Pier
Santa Monica's Third Avenue Promenade and nearby Pier is another prime tourist spot and guarantees foot traffic for your performances. Santa Monica is not Los Angeles, though – so you need get get a permit from the city of Santa Monica to perform during specified peak times. These permits come with a laundry list of rules related to where and how long your performances can last. Many of these rules are in place to force you to constantly pick up and move to a different performance spot, so pack light! Make sure to read the full Street Performer Permit Regulations, but in the meantime, here are some of the key points you should know about performing in Santa Monica:
Street performance permits cost $37 yearly and are valid from January 1 to December 31.
No permit is required weekdays before noon (as long as it's not a holiday).
No elaborate setups allowed; you must be able to break down in three minutes.
You must move to a spot at least 120 feet away from your previous spot every hour. You can't perform for more than two hours (out of six) at or within 120 feet of any spot in which you have been performing.
Stay at least 40 feet away from other performers and vendors, but stay close to buildings or walls so you don't block traffic.
As in most cities, stay off of city/park furniture. Don't block ramps, doorways, or driveways and always leave a clear path for pedestrians.
Performances are allowed only in designated areas and generally between the hours of 8:00 a.m. and 10:00 p.m. or 1:00 a.m. Monday through Friday, and 9:00 a.m. to 10:00 p.m. or 1:00 a.m. Saturday and Sunday.
Hollywood Boulevard and the City of Los Angeles
If movie stars are more your thing, then you might also consider performing on Hollywood Boulevard in Los Angeles near the Walk of Fame and Chinese Theatre. This area is often dominated by costumed performers like Batman having their pictures snapped with tourists, but performing the hit music of some of the artists commemorated on the Walk of Fame could be a fun tribute to some of your musical heroes. For example, if you love Elvis, try playing "Blue Suede Shoes" near his star at 6777 Hollywood Blvd.
No permits are required to be a street performer in LA, but there is a noise ordinance, and it affects your performances. Here are some things you should know about busking in Los Angeles (which includes Hollywood):

Keep quiet between 10:00 p.m. and 7:00 a.m. (especially if you're near any residential areas).
You cannot use an amp near residential areas at any time of the day; in non-residential areas, amps are okay from 8 a.m. to 9 p.m.
Whether you use amps or go acoustic, people shouldn't be able to hear your music from more than 200 feet away.
Stay at least 200 feet away from hospitals, churches, and schools when they're open.
As in most cities, stay off of city/park furniture. Don't block ramps, doorways, or driveways, and always leave a clear path for pedestrians.
The LA Metro
Although not as popular or ubiquitous as public transport systems in NYC or Boston, the LA Metro is another spot to consider taking your performances. The Transportation Authority operates a program called Metro Presents, which offers free concerts in LA's Union Station. These concerts are organized rather than spontaneous, but according to the Metro Code of Conduct, they will try not to get in the way of your First Amendment right to express yourself if you decide to perform in the Metro. But, there are some rules:
You can only perform in street-level areas (not on waiting platforms).
No tables, etc. unless preapproved.
No soliciting donations.
No selling CDs.
Don't get in the way of staff or passengers.
Stay 15 feet away from any doors, machines, vending machines, stairs/escalators/elevators, offices, kiosks, etc.
Posters must be 30"x30" or smaller and must be carried, not stuck to any walls, posts, or furniture.
There are no specifications about dBA levels or amps, but make sure you're not loud enough to disrupt, interfere, or be a nuisance to passengers or staff.
Fines for breaking noise regulations start at $75 and may include exclusion from the service.
Competition for space
The common theme among busking locations in and around LA is to pack light (tables, chairs, and stands are often discouraged). Also be aware that established buskers in an area can be quite possessive over their spots, so tread lightly when setting up in an unfamiliar location. Many sources describe fierce altercations between performers over prime performance spots in places like Venice Beach, where performers are encouraged to report threats and intimidating behavior. On Hollywood Boulevard, the costumed characters are known for being aggressive with tourists, blocking the views and demanding tips, making police and politicians understandably wary of busking. Los Angeles has been wrestling with the idea of adding a permit system for street performers, in part to create a better sightseeing experience for tourists. In the meantime, if law enforcement sees that you're positively engaging the crowd and providing a public benefit, you're less likely to have trouble when busking around LA.
Want to busk in other cities in the US? Check out these guides:
Jamie Davis-Ponce is a professional musician and graduate of Northeastern University's Master of Music Industry Leadership program with a concentration in entrepreneurship. She has been a music lecturer at Ithaca College, and is deeply involved in Boston-area arts and music organizations, having worked with ArtsBoston and held internships at Handel & Haydn Society and Boston Symphony Orchestra. You can view more of her writing on her blog on Music, Business, and Creativity.