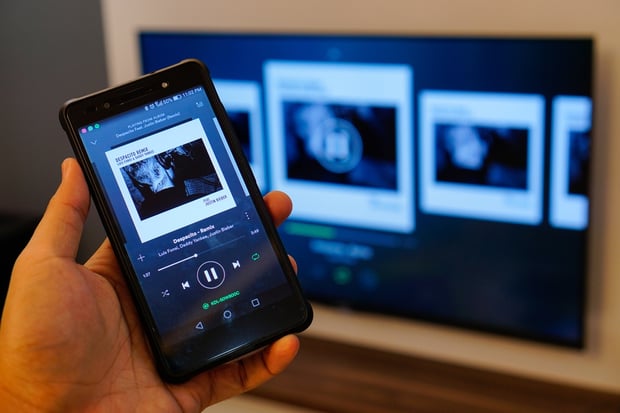 Image via Shutterstock
I approach almost everything I do with a goal in mind, and because of that, I need to have a strategy to get there.
Over the past few months, I've discussed how to create a Spotify playlist to help you promote your music and assist you in getting on official and other Spotify curated playlists. Today, we're going to take it a step further. You're now going to think about some of the goals you want to achieve and then utilize Spotify playlists to help you get there:
1. Determine your bigger goals
Do you want to play with an established band, go on tour, get signed to a label, or be featured on a blog? Write everything down you'd like to achieve, and then select the one that's most important to you.
2. Add bands to your playlist affiliated with that goal
Suppose you're looking for a booking agent. If you have someone in mind, go to their roster and add some of their bands to a playlist. There are a few things to keep in mind if you want to attract Spotify curators and, thus, boost your playlist's profile so the booking agent might have a prayer of seeing it:
Spotify aggregators will favor playlists that have at least 20 songs and no more than one song per artist
If possible, you should also try to create a theme around your playlist that you think would attract fans who would like the music
Don't forget to add one of your own singles
Learn more about how to create a perfect Spotify playlist here.
3. Promote your playlist
Now it's time to promote your playlist so the bands and company you want to be affiliated with can see what you're doing on their behalf. Email or Facebook message the company and all the bands you featured to let them know they've been added to the playlist.
Then, promote it on your social media, tagging everyone you've featured. If you're using Twitter, this will take a couple of tweets, so spread them out throughout the month so you can give it extra exposure. Send it out to your newsletter, and ask your fans to follow. If you can demonstrate that you have followers, it could help you when you do reach out.
4. Stay in touch
Once you've received responses, stay in touch and start building a relationship with the band, label, booking agency, etc. Ask how you can help them rather than focusing on how they can help you. I promise that 90 percent of the time, it comes back around when you come through on the help you offer.
The music industry is all about relationships. In fact, life in general is all about relationships. If you want people to pay attention to your band, you need to start by building that relationship with the intent to not only see what you can get, but also see what you can give.
Janelle Rogers began her 20-year music industry career working for SXSW Music and Media Conference. She then went on to work for BMG Distribution for 10 years in the alternative music department where she championed bands like Kings of Leon, Ray LaMontagne, The Strokes, Belle & Sebastian, and The White Stripes. In 2002 she launched Green Light Go Music PR as a haven of honesty, integrity, and passion for underrepresented artists and labels. She has since been named Mentor of the Year by the University of Michigan, Dearborn, appeared as a panelist at NXNE, and been an official SXSW mentor.