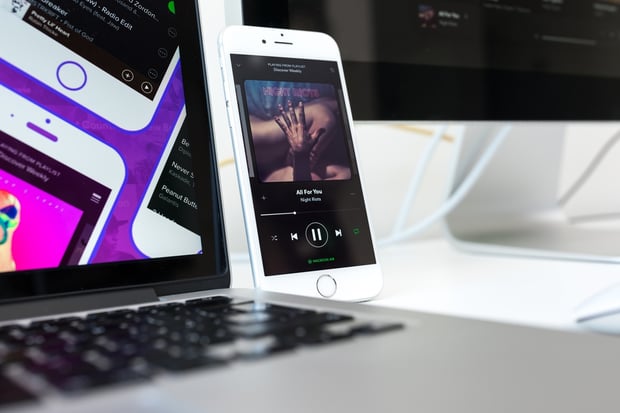 Photo by A. Aleksandravicius via Shutterstock
Getting on spotify playlists is one of the best ways for bands to promote their music. It can also be a bit of an uphill battle to simply get a Spotify curator to add you to a playlist. You need to demonstrate you have a following on Spotify and social media and that there's interest in your music and a general buzz around you to attract these influencers.
Over my past few articles, I've focused on how you can create your own playlist to interest new fans and bring on new followers to attract curators. Today, I'm going to focus on how to create a variety of themes to attract a specific group who will not only be attracted to your music, but potentially share the playlist with their friends.
First and foremost, you should understand your fans' interests and build themes based on what they're into. You can also consider timing and building playlists around specific events. Let's dig into a few of those themes and how you can maximize them.
1. Genres
The easiest theme you can build is one based around your genre. Are you indie-folk? Create a running indie-folk playlist where you add your favorite bands each week. We have two running playlists representative of the types of bands we promote at my music PR company, Green Light Go Publicity. Bands outside of our roster can ask for inclusion on our Indie Folks and Indie Rocks playlists. Do people who love discovering new bands tend to flock to you? Maybe create your own list of suggested bands to discover.
2. Holidays
Holidays are also a great way to create themes. Again, know your fans and strengths. Do you tend to write songs about relationships and love? You could make a Valentine's Day playlist with either love songs or anti-Valentine's songs. Do you tend to incorporate political messages into your music? Create playlists around national holidays like the Fourth of July or your respective national holiday. There's a day for almost everything. If your fans have specific interests, research them to see if there's a day or week dedicated to them. Maybe your fans tend to be cat lovers who also love female vocalists. An inclusion of Cat Power on a "Caturday" (otherwise known as every Saturday) playlist seems to be an obvious choice here.
3. Current events
These days, we have a lot of events happening that can make larger statements and bring awareness to good causes. Again, think about your audience and what would be important to them. Perhaps it's Black Lives Matter, women's issues, or the environment. Lighter options could be the release of a Netflix show, a big movie, or a major band's release.
4. Mood
Lastly, you can also build a theme around specific moods. And let's face it, most of us listen to music based on our mood. Think about where your songs fit among specific moods and then build the playlists accordingly.
A couple things to remember when creating playlists:
Only include one song per artist (including yourself)
Each playlist should have a minimum of 20 songs
Promote it on your social media
If you're an indie-folk or indie-rock band who would like to be considered for addition to a Green Light Go-sponsored playlist, simply fill out this form. My company, Green Light Go Publicity uses all these tools and more when attracting playlist curators to include the bands we represent through our Spotify Playlisting Service.
Janelle Rogers began her 20-year music industry career working for SXSW Music and Media Conference. She then went on to work for BMG Distribution for 10 years in the alternative music department where she championed bands like Kings of Leon, Ray LaMontagne, The Strokes, Belle & Sebastian, and The White Stripes. In 2002 she launched Green Light Go Music PR as a haven of honesty, integrity, and passion for underrepresented artists and labels. She has since been named Mentor of the Year by the University of Michigan, Dearborn, appeared as a panelist at NXNE, and been an official SXSW mentor.