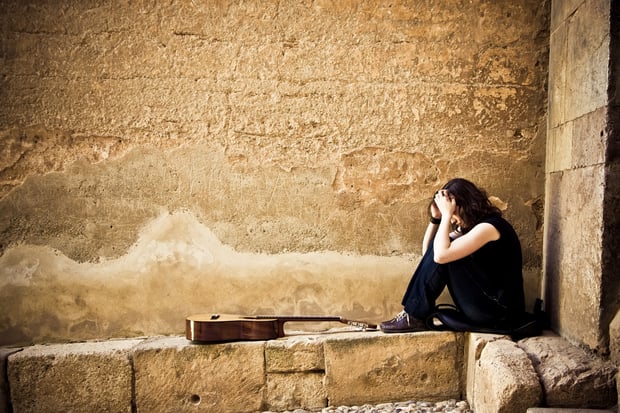 Image via Shutterstock
Do you feel like you can't keep up with everything? Are you feeling bogged down with your list of to-dos, which include checking social media 24/7, getting your music up on iTunes and Spotify, booking local shows or a tour, and coordinating each band member's schedule before confirming gigs and rehearsals? It can often feel like there's little time to do what you set out to do: make music.
If you feel like you're winging it and have a lot happening at once without any strategy to manage it all, don't despair. Below are five ideas to help you beat band overwhelm.
1. Divide and conquer
If you feel like you're the one doing it all, it's time to sit down with your bandmates and look at a strategy to divide and conquer. Create a master list of what each band member tends to be great at (and hopefully also loves doing), and then assign that role to the member. In some cases, multiple members may be great at the same thing, so look at how you can divide the work together fairly.
You can also turn it into a fun social outing instead of another mundane band meeting by getting together for happy hour and hashing out an action plan together. Collaboration is almost always more fun than working in isolation.
[Delegation for Musicians: A Guide for Getting Help and Support]
2. Brain dump
I first found out about this tool from David Allen's book, Getting It All Done, and it's one of my favorite personal tools. It's exactly how it sounds. And to say it's been life changing would be an understatement.
You simply create a list of everything that is rolling around in your head. The key is to get it out of your head and down on paper. Don't worry about whether it doesn't seem important or it feels overwhelming, just write the list.
Once you have everything out on paper, you can start to categorize, organize, and determine the next step.
3. Chunk it
This is another tool I use pretty frequently when I'm feeling overwhelmed by a massive goal, project, or task. I basically break it down into small tasks that feel manageable to me.
For instance, maybe your goal is to play two major music festivals this year. You'd first need to create a list of music festivals. You could then look at what festivals would be a fit for your band or you know you could play.
Once that's done, you could create a list of submission guidelines and due dates for each festival. And, finally, you could prioritize which festivals to contact based on due date and start contacting them. If that still feels overwhelming, break it down to even smaller steps and focus solely on the next step.
4. Create a tiny habit
You might be noticing a trend here: I baby step my life into big steps. To be perfectly honest, I will almost always procrastinate writing articles like these given the opportunity. To overcome that, I create a tiny habit that I know I will consistently commit to day in and day out.
In this case, I've committed to writing 100 words per day. Most days, I write a lot more than 100, but giving myself a tiny habit makes sure I don't let myself off the hook on those days I don't even feel like writing one word.
If you find yourself procrastinating on booking your next tour, for example, you could start a tiny habit of contacting one booking agent per day. The key is making sure you'll honor the commitment you create.
5. Enlist a professional
Do you have something on your list you have no idea how to accomplish? Or maybe you want a professional to whip you into shape and show you how to be as effective as possible. Then it may be time to hire someone to take some seemingly unaccomplishable off your plate so you can focus on the other areas where you can truly kill it.
Don't let overwhelm get you down or hold you back. As you can see there are a multitude of tools to tackle overwhelm and get your band moving in the right direction.
Take a look at some of these other articles that might help you achieve some of your goals and reduce that overwhelming feeling:
Janelle Rogers began her 20-year music industry career working for SXSW Music and Media Conference. She then went on to work for BMG Distribution for 10 years in the alternative music department where she championed bands like Kings of Leon, Ray LaMontagne, The Strokes, Belle & Sebastian, and The White Stripes. In 2002 she launched Green Light Go Music PR as a haven of honesty, integrity, and passion for underrepresented artists and labels. She has since been named Mentor of the Year by the University of Michigan, Dearborn, appeared as a panelist at NXNE, and been an official SXSW mentor.