Image via Shutterstock
We're approaching the end of the year, so now it's time to start setting your band goals for 2018! Do you want to play at least one major music festival? Complete your album? Receive a minimum of five great reviews on your single?
Identifying and setting your goals is just the first step in achieving them. In past articles I've discussed: how to create SMART goals, how to start small to create massive results, and how to get back on track when it feels like a fail.
To greatly increase your chances of success, you should also assemble an arsenal of tools to help you get there. Below are just a few tried-and-true methods I use to achieve my goals. In most cases, I use the different tools in tandem with each other to generate the highest success rates.
At Green Light Go, Trello is our best line of defense for achieving both internal company goals and client goals for our publicity campaigns. So, what is Trello? Essentially, it's a project-management system to manage all the moving parts that go along with a big goal, or in our case, a campaign. You can set due dates, attach notes, comment with other team (or band) members on what's going on, and keep track of what's stalled and what's moving forward.
Let's say you want 20 blogs to review your single in the first part of 2018. On Trello, you can create the small, manageable steps to achieve it. Above is what your Trello board might look like with that goal in mind.
In a lot of cases, there will be a lot of moving parts or the big goal is overwhelming. By breaking it down stage by stage, you're able to focus on individual steps.
Trello is also extremely flexible. Maybe you get started on a new goal and realize there's another step you need to do. You can simply add a new card or create a checklist with action steps on your existing board.
If you don't already have a Trello account, you can sign up for free. (And to get access to the board above, click here.)
2. Google calendar
One of the best ways to achieve goals is by setting deadlines. Using Google to manage your appointments and tasks is a great way to keep your goals front and center. Start by adding the date you'd like to achieve your goal and then simply add it to the calendar.
I like to set this up as a reminder and an all-day event so I receive an email to remind me. I also recommend setting smaller milestones leading up to the big goal so you're not scrambling at the last minute to meet your goal.
In the case of single reviews, maybe your milestones are to receive your first review, five reviews, 10 reviews, etc. By hitting the smaller milestones, you'll have extra motivation and momentum to reach the next ones.
3. Bullet journal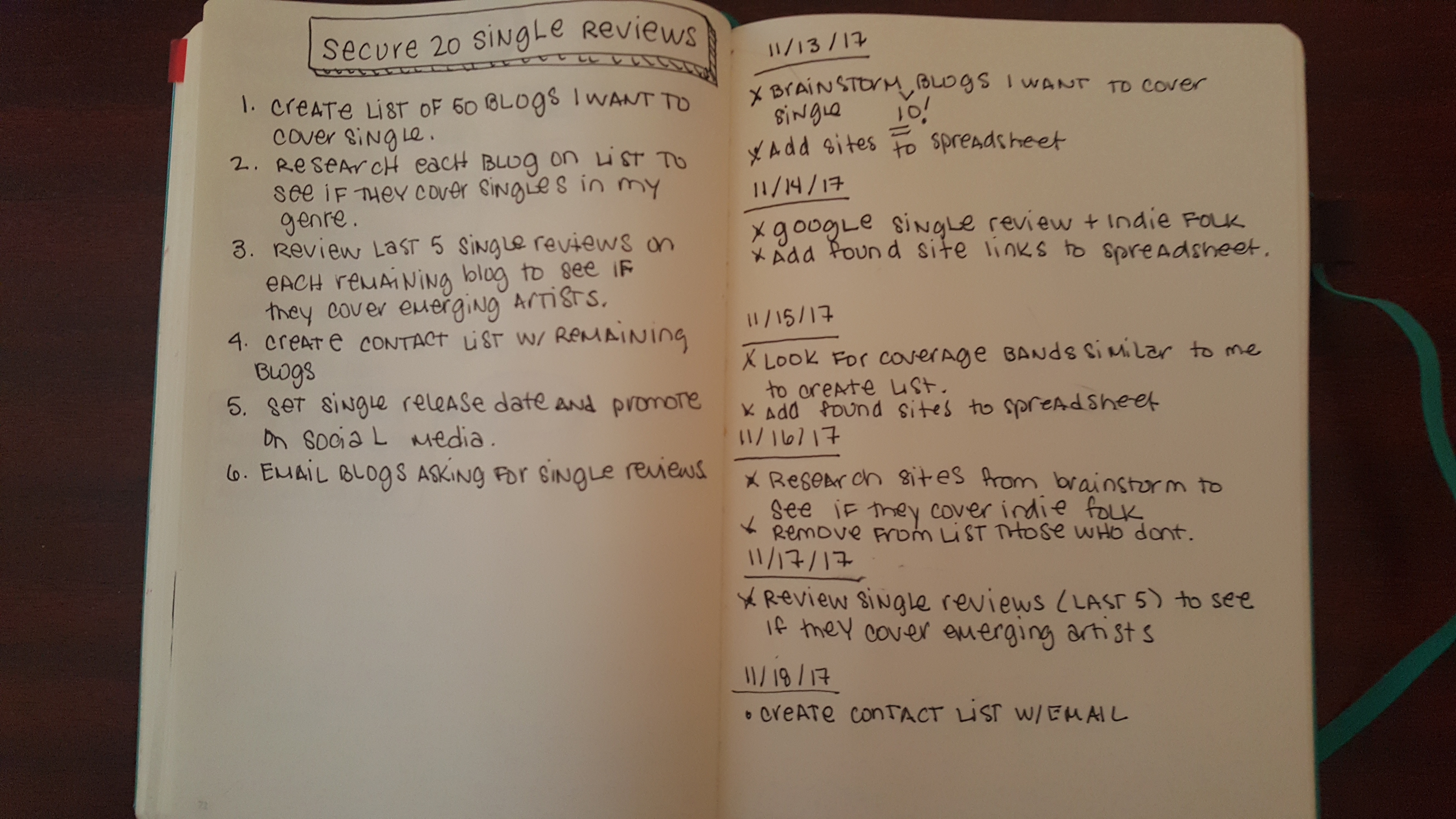 If you haven't been brought into the bullet-journal craze, watch out. The system is stunningly simple. You simply take a plain notebook, add page numbers (or buy a Leuchtturm notebook which has the page numbers), set a future plan, and create daily lists to take action on your goals.
I've been using one since 2015 and have experimented with a lot of variations to be my most productive in completing my goals. What tends to work best for me is to set a goal I want to achieve, break it down into smaller milestones, and then include a sticky note with the action items to achieve it.
If you're using a bullet journal, I recommend writing the goals at the beginning of your notebook and then creating a list of all the things you need to do to achieve it. Then each day add one small step you can take and add it to your list. You can find out how to get started at BulletJournal.com.
4. Self journal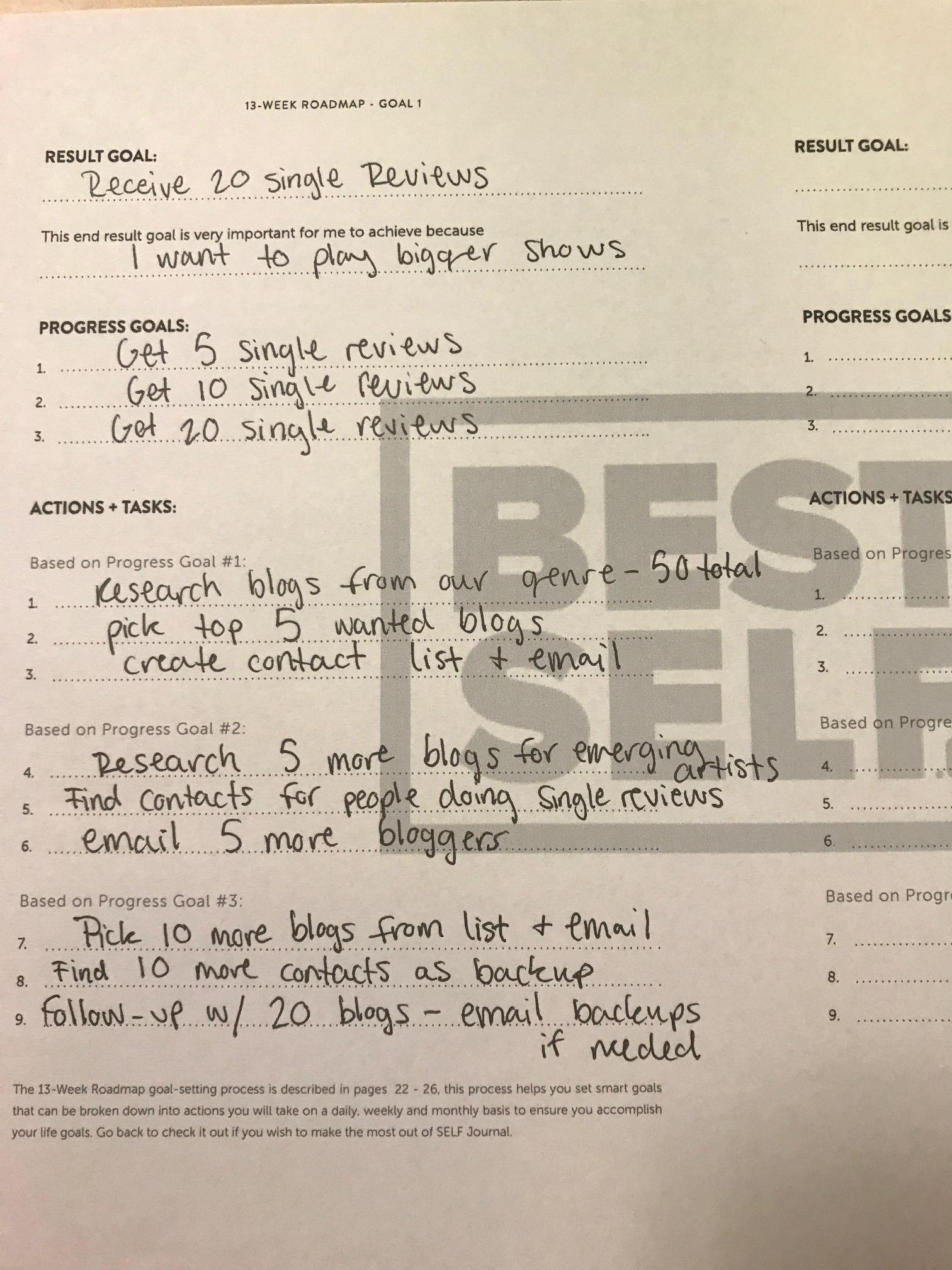 This is a great planner to focus on your goals, especially if you like prompts. There are pages to help plan your goals and reflect daily and weekly on both your successes and the lessons learned. I actually use this along with my bullet journal to help me focus my day.
While I like the flexibility of planning with the bullet journal, it can also feel overwhelming and be time intensive to create pages with all the prompts. The self journal creates forward movement and success with overall goals and milestones. You can find free planning PDFs from the self journal here.
For your best chance of success, I recommend using a variety of these tools to achieve your 2018 music goals. If you are solely digital minded, look at how you can use Google calendar and Trello together. If you're a combination of both, use Trello to plan and placehold, while you write your daily action steps in your bullet journal. A goal can't be achieved without action, and the right tools can propel the momentum forward.
What tools are you using to plan your goals for 2018? Let us know in the comments!
Janelle Rogers began her 20-year music industry career working for SXSW Music and Media Conference. She then went on to work for BMG Distribution for 10 years in the alternative music department where she championed bands like Kings of Leon, Ray LaMontagne, The Strokes, Belle & Sebastian, and The White Stripes. In 2002 she launched Green Light Go Music PR as a haven of honesty, integrity, and passion for underrepresented artists and labels. She has since been named Mentor of the Year by the University of Michigan, Dearborn, appeared as a panelist at NXNE, and been an official SXSW mentor.