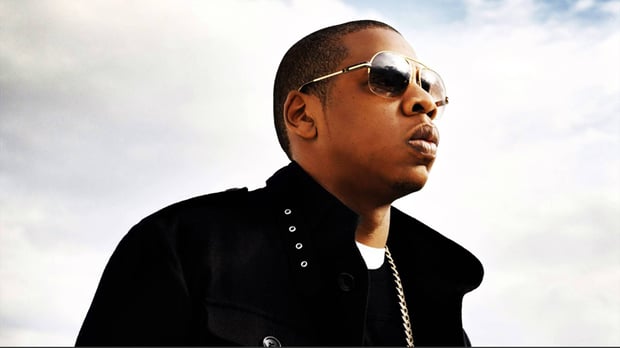 Jay-Z would probably tell you Tidal is the best model. (Screencap via youtube.com)
When you think of subscriptions, what's the first thing that comes to mind? No doubt it's something like Netflix, Spotify, or one of the many monthly subscription boxes that send you anything from razors to organic food and snacks. But musicians can actually develop subscription models for their music as well!
There's a couple of really cool benefits here:
You'll be delivering something new and valuable to your fans on a regular and ongoing basis. That means more opportunities to connect, and more connections help develop your artist-fan relationship.
You're giving your superfans an interesting way to support you beyond just the typical album, shirt, or tour ticket. These superfans crave more exclusive, direct, and frequent interaction, and they will pay for it – if you give them the option.
You create recurring revenue for yourself. As an independent musician, your income stream isn't set in stone; it will increase when you're releasing new music or doing a lot of touring, and decrease when you're just in the studio or working on new material. So reliable, recurring income can really help you maintain balance from a financial standpoint.
The basic premise behind the subscription model is to create recurring income by trading something of value for a monthly fee – be it music, TV shows, or snacks. And it's a model that can be extremely successful and profitable – even in music.
Let's take a look at a quick comparison. If you're selling something like music that takes a lot of time to create, you're instantly limiting your revenue potential by how often you can release. For example, if you put out a new album once a year or maybe once every two years, you're pretty much getting a one-time payment from your fans when they buy your CD. With a subscription model, you're breaking that album up and releasing one song per month.
Now, I know subscriptions aren't typically what you come up with when thinking about how to sell your music, so I'm going to give you a few ideas to get you started. Keep in mind that you could create a subscription service with any combination of the ideas below – get creative with it!
1. Music subscription
This type of subscription is the most straightforward, and perhaps one of the easiest to implement as an indie musician. Basically, you just trade a song or two for a regular, monthly payment.
Some musicians have used this music subscription strategy to release their original music. Every month, fans get one song sent directly to their inbox, and at the end of the year, you could compile those songs into an album and make it available to the rest of your fans.
Another option is to create a cover song subscription by releasing a new cover song to your paying subscribers every month. Often, cover songs are much less time intensive than writing and recording a whole new song every month, so it's much more attainable.
[5 Easy Ways to Spice Up Your Cover Songs]
However you choose to approach it, this model will definitely keep your fans engaged and interested. Plus, it's a great way to push yourself as a songwriter. Putting yourself in a writing situation where there's a hard deadline every month is a great way to beat writer's block.
2. Merch subscription boxes
These days, there are monthly boxes for just about everything. Loot Crate offers nerd-culture-themed boxes filled with shirts, posters, figures, and other memorabilia, while BarkBox will send your dog all kinds of toy and treat goodies.
If you're a band that spends a lot of time and effort on your merch and develops new merch on a regular basis, a monthly or even biannual merch box could be a really cool and creative subscription to offer your fans.
The only thing you need from your fans for this subscription is their preferred size, then you can send them a new piece of merch every month or however often you can justify. Keep in mind that the frequency of this box and how much you include really depends on how much merch you have available. If you're just starting out in music and only have one shirt design, this may not be the best option for you.
I think the key to a successful subscription box is to keep it a surprise! You also want to throw in a few exclusives to justify the price. Maybe create subscriber-only alternate colors of your popular merch designs, throw in some guitar picks, stickers, or a poster, or create something unique that fans can only get through your merch boxes.
[5 Out-of-the-Box Band Merch Ideas Your Fans Will Love]
3. Video subscription
There are a few cool tools and services that you can use to give your paying subscribers access to your videos early. Vessel is one option you should take a look at. Fans can sign up for $2.99 per month to receive the videos you upload to YouTube early and ad free. While $2.99 per fan per month may not seem like a lot, when you compare it to the amount of money you'd get from monetizing your videos on YouTube, it starts looking like a pretty viable number.
Another option is to do it yourself and just use YouTube's private video functionality. A private video won't show up in your YouTube subscribers' feeds or in search, but you can link people to it directly. So, as you upload a new video to YouTube, choose to keep it private instead of making it public for everyone to see. Then, grab the link and send it out to your paying subscribers via email. Give them a day or so early access, and then change your video privacy settings to public and let everyone else in!
Remember, the music industry is ripe for innovation, and thinking outside the traditional album-release model could land you on a really creative and profitable path to prosper in this new music environment. So get creative, experiment, try out models used in other industries, and make your own success in music.
If you'd like more ideas that will help you think outside the box, I hope you'll check out my most popular ebook, Hack the Music Business. You can download a free copy here.
Dave Kusek is the founder of the New Artist Model, an online music business school for independent musicians, performers, recording artists, producers, managers, and songwriters. He is also the founder of Berklee Online, co-author of The Future of Music, and a member of the team who brought midi to the market.