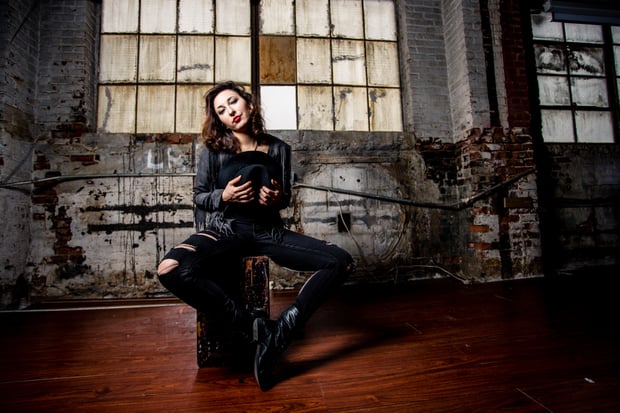 Photo by Dennis Pike (courtesy of the artist)
Most rising independent musicians dream of playing their music in front of huge audiences. We think if our music could just get heard, we would surely make it big. After all, writing good music doesn't guarantee success (as much as we wish it did). It takes marketing and promotion to find an audience. One of the best ways for a touring band to get in front of new listeners is to play festivals. Drama rock artist Sylvana Joyce landed a huge opportunity when she was accepted through Sonicbids to perform at Musikfest, the massive festival in Bethlehem, PA, that attracts over a million attendees each year. Not only does it look impressive on an EPK, but it put her in front of tons of new fans. Below, Joyce shares how she prepared for and made the most of her big-time festival set.
Through Sonicbids, you were accepted to perform at the prestigious Musikfest. How did you make your application stand out with so many bands competing for the same spot?
It's been a couple years now, but I remember we'd been getting a really good success rate with Sonicbids applications in general that year. In the written part of the application, I made sure to include other festivals we've played and that we had experience playing to larger crowds; we also mentioned other bands who had previously played the festival who we've played bills with, etc.
Also, since our band has a balanced mixture of both rock and Balkan-folk influences, our music definitely had an original sound that I imagine caught their attention. The festival definitely specializes and gravitates toward folk and blues in the bulk of [its] lineup.
[Here's What Sonicbids Promoters Actually Care About in Your EPK]
When you were notified that you were accepted, what was the first thing you did to start preparing? How did you promote your set?
Thankfully, we all had extended family living around Bethlehem, so we made sure to tell them what a big deal playing a festival like Musikfest was, and they all came out to support! We had about five months to promote, which is more than enough time to build momentum.
Once you're finally on that stage, how do you take advantage of it all? Did you treat it differently than you would a normal gig at a local venue?
I firmly believe that whether you're playing to an empty room or a stadium, you have to give your all. I feel being consistent and valuing each performance you do is important to growing as a performer, and it makes the people who are there feel that you truly care.
I think what we did do differently had nothing to do with onstage, but everything to do with backstage. We made sure to bring our own merch staff, take time to really enjoy the festival experience as attendees, and make the performance a whole day experience. It would have been a waste if we'd just got there in time to perform and left straight afterward (which sometimes happens with long-distance gigs), so we made sure to give ourselves time to take it all in and celebrate, and bond as a band.
Indie musicians are used to playing in bars, clubs, and small theaters. But once you're propelled to a major stage, the performance can really change. What were the challenges of adapting your live show for your Musikfest set?
I think with bigger crowds, especially of people who are unfamiliar with your music, it can be more challenging to get them interested (in Musikfest's case, covers of other artists' songs were prohibited, which would have been our way!). I made sure to talk to the crowd and make full use of the large, 80-foot stage, even if it meant coming down into the audience for a song and making sure they were enjoying themselves. The band spent some time deciding the flow of our sets to build the momentum, with enough space for people to take a break during a slow song and come back for more. For myself, I love being theatrical, and the kids there were very responsive to that, too.
[Secrets to a Successful Festival Performance]
Obviously, the goal of playing a big festival is to reel in new fans, but it's also about building your network. Tell us about some of the worthwhile connections you made. How have they been helpful after the fact?
To be honest, sometimes your fans can be your best industry representatives. We actually found that the crowd who attended Musikfest were some of our most passionate and devoted new fans. They've been fierce promoters, sharing our music with their family and friends. In fact, many of them have made the drive to NYC and NJ to see us perform! It's about making a personal connection with any of the people you meet, regardless of what they may offer you in a business setting. Ultimately, music is about bringing people together, and if you reflect that in your behavior on- and offstage, people will support you – sometimes in ways that are valuable, but you may not have expected.
You mentioned that you've had a lot of success getting gigs through Sonicbids. How do you use your EPK as a tool to grow your music career?
Sonicbids is a platform that shows you all the important facets of a good EPK. Sonicbids demands good-quality content: hi-res pictures, good video, an intriguing bio, a press sheet, your rider, and stage plot. These are things that especially beginning bands can take for granted as not being important, but by trying to make my profile as professional as possible, I was able to prioritize what elements of my music project needed work.
As an artist, it can be difficult to know how to navigate the business side of things, and Sonicbids kind of holds your hand and shows you what's out there. I've kept in touch with almost all of the people and contacts I've met through Sonicbids, and now, they are the foundation of my network. I'm currently working on a national radio campaign and licensing my music for TV and film, all using connections I've made through Sonicbids.
If you were giving advice to an independent band looking to get on the bill for a massive festival like Musikfest, where would you suggest they begin?
What most people don't tell you is that a great application isn't always enough. Making your own luck gives you a much better chance of being noticed. Make sure to do your own research about the festival, what people in the town are into, who the organizers are, what radio stations and media centers are affiliated with the festival, etc. Some of my more recent windfalls happened without the need of a formal application, because we had developed a relationship with the organizers beforehand.
If you do get selected, think about your performance as a way to reach more people. Instead of introducing many new elements to your show, focus on making your existing show as tight as possible. A tight band makes a good impression.