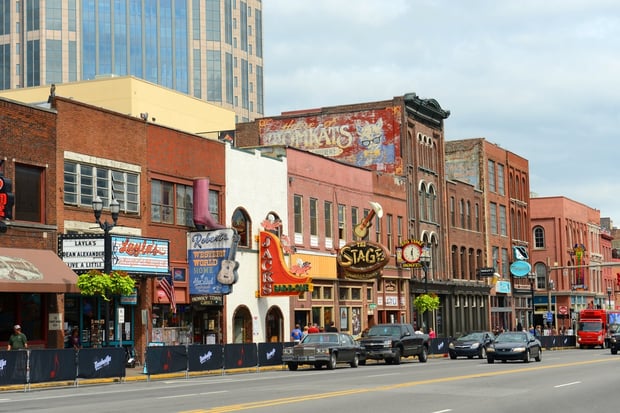 Photo by jiawangkun via Shutterstock
So you've done it. You've taken the plunge and made the trip to Nashville. Perhaps you went all in and moved, or maybe you're just scoping things out and hoping for an open door. Either way, you're in town with a guitar in your hand, and ready to show off some tunes. But where should you go? Make sure these five places are on your immediate to-play list.
Located at the Holiday Inn right on West End Ave., the Commodore is a great, low-key place to dip your toes in the water. The crowd is almost always primarily tourists or travelers, and I've found them to be pretty warm, inviting, and appreciative of live music.
You can't just walk in and get a songwriter's round on your own, though – you've got to try out at a couple of open-mic nights. The good news is that they have them almost every day of the week; all you need to do is be there by 7:00 p.m. and sign up in person.
You can't go wrong here. This place has been a hub for songwriters since it opened in the '80s. The sound is great, and it's usually well attended. I've been to a few rounds here and enjoyed every one of them. Open mic is on Tuesdays, and you need to sign up the day of.
This one might be a little out of the way, but that doesn't mean it should be overlooked! Similar to the Commodore, the cafe is located in the lobby of the hotel. There's usually a good number of out-of-towners who come to hear live music. Get the gig by dropping them a line.
Bobby's is an institution. It's an old-school dive bar, and the last one still on Music Row. But don't be intimidated – they're very, very chill there. If you wander in and nobody's playing onstage, feel free to grab a guitar off the wall and dive in.
They do have regular songwriter nights, too. To book one, it's probably best to stop by in person and talk to them. Besides, it's a chance to experience an authentic slice of Nashville.
You saw this one coming, didn't you? Even before the hit TV show Nashville, this place was legendary. Even if you're not playing, it's well worth taking in a show there – it's always packed and always showcases quality writers. Often, a line stretches down the block hours before the show starts.
It's a hard place to get a show, especially as a newcomer, and not just because their standards are high. Space at their Monday open mics is strictly limited to the first 25 songwriters to call, and it fills up fast. Odds are, you might get a busy signal or get through only to find the last spot is gone. Don't worry, though – you can always try again next time. You'll eventually get a spot. You wouldn't want to miss out on a Nashville rite of passage, would you?
[8 Things You Didn't Know About Playing the Bluebird Cafe in Nashville]
Daniel Reifsnyder is a Nashville-based, Grammy-nominated songwriter, having started his musical journey at the age of three. In addition to being an accomplished commercial actor, his voice can be heard on The Magic School Bus theme song and in Home Alone 2. Throughout his career, he has had the honor of working with the likes of Michael Jackson and Little Richard among many others. He is a regular contributor to several music-related blogs, including his own.