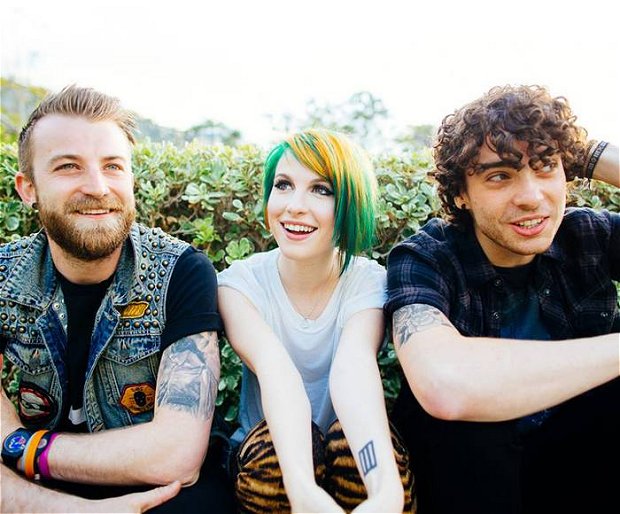 Last year, Paramore's Hayley Williams accused One Direction of ripping off a New Found Glory song on Twitter. (Photo by Adam Elmakias)
This post marks the third and final installment of our overview of last year's memorable social media spats. Be sure to check out part one and part two if you missed them. We clarified from the start that our intention here is not to tell up-and-coming bands how to behave on the internet, per se, but for them to interpret the situations for themselves. How would you react if you were in the artist in question's position?
Paramore's Hayley Williams implies One Direction song is a ripoff
In terms of loyalty, One Direction fans are akin to those of any other massive pop fixture. When Paramore singer Hayley Williams accused the group of borrowing the opening riff from New Found Glory's 2006 tune "It's Not Your Fault" for their single "Steal My Girl," the backlash was brutal.
The fight wasn't between Williams and One Direction, though. What was sparked, instead, were arguments between each of their supporters. As the argument continued, the remarks between both sides grew meaner and dirtier. The situation serves as an exemplary study in what happens when an artist incites something then seemingly abandons it and allows the fans to bicker amongst themselves.
Haim and Los Campesinos' confusing duel
Okay, technically this battle was fought in 2013 – early December, to be exact. But this series didn't exist in time to review that year, and we think this odd spat is worth mentioning. Here's the scenario: longstanding Cardiff indie-pop act Los Campesinos were playing across the street from formidable American newcomers Haim in Manchester, which is, naturally, more the former's territory than the latter.
But Haim was performing at a venue with twice the capacity; maybe that's what set Los Campesinos' frontman Gareth Paisey off? He tweeted, "Playing a gig across the road from a Haim gig tonight," and included a photo of him sending a backwards peace sign their way. In the UK, that's the equivalent of flipping the bird. Haim hit him back with a shot of the whole group doing the same – from the stage in front of a packed crowd who were also throwing up the same gesture.
Image via twitter.com
Paisey responded multiple times, even claiming that Haim fans were chanting "f*ck you Gareth." He even posted a photo of his band with UK Prime Minister David Cameron. The whole thing was tongue-in-cheek, right? The same night, Paisey posted another photo much like the one that started the back and forth. This time, however, it was directed toward a pharmacy.
Deadmau5 takes on Arcade Fire
Arcade Fire frontman Win Butler had to know he'd piss someone off when, during last year's Coachella performance, he shouted out "all the bands playing instruments this weekend." The fest heavily features electronic artists – and one of them was Deadmau5. The DJ took to Twitter in response.
shit to remember: A computer is a tool, not an instrument.

— deadmau5 (@deadmau5) April 23, 2014
arcade fire needs to settle down. some dudes devote their lives to instruments, others to electronic composition by cpu, dafuqs yer problem?

— deadmau5 (@deadmau5) April 23, 2014
i dont expect to see daft punk pull a steve vai on stage...i expect to listen to some decent music, n see cool robots. no problem.

— deadmau5 (@deadmau5) April 23, 2014
if i wanna watch real artists perform, id pick the opera before wasting a fucking minute of my life with arcade fire. #do youevenscorebro?

— deadmau5 (@deadmau5) April 23, 2014
but since some EDM is enjoyable to me, ill go watch them fake it, and enjoy it more than you hate the fact that they cant play guitar.

— deadmau5 (@deadmau5) April 23, 2014
inb4 some fucking hipster throws a hackeysack at me.

— deadmau5 (@deadmau5) April 23, 2014
... but seriously, im just sayin... you should get out to the opera if you ever get a chance, the orchestra pit is a cespool of pure skill.

— deadmau5 (@deadmau5) April 23, 2014
anyways... the whole point im tryihng to make is.... i need more SID station in my life .. i think ill hop on that. brb

— deadmau5 (@deadmau5) April 23, 2014
Read the first installment in this series here, and the second here. If you've learned something, want to discuss the spats further, or offer up a slice of advice from your own experiences, let us know in the comments section below.
Jhoni Jackson is an Atlanta-bred music journalist currently based in San Juan, Puerto Rico, where she juggles owning a venue called Club 77, freelance writing and, of course, going to the beach as often as possible.