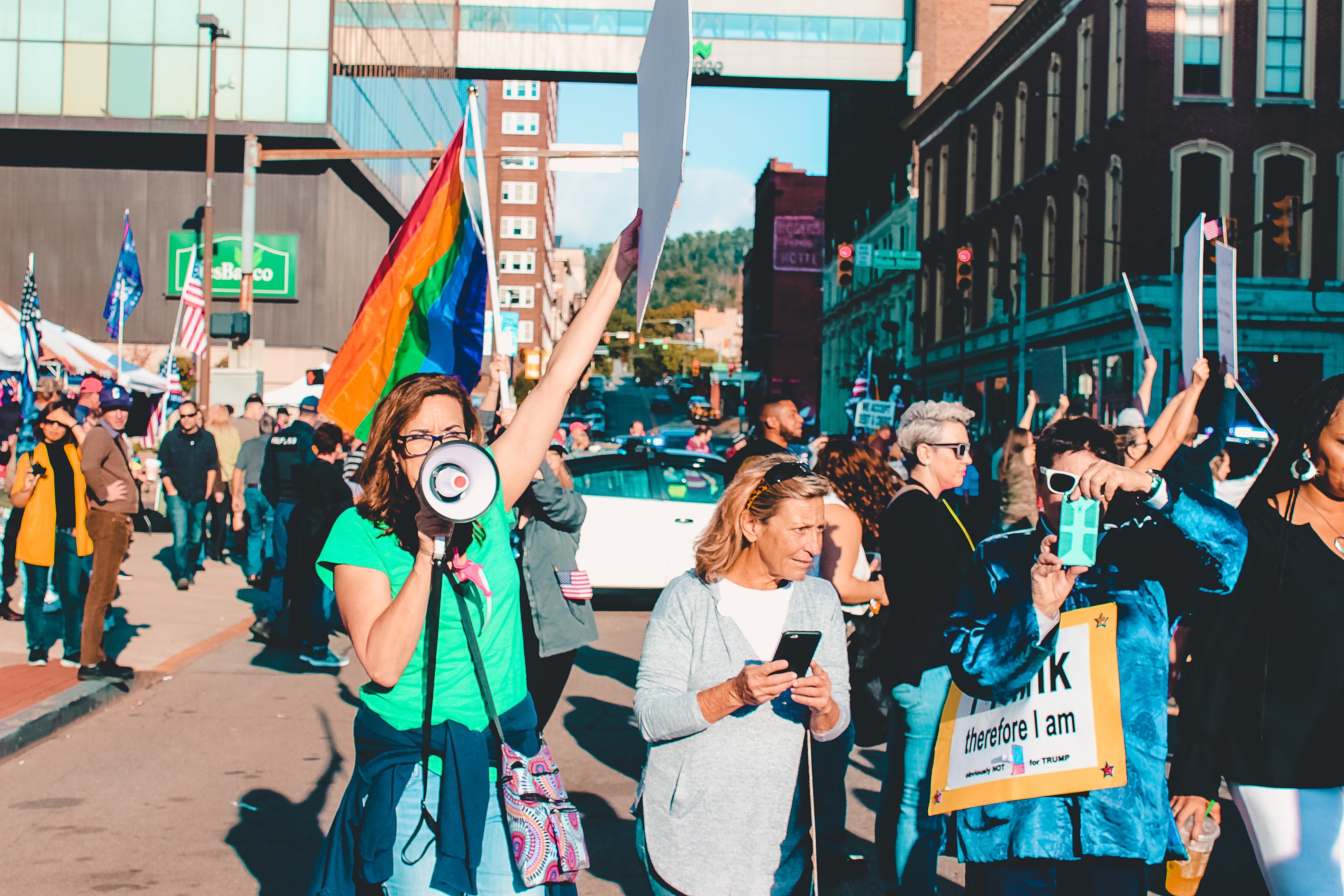 Image via pexels.com
Now more than ever, it's crucial we make our voices heard. We have the power to speak up to our beliefs and change the trajectory of not only our own lives, but the lives of those around us — all we have to do is get started. This is a powerful time in our history, and I want to be a part of it — and I want you to be too.
If you're thinking "that sounds great, but I have no idea where to start…" you're not alone. So many of us want to get involved and yet, we simply don't know how to start or where to put the majority of our efforts. It can seem all at once overwhelming and daunting.
But advocacy is important and we want to make sure you know how to use your platform in the way that makes the most sense for you, your beliefs and the fans and causes you want to reach.
That's why we've put together a powerful list of ways you can get started in advocacy, and choose something that makes sense for you in this moment.
Join a local organization
If you don't have time to create something from scratch, joining an existing organization is your best bet. There are tons of options out there, and each city will have its own unique chapters making a difference, so be sure you do some digging.
There's also a LOT you can do on your local level, so don't neglect those local candidate races and issues — so much change really does start at the local level. If you're feeling lost, a few great options for getting started with finding local events can be found on My Civic Workout.
This site breaks down a few of the more well-known organizations in different categories like climate justice, mass incarceration, racial justice, and more, featuring organizations like Black Lives Matter and 350.org. If you're looking to join an established organization that already has it figured out (a sort of "turn key operation so to speak), this is a great place to start.
Facebook's Discover category is also a great way to find existing local chapters and organizations to get involved with (and perhaps even see if your friends are also involved).
Curate your own event
If you have a cause in mind and time on your hands, curating your own event can be one of the most incredible ways to get involved and make a difference, all while raising your own profile and bringing awareness to your own brand and music.
The possibilities are endless for this. The simplest solution is to raise money for a local or national cause you believe in. Chat with different venues who might be willing to support this vision and lower the door split or venue rental cause so you can give more of your sales to the cause, but also have a donation jar out at the show, and ask bands to not only mention it from the stage or have jars at their merch tables, but to advertise for it on their own social media and mailing lists, so even if fans can't attend, they can still donate.
Create an exclusive line of merch or an EP to benefit your favorite cause
Another way to raise funds for your cause of choice is to create a hyper-specific merch line or EP (possibly even a split or compilation) and then donate the proceeds to that cause. You could even pair this with the above option so that you're doing a bit of a double whammy for in-person attendees, while still offering the option online.
And before you go thinking about how much it might cost to produce something totally new for this, you have a few options. The first is try to work with vendors who are sympathetic to the cause and willing to cut you a deal. Even better if they're local and want to get involved and raise their own profile as well (i.e., the local button making guy, the local shop that makes t-shirts and hats, etc.).
Plus, you don't have to go over the top with any of this. Even a couple well made buttons or stickers, and a few handwritten postcards might be enough and cost next to nothing and get the message out.
Or, if you can find seven other artists to make a compilation CD with, and each either contributes an existing song, or covers another artist on the compilation, it becomes a really low cost, low time commitment option that still raises tons of awareness and gives you something to sell and raise money with — not to mention it doesn't hurt to have seven bands spreading the word instead of just one.
One last thing before we wrap up: Whatever you do, make sure you have a promo strategy in place. Whatever you're fighting for, you believe in it, and you want to see it succeed, so don't put in all this hard work only to have it fall flat when it comes to promo. Have a plan, and then get out there and put good into the world.
If you're looking for tips on increasing fan engagement through simple, effective social media strategies then join me for my free Masterclass, "How to gain your next 1,000 fans: 3 simple steps that lead to higher engagement, sold-out shows, and life-changing opportunities."
Next up: Indie Artists: Here Are 3 Realistic Ways to Support a Cause You Believe In Through Music
Angela Mastrogiacomo is the founder and CEO of Muddy Paw PR, where her artists have seen placements on Alternative Press, Noisey, Substream, Spotify and more, as well as the Director of Community and Events for Music Launch Co. She loves baked goods, a good book, and hanging with her dog Sawyer.