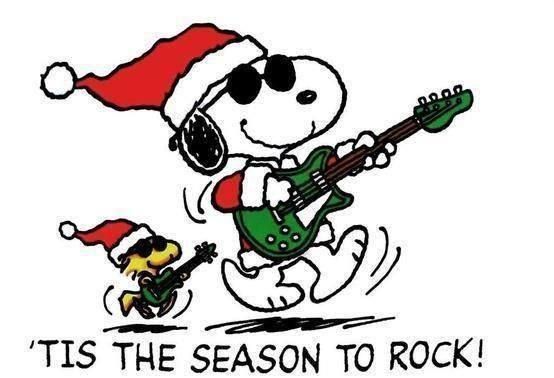 Image via madbrad.podbean.com
It's that time of the year again! Thanksgiving is done, and we're closer to Christmas, Hanukkah, and New Year's than you'd like to believe. That doesn't typically mean a whole lot for musicians, but there's actually a huge market for holiday music – so if you're smart, it might mean a lot to you. While Christmas music (and the like) isn't often thought of as particularly "cool," spending some time in that world can actually be a sound business decision, and it's something that you should think about. Why? Well...
1. It's reusable
It's unfortunate that I need to even say it, but most music doesn't stand the test of time. That isn't to say that it isn't good or that people won't like it for years to come, but most music has peaks in popularity, and then it dips from there. Any artist with a following knows that interest is at its most intense when new material is about to be or has just been released, but after that it typically drops off. It's just the way of the world in which we work. Sorry.
Interestingly, holiday music doesn't follow the same rules, and people listen to the same tracks and albums time and time again – though usually only during a couple months in the year. The holidays carry a certain amount of nostalgia with them, and people love tradition and repetition around this time of the year. So, if you do things right, your Christmas album, New Year's EP, or Hanukkah single could become a family favorite, and it could be introduced to people for years to come. Unlike almost all other forms of music, holiday music rarely feels "old," which can make it more valuable to you as a creator.
Consider Mariah Carey's "All I Want For Christmas is You," or the best-known renditions of standards like "Have Yourself a Merry Little Christmas" – they may be decades old, but they continue to sell well year after year.
[5 Holiday Songs to Add to Your Setlist]
2. There's a demand for it
Sure, one could argue that there's always a demand for music, and that's true, but holiday-themed music is in a league of its own. For example, if you take a look at the most successful Christmas albums released every year, they have plenty of overlap in terms of the songs on them. The classics and the standards get re-recorded over and over again, and nobody seems to mind. In fact, the masses seem more willing to pay good money for slightly altered or newer versions of the tunes they grew up with and that they love the most, whereas newer ones are regarded with skepticism. No matter how many reworkings are released, people snap up whatever's out that year without fail.
3. It's a great break from your usual creation process
Creating music is rewarding, but tough – especially if you're working on releasing the kind of music that could appeal to a wide audience. While many musicians feel the urge to create, that doesn't mean it isn't emotionally and mentally draining. Crafting covers and remaking standards can be a different task altogether, as part of the work is already done for you, and that can make things a bit easier.
Taking a short break to do something totally different is good for your mind, and when you go back to your regular work, you'll be refreshed and ready to tackle the tricky business of making great music renewed.
4. You can tour on it!
By now, you must be aware that playing live is one of the most important ways to make money (if not one of the only ways), but there are only so many shows you can play. This is because, well, you're a human being who has limits, and because you can't keep asking your fans to pay time and time again to hear the same songs. Every new album provides another opportunity to trek across the country, but those only come along every few years or so.
If you're thinking of going the holiday music route, consider that if you release a collection, it's another opportunity to play live. There's a good chance that you'll be able to get some of your fans – and some new people who don't know you well – to come out for a special holiday-themed show. You can have a special night with your biggest fans, and make some new ones in the process. Win, win, right?
Hugh McIntyre is a freelance pop music journalist in NYC by way of Boston. He has written for Billboard, The Hollywood Reporter, and MTV, as well as various magazines and blogs around the world. He is also the founder and editor-in-chief of the blog Pop! Bang! Boom! which is dedicated to the genre of pop in all of its glory.