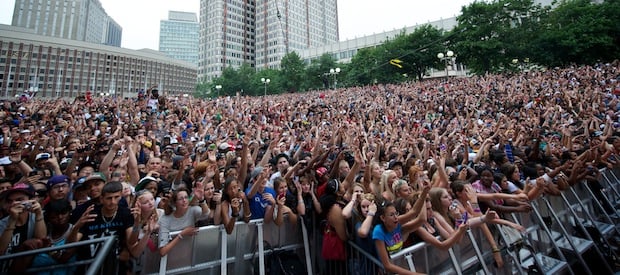 Boston Urban Music Festival (image courtesy of Rich Henderson)
Trying to find gigs for your band? We've got lots of Sonicbids promoters who want you to perform! Check out our top opportunities this week, and then submit your EPK to anything that sounds like a good fit for you.
Boston Urban Music Festival
Since 2010, the Boston Urban Music Festival (BUMF) has been host to some of the brightest talent New England has to offer in hip-hop, R&B, funk, and soul. This year, BUMF will feature legendary hip-hop artist Talib Kweli as the headliner and is expanding with a pre-party at Good Life in Boston on August 23, which will feature The Arcitype and Mr. Fritz. They're looking to book two Sonicbids artists – one for the festival at City Hall Plaza, and one for the pre-party.
Application fee: $10 | Deadline: August 13, 2014
Acoustica Festival
The sixth annual Acoustica Festival is looking for one UK-based (or UK touring) Sonicbids artist to play at the vibrant Exeter Phoenix in Exeter, England. Acoustica presents the best of alternative folk and Americana music, and is also open to crossover electronic acts this year. The selected artist will receive monetary compensation, refreshments, inclusion in official Acoustica Festival press, comp tickets, and may sell merch on-site.
Application fee: FREE | Deadline: August 17, 2014
Pecan Street Festival
The 37th annual Pecan Street Festival festival is booking three Sonicbids acts to perform in Austin, TX, this fall. This free family event is the largest art festival in Central Texas, featuring three stages, 50+ bands, and 300,000 attendees. In addition to the great opportunity for emerging bands to showcase their talent, acts will be compensated at least $50 and will keep 100 percent of their merch sales.
Application fee: $10 | Deadline: August 18, 2014
Stargaze 2014
This one's for you, ladies! Lesbian Nightlife is hosting the Stargaze Women's Art and Music Festival Weekend in New England, and they're looking for 10 female Sonicbids artists of any genre to perform. The event will be complete with live music, sports, parties, boating, hiking, workshops, art installations, and more, so don't miss out on the fun!
Application fee: FREE | Deadline: August 19, 2014
Licensing for Tony Hawk's Ride Channel
Want to reach pro skater Tony Hawk's millions of fans? White Knight Music Group and Pulse Records are selecting music for the high-profile urban skate shows on his Ride Channel. Selected music will be used and promoted on 22 weekly shows, and artists will be given credit.
Application fee: $10 | Deadline: August 20, 2014