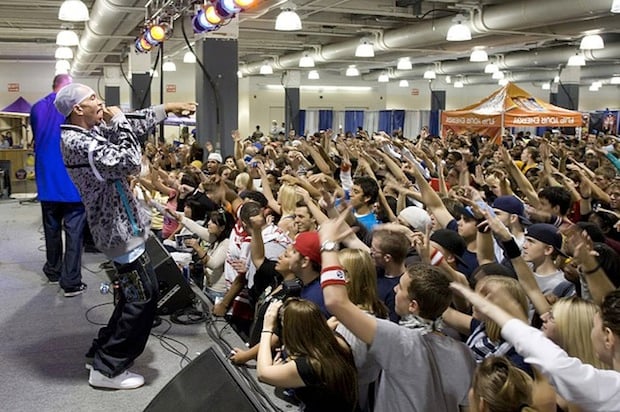 CollegeFest
Trying to find gigs for your band? We've got lots of Sonicbids promoters who want you to perform! Check out our top opportunities this week, and then submit your EPK to anything that sounds like a good fit for you.
#BigTicket Hip Hop Showcases
East Park Pro is booking six Sonicbids artists for #BigTicket showcases between August and November. #BigTicket is Toronto's number one monthly hip hop event and averages 300 attendees. In addition to a spot at the showcase, selected artists will be eligible to be featured as Urbanology's #BigTicket artist of the month.

Application fee: $5 | Deadline: July 28, 2014
CollegeFest 2014
This year, three Sonicbids artists will have the chance to play at Boston's historic Fenway Park as part of CollegeFest, the ultimate back-to-school lifestyle festival for college students in Boston. Selected artists will be compensated $100. Get exposure for your music in the biggest college town in the country!
Application fee: $10 | Deadline: July 28, 2014
Music Placements on Discovery Channel and NASCAR Productions
Tinderbox Music will select one Sonicbids artist for a licensing opportunity with The Discovery Network and/or NASCAR Productions. The artist will receive royalties for music that airs via his or her PRO and gain amazing exposure through the placement.
Application fee: FREE | Deadline: July 31, 2014
Rock the House Series
The Bar and Restaurant Society is booking three Sonicbids acts to perform at some of the most famous venues in Hollywood, California, for opening and support slots. Past performers have earned $200-$2,000 from ticket sales.
Application fee: FREE | Deadline: July 31, 2014
UTOPiAfest 2014
One Sonicbids artist will be selected to perform at the sixth annual UTOPiAfest, a unique campout festival in Utopia, Texas. The artist will receive a $500 travel stipend courtesy of Sonicbids, and will also take part in a "video diary" created by the UTOPiAfest crew to capture their performance and experience at UTOPiA 2014.
Application fee: $5 | Deadline: August 1, 2014