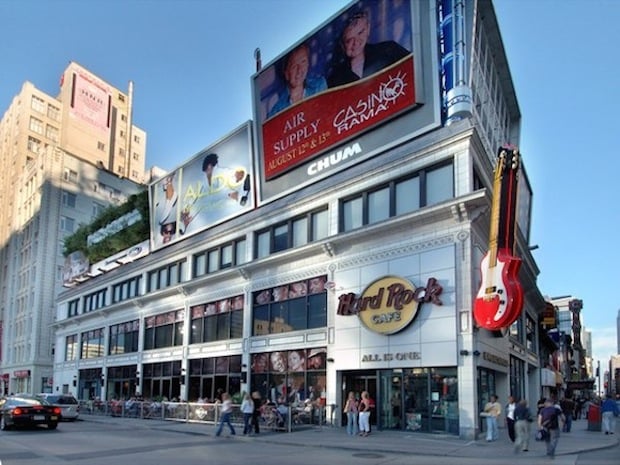 Perform at the Hard Rock Café in Toronto

Trying to find gigs for your band? We've got lots of Sonicbids promoters who want you to perform! Check out our top opportunities this week, and then submit your EPK to anything that sounds like a good fit for you.
Play the PINKTOBER Breast Cancer Benefit Concert
ARYA Concerts & Events is booking three Sonicbids bands to play the PINKTOBER Breast Cancer Benefit Concert at Toronto's Hard Rock Cafe, a 170+ capacity venue complete with two stories. Selected artists will be compensated with a percentage of ticket sales.
Application fee: FREE | Deadline: September 24, 2014
Tour the East Coast With J.WAIL and DELTAnine
Bridging The Music, a full-service production company who has worked with the likes of EOTO and Big Gigantic, is looking for up to five Sonicbids artists to support livetronic acts J.WAIL and DELTAnine on the Beatz n' Treatz 2014 East Coast tour. Artists will be compensated up to $500.
Application fee: FREE | Deadline: September 25, 2014
Play the Red Line Tap in Chicago
The Red Line Tap, a 250-capacity venue in Chicago, is booking up to 10 Sonicbids artists every month to perform. They're looking for punk, rock, power pop, indie, country, bluegrass, alt country, metal, and alternative rock bands. Compensation is negotiable.
Application fee: FREE | Deadline: September 26, 2014
Music Placements on Discovery Channel and NASCAR Productions
Tinderbox Music will select one Sonicbids artist for a licensing opportunity with The Discovery Network and/or NASCAR Productions. The artist will receive royalties for music that airs via his or her PRO and gain amazing exposure through the placement.
Application fee: FREE | Deadline: September 30, 2014
COCA Central Regional Conference
The Canadian Organization of Campus Activities (COCA) is seeking 15 Sonicbids artists to perform at this year's event. Taking place at McMaster University in Hamilton, Ontario, the conference will include two days and three nights of music, networking, trade shows, and educational sessions.
Application fee: $30 | Deadline: October 1, 2014