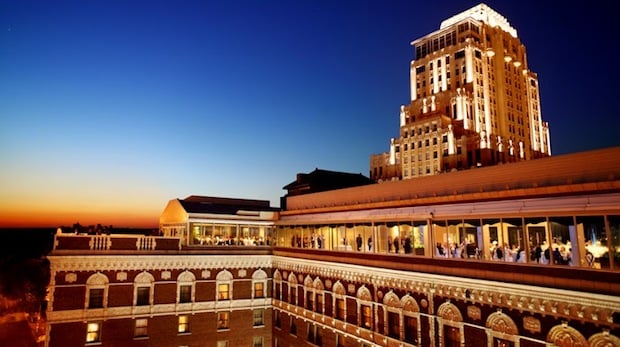 Perform at the famous Chase Park Plaza Hotel (image via redefiningthefaceofbeauty.com)
Trying to find gigs for your band? We've got lots of Sonicbids promoters who want you to perform! Check out our top opportunities this week, and then submit your EPK to anything that sounds like a good fit for you.
Licensing for Bring Your Own Board TV Series
Brand new TV series Bring Your Own Board is looking for 10 Sonicbids artists to license, and it might just be the break you need to get your music in front of an international audience! BYOB is based around surfers, shapers, lifeguards, models, and people who share the same goal of having good times and hanging at the beach in Orange County, California. The series launches internationally in up to 66 countries this October, and domestically in the later part of 2014.
Application fee: FREE | Deadline: August 21, 2014
Free Studio Time in LA
The Record Company is seeking to record six Sonicbids artists for free in Los Angeles, California, during the Audio Engineering Society's 137th annual convention. Selected artists will have one song completely recorded and mastered at The Record Company's temporary pop-up studio during the event. The studio will be furnished by AVID, Audio Technica, and supported by AES itself.
Application fee: $8 | Deadline: August 25, 2014
Licensing for Noteborn Music
International publishing company Noteborn Music is looking for up to 10 Sonicbids artists for their music licensing library. Selected acts will receive royalties. With over 25 years of experience in the music industry, Noteborn Music has successfully placed songs with Spike TV, On Demand cable, MTV, ABC, CBS, Lifetime, HBO, USA Networks, feature films, and national advertising campaigns.
Application fee: $10 | Deadline: August 27, 2014
Perform at Notable NYC Venues
GNYC Music Company, the company behind M.E.A.N.Y. Fest, is offering the opportunity for New York-based artists to perform at popular venues such as Delancey, Bowery Poetry Club, Ace of Clubs, and many more. Artists will be compensated and must be able to bring a minimum of 35 people to their show.
Application fee: FREE | Deadline: August 27, 2014
Perform at the Famous Chase Park Plaza Hotel
The Chase Park Plaza Hotel is booking artists for the remainder of 2014 and for all of 2015. This St. Louis landmark has hosted many presidents, kings, queens, and musical superstars across its one million square feet of luxurious accommodations. All artists will be compensated, and each event will be promoted by the hotel's local marketing teams and social media sites.
Application fee: FREE | Deadline: January 1, 2015