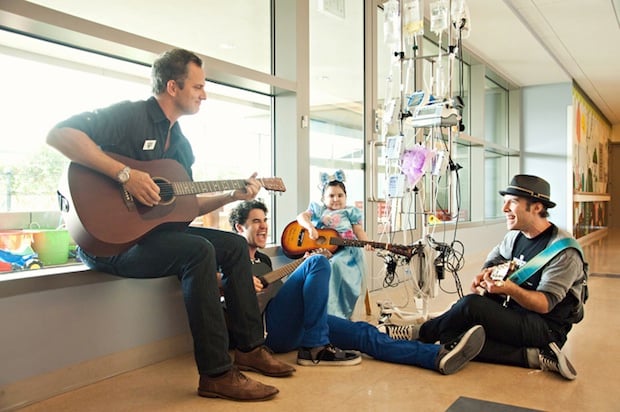 Image via Sylvia G Photography
Music has a way of healing the soul. While many well-known music nonprofits focus on the importance of education in music, there are many nonprofits gearing their focus towards other aspects of music, such as music therapy, self-esteem, and healthcare. Here are three wonderful music nonprofits who all share the common belief that music can change our lives and bring positivity into our communities.
My Voice Music is a fantastic nonprofit organization engaging youth in music and performance. Their mission is to promote emotional expression, self-esteem, and social skills. Children who wouldn't have been able to get involved with music due to financial reasons get the chance to find their passion for it. My Voice Music provides free music programs including instruments in areas where need for music programs are high, but funding is low.
Get involved: You can donate money or instruments to the My Voice Music program or get involved with their volunteer program.
The field of music therapy is booming, and the American Music Therapy Association is committed to advancing awareness about its benefits and increasing the amount of music therapy services available today. With over 5,000 music therapists involved, the association supports the advancement of education, training, professionalism, credentials, and research of music therapy.
Get involved: The AMTA accepts donations to support their cause. If you are a music therapy student, licensed therapist, or take interest in music therapy, the AMTA has memberships available for purchase. Members may attend various regional and national activities.
Musicians On Call is such a joyful nonprofit. It brings live and recorded music to patients who are undergoing treatment or are unable to leave their beds, adding a much-needed dose of joy to healthcare facilities. Since 1999, over 400,000 patients have experienced the positive, healing, and loving impact of music thanks to this nonprofit.
Get involved: Everyone involved with Musicians On Call is a volunteer. If you'd like to volunteer, you can visit their website and submit an application. Along with music volunteers, they accept professional services such as marketing, catering, photography, and graphic design.


This is just a small selection of the growing music nonprofits out there, so feel free to leave a comment below with your favorite organization. For anyone interested in music and the happiness of others, this is the perfect way to give back to your community!