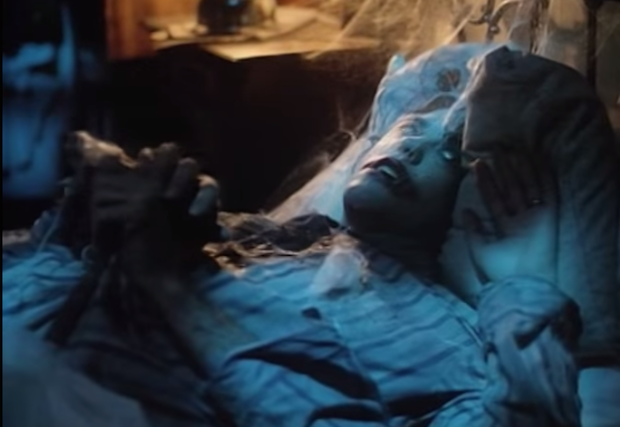 "Lullaby" by The Cure (image via YouTube)

The spookiest time of the year is upon us, which means dressing up in wacky costumes, binge-eating bite-sized candies, and watching as many horror movies as possible. But it's not only tiny tots and festive partygoers who get to participate in the All Hallows' Eve fun. From Ozzy to Marilyn (Manson, not Monroe), musicians have always had an ongoing relationship with the out of the ordinary. So in honor of Halloween, we've rounded up the top 10 spookiest music videos of all time. Take a look below – and don't forget to check under the bed...
10. "Wall to Wall" by Chris Brown
Before vampires became lust objects for teenage girls everywhere, they were busy stalking Chris Brown in "Wall to Wall." Brown dances his way through the night while scary (albeit sexy) vampires chase after him. And just when you think he's safe… well, you can probably guess the rest.
9. "Animals" by Maroon 5
This fairly recent video stars Maroon 5 frontman Adam Levine as a butcher who has an unhealthy obsession with a girl (his real-life wife, Behati Prinsloo) who visits his shop. Pig carcasses, a bloody Levine wielding a butcher's knife, and blood-soaked sex are all a part of this unsettling plot.
8. "Lullaby" by the Cure
Goth godfathers the Cure take spooky to the next level in this creepy video where frontman Robert Smith is tormented by a shadowy figure called the Spiderman. In the end, Smith grows an extra set of limbs and is devoured by a giant arachnid.
7. "Enter Sandman" by Metallica
If the opening hook to this song by heavy metal gods Metallica doesn't haunt you, check out this creeptastic video, which manages to touch on every one of your childhood nightmares.
6. "The Kill (Bury Me)" by Thirty Seconds to Mars
Anything created in the image of The Shining is sure to be a scare fest. This video finds Jared Leto and his bandmates pulling up to an empty hotel for some R&R. What they find instead is a frightening man in a suit, someone dressed as a bear, and a blonde girl covered in blood. Not quite the normal relaxing retreat.
5. "Closer" by Nine Inch Nails
Nine Inch Nails brings the weird in this eerie video featuring monkey crucifixions, random nudity, and pig head contraptions.
4. "Mary Jane's Last Dance" by Tom Petty and the Heartbreakers
This super skin-crawly video follows Tom Petty as he steals a woman's body from the morgue, brings her home with him, and dresses her up for dinner. While nothing technically happens between the two, anytime necrophilia is even hinted at, the creep factor gets turned way up.
3. "Rock DJ" by Robbie Williams
Robbie Williams wouldn't be the first person who comes to mind when thinking of chilling videos, but this bizarre premise ranks among the best. The video shows Williams rollerskating in front of screaming fans – normal enough... until he rips off his skin and throws it to the ravenous models who begin to eat it. Yeah.
2. "Beautiful People" by Marilyn Manson
Never one to shy away from the weird and disturbing, Marilyn Manson's "Beautiful People" is easily one of his creepiest videos. Featuring Manson in eccentric garb shot at odd angles, the video also features Nazi themes and scary dental equipment.
1. "Thriller" by Michael Jackson
No list of spooky videos would be complete without the grandaddy of all horror music videos, Michael Jackson's "Thriller." Released in 1983, this video's scare factor has stood the test of time. From the creepy opening title to MJ's transformation into a zombie, this video is sure to have you hiding under the covers.



Which music video do you think is the spookiest? Sound off in the comments below!