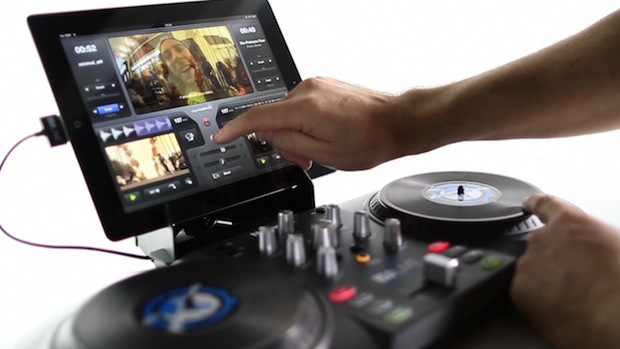 (image source)
In a world where there are iPad orchestras, pocket pianos and Grammy-winning teenage beatmakers, anyone can become a star given the right tools. Ever since the late '70s brought about synthesizers, samplers and drum machines, EDM has proven to bridge the gap between technological innovation and musical expression. With apps that are specifically designed with the EDM DJ in mind, you no longer have to spend big bucks to acquire simple tools to get started as a DJ.
Technology is undergoing a constant metamorphosis of better enabling creators to turn applied science and mechanics into real instruments. The iPad has become a multitude of musical instruments, ranging from a simple beat maker to a fully functional MIDI controller. Below, you'll find a list of essential apps to help you run a complete live production from the palm of your hands and jumpstart your career. In the words of Thomas Edison, "The value of an idea lies in using it."
Transform your iPhone or iPad into a cutting edge mashup machine that creates an interactive audio-visual experience. EDM shows have become full productions over the past decade with automated lighting, dancing lasers and programmed videos all synced to every bass drop and beat. Vjay allows users to use their device's onboard camera(s) to record live videos and quickly integrate them in the moment, potentially creating a fun and engaging experience for fans. This app hosts cool features like VideoScratch, which enables you to "spin" your videos in time with the music, providing you with powerful editing tools and plenty of visual EQs and processing effects. Everything can be streamed real-time via WiFi, hardware connectors or through live streaming (Apple TV).
This app comes pre-loaded with sophisticated looping capabilities, cue points and several programmable effects in its straightforward user interface. The new beautifully designed version of this app has HD waveforms with parallel scrolling, seamless syncing and spectral timelines, as well as perfectly matched beat grids so the music never stops. Additionally, its "two turntables and a mixer" design is likely to appeal to more traditionally minded DJs who like the tactile feel of spinning when live mixing. You really can't go wrong with an app that has an embedded sampler and drum machine with external hardware compatibility.
I cannot say enough about this app! The countless available plugins and add-ons, the sophistication of production, the highly interactive layout – all for free! Forget paying for GarageBand – this app is far superior. Not only can you create, edit and record, but you can control everything you do with actual MIDI controllers and even connect with multiple devices through WiFi. For DJs who are creative minded and like to explore intricate layouts with complex capabilities, this app is a must.
While this app was not exclusively intended for DJs, it's essential that every good DJ has a way to find great music. Pick a mood, choose a word or select a preset playlist and watch as Songza delicately crafts the perfect mix instantly. Discovering new bands and hidden emerging artists on this app is a breeze. The new user interface is brilliantly designed to enable easy access to all of your favorites, including one-touch sharing options to Facebook, Twitter and even email. Keep your fans up-to-date with what music you're loving, and you'll be sure to get them pumped for your show.
Want to experiment with the software that the Berklee Internet Radio Network streams music live on the air with? Traktor is the world's number one professional DJ software, and the iPad version enables all of the same features. Traktor DJ gives users the ability to run an entire setlist from start to finish, with eight powerful live effects built-in, effortless browsing through your iTunes library, and plug-and-play integration with hardware controllers that are sure to mesmerize audiences.
While this app will set you back $20, it will certainly expand your skills as an emerging DJ. Tremor provides four turntables for audio playback, mixing and recording. The app comes packed with tons of features and effects that allow you to manipulate any song in a wide variety of ways. This app is also great for organization, enabling users to create music folders, stream music wirelessly onto computers, and edit tracks on the go.
touchAble 2 isn't the first iPad app to work with Ableton Live – there's also TouchOSC with the Livecontrol template, and Griid Pro, but touchAble promises much more refined control over Live than any of the competition. This app is fantastic for empowering DJs to freely walk stages while maintaining complete control over their mixes within Ableton. With mixer views, session windows, MIDI editing capabilities and virtual instruments waiting to be performed, this app has everything any DJ needs to deliver an exciting show.
If you want to set yourself apart from the masses of DJs who just manipulate songs live, you can add the creation of music to your live set. Thor enables just that – the ability to perform an instrument, not just hit play and manipulate automated/pre-programmed sounds. Thor is a virtual synthesizer with astonishing sounds that closely emulate analog realism, with six different oscillator types and four filters to control them. Essentially, that engineering sound design jargon just means you're capable of generating endless customizable sounds that utilize technological innovation from the past 40 years.
Going on tour? Check out our nine must-have apps for touring musicians.