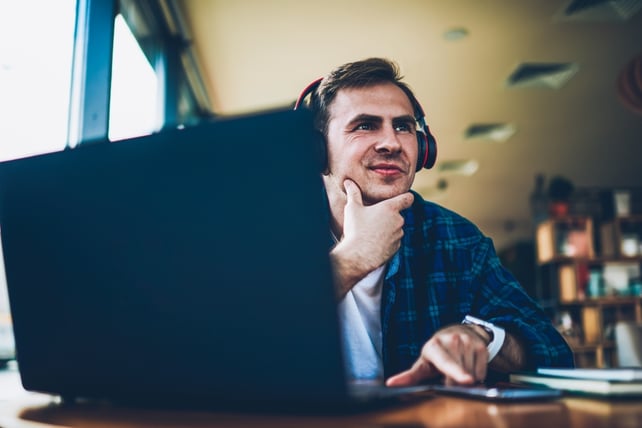 This article originally appeared on the AWAL Blog.
After you've finished recording, producing, mastering your newest release, it's time to decide how to unleash your latest and greatest onto the masses. If digital distribution is part of your strategy — and it should be since there are about 170 million users on Spotify and 30 million on Apple Music to date — you'll probably start investigating a few ways to make sure your tracks are fed to all the major DSPs worldwide.
One major difference among digital distributors you might notice right off the bat is fee structure: Some require a flat, upfront fee to upload and distribute music, while others "share in revenue," meaning they take a percentage of the income your music generates via their service.
Making the choice between the two is something artists should consider carefully. Though an upfront-fee-based model seems straightforward and predictable — you know how much you're paying and for what — you may want to, instead, choose a share-in-revenue model that encourages a partnership relationship and offers you additional services that could lead to long-term advantages.
"At the early stage of a career," says Matt Riley, Kobalt's Senior Director, Creative, "the choice you make may not have huge consequences. It's when things grow that the share-in revenues model really takes over with artists needing more support, advances, marketing, and services.
"It's kind of like when you move from having a pay-as-you-go phone as a teenager to getting a proper contract and all the advantages that come with that [as an adult]."
Maisie Peters released her single "Place We Were Made" on August 11, 2017 through AWAL and earned an astonishing amount of streaming support upon its debut.
An upfront-fee model's initial appeal is no mystery: Artists typically keep all the revenue after paying a set amount at the start. After an artist pays that fee — whether it's recurring or a straightforward, one-time payment — and the distributor has delivered your product to DSPs that's most likely where that distributor's obligation ends. In other words, if you're only looking for a provider to deliver your music, then an upfront-fee-based model may be right for you.
Conversely, a distributor like AWAL, for example, that shares revenues with its artists also shares in their successes, or, as Paul Hitchman, President of AWAL, puts it, "If a client makes nothing, we make nothing." That motivation incentivizes a share-in-revenue-based distributor to work hard on behalf of artists in order to maximize their success. It's a true partnership based on aligned interests.
After parting ways with his record label in 2014, Bruno Major released his first single on AWAL in 2016. To date, he's earned over 50 million streams.
And because of this commitment beyond simply uploading tracks, it's in a revenue-sharing distributor's best interests to work as hard as possible to help its clients succeed. "It doesn't make any sense to take an artist on a revenue share and then not try your hardest to make sure [their music] gets streamed, downloaded, and sold as much as possible," says Silvia Montello, Senior Vice President, Recordings Operations at Kobalt.
At AWAL, we help bolster artists' careers by offering a full range of services depending on where an artist is in their career journey and what they need at any point in time, including everything from a dedicated label manager to playlist pitching to marketing support. Not only do we invest heavily in our relationships with DSPs to maximize opportunities for our artist clients on those digital platforms, but we also look to help artists beyond digital distribution.
"We're helping develop artists that can grow," says Sarah Landy, Senior Vice President, Kobalt Music Recordings, "therefore, our business will flourish if the artist flourishes. It keeps us motivated to build and enhance the way we work with partners because the more opportunities we get for our artists, the more royalties they are going to be seeing. We're not making money unless that's happening for them."
Since teaming up with Kobalt and AWAL, VÉRITÉ has earned upwards of 135 million streams on Spotify and Apple Music.
So, as an independent artist, how do you choose between an upfront-fee model or sharing in revenue with your distributor? Ask yourself, "Will the partner add more value than their commission rate?" says Paul Hitchman. "If so, then clearly you make more money with that partner."
Beyond the actual fee structure and extra benefits that come along with each situation, make sure it's clear how broadly your music will be distributed; certain distributors are able to push it globally, while others are limited in range.
And there's one "less tangible factor, but one worth bearing in mind," says Hitchman: how DSPs perceive artists based on the distribution partner they use. On many upfront-fee-based platforms, for instance, just anyone can upload their tracks and add them to a DSP. A company like AWAL that has a selective roster pre-vetted by an A&R team has quality standards that DSPs respect and value.
If, at the end of the day, the choice between fee structures is purely based on financial reasoning, consider what you'll lose by not sharing in revenue versus what you might potentially gain from an upfront-fee deal. In many cases, the revenue you share with your distribution partner may be more than outweighed by the value of the services you're receiving in exchange for a percentage.
After AWAL artist Hoodie Allen released "Know It All" on September 1, 2017, quickly racking up over 240,000 streams. To date, its streams total more than 2.4 million!
"We believe that the increase in revenues that comes about through the way we have our service set up and everything that we have built into what we're offering artists, will actually exceed our cut of the revenues and increase net profits for our artist clients," says Landy. "Whether it's the tools, the educational materials or the pitching proposition, we feel that that will end up impacting revenues more than our 15% share of their [income]."
Whether you choose an upfront-fee or revenue-sharing model, overall, making that decision is about "finding value," says Riley. "Value" is a very subjective concept, obviously, but artists should always consider it in terms of short-term gains versus long-term investments.
Next up: Be Your Own Record Label: Everything You Need to Know About Distribution
Allison Johnelle Boron is a music writer and editor living in Los Angeles. Her work has appeared in publications including Goldmine magazine, Paste, xoJane, and more. She is also the founder and editor-in-chief of REBEAT magazine, a digital publication focused on mid-century music, culture, and lifestyle. Follow her on Twitter.