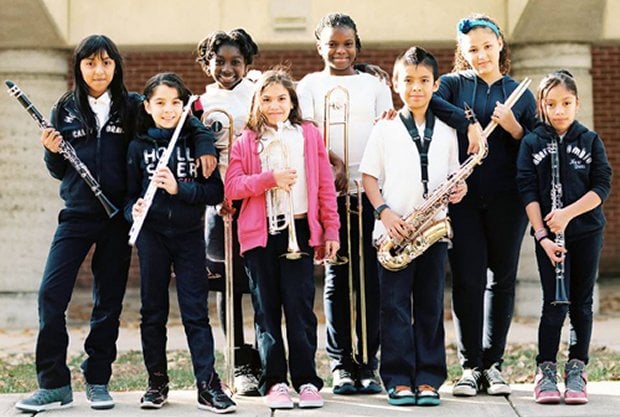 Image courtesy of Deniece Dykes
Remember picking up your first instrument? Maybe it wasn't a guitar, but a clarinet – and it was probably at school. Music education touches every part of a child's life, from studies to social skills, and VH1 Save The Music Foundation works hard to make sure all kids have a chance to develop their own sound. Six lucky Sonicbids bands will have a chance to perform at the VH1 Save The Music Showcase at Pianos in NYC on November 6. Partnered with Sonicbids, this special benefit concert raises money for the VH1 Save The Music Foundation, supporting music education. Paul Cothran, vice president and executive director of VH1 Save The Music, spoke to us about the foundation and the showcase – and the unique opportunity for artists.
How did you get involved with VH1 Save The Music?
After working for over seven years with another New York City nonprofit, an executive search firm contacted me and said there was a position available that they thought my experience was perfect for. I met with the president of VH1, who also serves as the chairman of the VH1 Save The Music Foundation, and we had a great conversation. That was 10 years ago! The world, foundation, our schools, and staff have witnessed a lot of changes during that time. It's hard to believe how quickly those years have gone by; they've been challenging, inspiring, moving years, and I am forever grateful to have this opportunity.
For those who don't know what VH1 Save The Music Foundation does, can you explain why it's such a great organization?
The VH1 Save The Music Foundation is an independent nonprofit organization that is dedicated to restoring instrumental music education programs in public elementary and middle schools. We partner with school districts to reintroduce a sequential, standards-based music program into their school day. The partnership with the district is key to sustain and build the program, so we require that the districts/schools budget for a certified music educator to lead the program and make music study a part of the curriculum.
The foundation fundraises each year so that we are able to purchase and donate new, quality instruments to qualifying schools. We provide approximately $30,000 worth of music instruments to each school so that we're able to confidently report to our donors that their support is going for its intended purpose – ensuring that more students have access to the benefits of music study.
With all the benefits music education has for children, why do you think it's one of the first programs schools cut?
Well, there's a mindset that something like music is an add-on, a luxury – that it isn't integral to a full, quality education. Recently, there's been such focus on testing students for specific subjects, and anything that is not tested is devalued. But I think this is changing – slowly. There is greater recognition from parents and school administrators that they need to develop "the whole individual." In order to prepare to embrace life and compete in a global economy in the 21st century, students coming out of our schools need to be able to think creatively and critically – this is a key benefit of music.
Additionally, we hear from students, teachers, administrators, and parents that reintroducing music into the curriculum helps students improve their performance in other subjects. They're more engaged in school and built their self-confidence, self-expression, and focus. So rather than cutting these programs, we should be putting them back in place and building them. Students should have music experience early in their academic lives. That's why the foundation is focused on elementary and middle schools. It's very much an integral part of a comprehensive education to develop the whole person.
How and why did you decide to partner with Sonicbids?
We are always excited to engage new partnerships that can help us spread the word about the importance of music education and provide inspiration for students.
What types of bands are you looking for to play the showcase at Pianos?
We welcome and encourage all genres of music. We love to discover up-and-coming artists – bands that perform well and are obviously committed to their art. Energy certainly helps, but it also takes focus, dedication, and uniqueness. Personally, I don't think it hurts, regardless of genre, if the band can communicate an emotion to the audience – their passion, love, anger, or happiness.
Apart from helping raise money for the VH1 Save The Music Foundation, why should bands apply to play the showcase?
It's a wonderful opportunity to get the word out about the importance of music education, as well as showcase and inspire new and emerging talent.
Apply to play the VH1 Save The Music Showcase by October 1, 2014.