Let's go over the different ways you can utilize the pitch correction plugins Auto-Tune and Melodyne for your own nefarious needs. Both Auto-Tune and Melodyne have the possibility to be used "fast and loose" or "slow and precise," but most people use Auto-Tune for the "fast and loose" capabilities, and Melodyne for the "slow and precise" capabilities, so that's what I'll be discussing.
Auto-Tune
Auto-Tune works best in the "set it and forget it" realm. Just set the plugin in your effects chain, mess with the parameters, and let it influence the entire track continuously. I use Auto-Tune in two different ways:
1. If the vocal track is already really in tune, but it could use a tiny bump to make it "superhuman," just set the "retune speed" button to low. Around 140 would be good.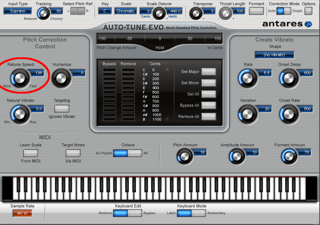 2. If I want a backing vocal track to sound really tight, I set the retune speed to high. Only do this with backing vocals, since they aren't supposed to be heard anyway, only felt. If you put this hard of an effect on your lead vocal, it should be on purpose.

Pro tips:
Don't use too many Auto-Tune plugins in your session (say, 10 or more vocal tracks with Auto-Tune running at the same time). This will really slow down your computer and mess with your work flow.
If you know the key of your song and the scale of it (usually major or minor), you can put that into Auto-Tune. This will help the program know which notes to push your recording to, and it'll have a smaller chance of making weird mistakes.
Melodyne
When you open the Melodyne plugin, the first thing you do is push the transfer button and let the track play. It'll record and register your vocal track, after which you can start messing with it. What you typically want to do is smooth out the rough edges and place the pitches on the right note. This looks a little bit like this: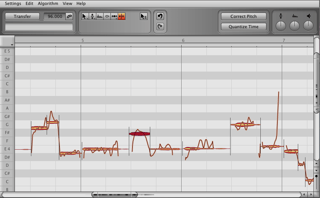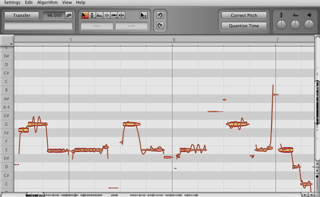 It's all pretty subtle work. Anything more than placing a pitch half a note up or down will make your vocal sound robotic.
There are three pitch-correction tools available to you when you right-click (or control + click):
1. Pitch tool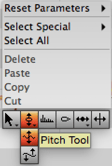 2. Pitch-modulation tool

3. Pitch-drift tool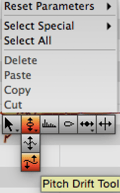 Rule of thumb: do not use the pitch-modulation tool if you're going for a natural-sounding pitch correction. It's a very powerful tool that'll make your vocal sound robotic if you don't use it super lightly. The pitch tool and pitch-drift tool are better at keeping your vocal sounding natural. The pitch tool will let you move your note up and down, and the pitch-drift tool will let you smooth out notes that are longer, but don't stay steady.
Melodyne isn't hard to learn, but I'll admit, it's tedious and boring. I like to listen to podcasts or watch YouTube videos while I do it, but it really is a huge part of making your singer sound amazing.
Pro tip:
Before you start moving pitches around, cut off the S'es and T's from your pitches. You can do that with the note-separation tool. If you move an S or a T up or down a note, it'll sound really weird.
Related: Vocal Production 101: Intro to Pitch-Correction
All images in this article by Benjamin Samama.
Benjamin Samama taught songwriting at Berklee College of Music from 2013–2015 and currently writes and produces pop music full-time in Los Angeles. His songs have been released by dozens of artists all over the world and enjoyed by millions. Click here to contact Benjamin if you'd like a one-on-one songwriting consultation with him.