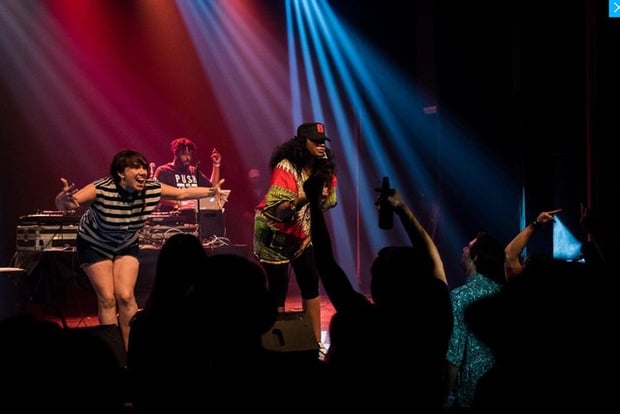 POP Montreal. (Image via Sonicbids)
The differences between planning an American tour a Canadian tour are subtle, but there are enough of them to cause severe logistical headaches if you're not aware of the laws. If you're planning to make a few stops up north for your next tour, there are a few things you need to know well in advance.
Paperwork
Ensure all paperwork is in order. The Canadian Federation of Musicians site notes a work permit or LMIA (Labor Market Impact Assessment) form isn't required for American Federation of Musicians members if they are "musicians in a band performing several tour dates in Canada," or "musicians or buskers coming to Canada to perform in festivals." House concerts also fall into the same category.

Make sure you have a contract from the venue hosting your show, or a contract stating you are playing shows. This is in addition to the passports all touring members (and road crews) need to enter Canada.
[4 Important Details That Should Never Be Left Out of Your Performance Contract]
Instruments and gear
Itemize and document the gear and instruments you're bringing across the border. A 2014 Echoes article states that a manifest is required with an itemized list (with serial numbers) of what you or your band have.

A site such as GearTrack is a great help with this step if the gear gets lost or stolen.

If you're fortunate enough to ditch the miles in the van for a few flights to Canadian stops, it's wise to check out various Canadian airlines and their boarding policies with instruments and gear. For instance, Air Canada now offers a 50 percent discount for musicians who wish to purchase an adjacent seat for their instruments.
[5 Things You Need to Know About the New Rules for Flying With Musical Instruments]
Merchandise
If you plan on taking merchandise to your Canadian shows, a bill of lading or inventory is a must to show what goods or products you're bringing in. You must provide what each product costs wholesale, and what you plan to charge at the merchandise table.

You'll be required to pay a five percent GST (goods and services tax). Not having that information (or trying to deceive the border patrol) could result in the merchandise being seized.

Only bring across what you think is a reasonable amount of merchandise. Loading down the van with boxes of T-shirts believing you'll take Canada by storm is lofty at best, and perhaps quite foolish at worst.

Merchandise essentially has a dividing line at $2,500. If under that amount, the goods can be processed at the point you're entering Canada. Goods valued at over $2,500 will require a CI1 form (Canada Customs Invoice) as well as a B232 form (NAFTA Certificate of Origin) to speed up the process.
Criminal record
Known artists have been denied entry into Canada based on previous charges against them. While it's not entirely a zero-tolerance policy, it's highly unlikely border guards will ignore any recent crimes that pop up on a background check.

Proper documentation and red tape often need to be taken care of weeks (or months) prior to reaching the border crossing.

While entry may eventually be allowed, the delay of hours might be enough to nix a concert that evening in a Canadian city.
Currency exchange
From a financial standpoint, it's a bit easier and more lucrative as of this writing for American groups touring in Canada. The exchange rate a few years ago was on par, meaning the Canadian dollar was worth as much as (and briefly more than) the American dollar. However, as of early October 2015, the American dollar was worth $1.31 Canadian – a far more beneficial outcome for American musicians.
When to tour
The winter months are routinely the worst time to go on a lengthy tour in Canada. Even Canadian bands often see the trek as a rite of passage, but something rarely done.

If you're brave enough to opt for a winter tour, give yourself plenty of time to make the cities you're slated for. The weather in one town could be extremely different than one a little farther down the road.
If you have all of these points covered, you should be on your way to an enjoyable and hopefully rewarding trek, whether you're heading west to Vancouver or further east to the Maritimes. Have a great tour!
Looking for shows to book in Canada? These awesome festivals are currently looking for emerging bands to perform:
Jason MacNeil has written for The Toronto Sun, Huffington Post, NME.com, All Music Guide, and MySpace.com, among other outlets. He is based in Toronto.