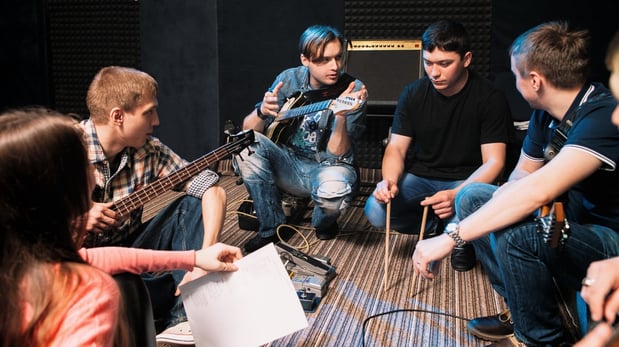 Image via Shutterstock
If you're disappointed that you aren't getting a lot of attention from blogs, magazines, and other outlets despite your pitching efforts, think about what you're trying to get. Keep in mind that these places are pitched every day with thousands of people begging for interviews, reviews, and general features.
It's fine to ask for these, but it's difficult to stand out. Writers and editors only have so much time, and when everyone is requesting the same things (or worse, nothing in particular, just "coverage"), it all blends together.
Why not try telling these publications that you're willing to go out of your way to try something totally different? The effort will be appreciated, as will the options you put out there. Here are a few alternative ideas that might make you much more interesting to the outlets you've been reaching out to.
1. Do a social media takeover
This is a great offering if you have any kind of following on social media because it mixes things up on various platforms, and it will help the outlet with their numbers as well. A social media takeover is when one person or group steps in and controls all of the content being uploaded on a channel, which usually makes things more interesting and look fairly different for a short period of time.
Reach out to blogs and magazines and ask if they'd be into you running the show for a day on their Facebook, Twitter, or Instagram, with the last two platforms being the better option for this idea. Takeovers are also better if you plan them for a day or a time when something special is happening. For example, if you're playing a particularly big show or if you're traveling to another country, those are great ways to take over someone's Instagram. It seems like it's your every day, but really it's an exciting one, and one that will make you look busy and cool.
2. Give a social media interview
This is similar to the first item, but they aren't exactly the same. In a social media interview, the chat between you and the person at the blog or magazine is happening in real time, and people are watching. It's slightly different from a regular, printed interview in that people can tune in at any point and catch the casual conversation taking place. It also makes for an easy post for the outlet, as they can publish the entire chat afterward.
The other way that you and the outlet of your choice could do this is by having fans tweet to the outlet's handle, and you, the musician, will answer questions as they come in. This makes their Twitter account look exceptionally active, and it brings your fans to their page, which may help increase their follower count. Make sure you mention this to whoever you (or your publicist) talks to, as it's a major selling point.
[Ask a Music Journalist: How to Keep Cool in Your First Interview]
3. Create a photo gallery
In addition to written articles, a lot of outlets have turned their focus to photo galleries. If an outlet is working on publishing more of those, you should get in on the action and go where it's going. Offer a blog an exclusive photo gallery of anything you want that they think would make for great, compelling content. This could be a gallery of pictures from your tour, time spent in the studio working on an album, behind-the-scenes looks at shooting a music video, or whatever else you can think up.
Galleries may not be a favorite for some readers, but they're big money for blogs. They can charge more for advertising within them, as it can be confirmed that people are not only looking at their screen (right where an ad usually shows up somewhere in between slides), but interacting with the product by clicking repeatedly.
Again, make sure you indicate that you understand the importance of these galleries to the person you're working with, because it shows that you put thought into your offering and that you're looking out for the publication, just as you want them to do for you.
4. Donate an item for a giveaway
Giveaways and contests are nothing new, but that doesn't mean people don't still love them. What you should offer to part ways with for free depends on the outlet, so keep in mind how large it is before offering something. If you're going after Rolling Stone, you might need to get everyone in the band to sign a guitar and gift it to the lucky fan, whereas a small, local blog would probably love anything, including a copy of your new album.
These types of contests typically do well on social media, and they won't cost you much to get a large number of people to at least engage with your band's name in some way. Tickets to a show, a meet-and-greet, drinks before a performance, a vinyl copy of your new album... the options are endless, and they're all sure to please your fans, as well as the outlet.
[5 Creative Social Media Contests Your Fans Will Love]
5. Write an op-ed
Is there some hot topic that you feel particularly passionate about? Maybe there's a cause you and your fellow bandmates are aligned with, and you want to get the word out. Op-eds are a great way to bring attention to something while raising your profile as not just a musician, but a thought leader.
Whether it's a current political situation, your commitment to being a vegetarian, your devotion to a special charity, or perhaps just your thoughts on what's going on in the music industry, your opinion may stand out above many others since you have fans, and an outlet could be very interested in sharing your feelings in the form of an article.
If you do end up writing an op-ed, do your best to state your position clearly and concisely. But also keep in mind that if you're expressing a particularly controversial opinion, it could get you into a bit of trouble, and it might alienate you from some of your existing fans, while also earning you some new ones. Op-eds can be tricky, but they can also have a big payoff if done well.
Hugh McIntyre is a freelance pop music journalist in NYC by way of Boston. He has written for Billboard, The Hollywood Reporter, and MTV, as well as various magazines and blogs around the world. He is also the founder and editor-in-chief of the blog Pop! Bang! Boom! which is dedicated to the genre of pop in all of its glory.