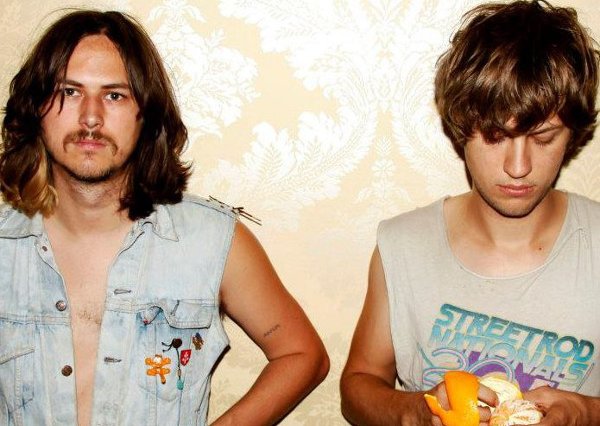 When Jake Orrall (left) of JEFF the Brotherhood broke his hand in 2012, the duo turned the misfortune into a giveaway for fans. (via JEFF the Brotherhood)
A contest is a wondrous, mutually beneficial thing. Even at its simplest – say, a random giveaway – everybody wins. You're simultaneously promoting your band while giving back to the fans who keep your ambitions afloat.
There are ways of taking this endeavor to the next level, though. Sure, free show tickets to an arbitrarily picked listener is great. But what about a more engaging contest? Social media makes it easy to reward your followers with something greater than a prize: connecting with the band.
Below are five examples of contests that offer just that. Some suggestions for rewards are included, but ultimately, it's up to you to decide. Additionally, you'll have to pick for yourself which platform will work best, be it Instagram, Facebook, or a combination of several.
It's important to note, however, that in addition to your own rules, you have to abide by those of any social networks you employ. For example, Facebook requires that you include official rules, terms, and eligibility information, like age or residency restrictions. Generally, "sharing" for more entries is not allowed. And pretty much every network states that whatever contest you administer is done at your own risk. Check the guidelines before you post.
1. Win a date (or hangout)
Example: Early in 2013, guitar-tapping and overall rock 'n' roll maven Marnie Stern announced an unprecedented prize for one lucky fan: an all-expenses-paid, one-on-one date. There were guidelines, of course. Must love Law & Order, must reside in New York, no weirdos in general, and a few more open-ended questions. Kill Rock Stars, Stern's label, and her publicist served as the end-all, be-all referees. The gimmick was intended to promote her upcoming album, The Chronicles of Marnia, but it was also a real matchmaking effort – albeit a lighthearted one. In the end, three winners were picked, and all of them seemed, at least on paper, like stand-up options for an actual relationship.
How to make it your own: If your band has a decent following and at least one member unafraid of potentially awkward situations, offering up a date might be a good fit. Obviously, this shouldn't be limited to one gender, and it doesn't have to be a date – it could also just be a friendly hangout, or even a FaceTime session if you want to open it to fans outside your hometown. You'll just have to settle on logistics, like who'll pick the winner, who pays, and so forth. This one can be tailored to any social network with the use of a single thread, hashtag, or @replies. Or you can have it all emailed it to your band account and just use the networks to publicize the contest.
2. I'm with the band
Example: David Bowie is revolutionary for a lot of reasons, but I bet you didn't know that prowess extends towards fan perks, too. Ahead of his 1999 album Hours..., Bowie offered fans the chance to pen words for a demo track. With the chorus already in place, wannabe lyricists submitted verses, and listeners voted. A 20-year-old guy from Ohio won – and he won big. Not only did he get bragging rights, but also a $15,000 publishing deal, among other prizes. Dubbed the Cyber Song Contest, Bowie streamed the rehearsal, recording, and mixing of the tune online via Rolling Stone, tunes.com, and BowieNet (an ISP he owned from '99 until 2006 – but that's another story altogether). A year later, he earned an award of his own from Yahoo!: Online Pioneer of the Year.
How to make it your own: Naturally, an independent band can't offer hefty rewards, but capturing the spirit of this contest is totally doable. Give your fans a shot at lyrics, a beat, a remix, or guest vocals. The permanency of the contribution is a prize in itself, but a free copy of the album should be a given.
3. Call for lookalikes
Example: The inspiration for this one comes courtesy of Mexican electro-pop wackadoo Silverio's tongue-in-cheek quest to "find one of his lost sons." If you're not familiar, the guy's got an especially singular look. Contestants emailed their best shots, which were then posted on his page and judged by the number of likes. Strangely, there's no evidence of the results, and Silverio had mostly forgotten about it when I spoke with him a few months ago. (The contest was a couple years ago, after all.) Still, if you can follow through, this is a hilarious method of engaging fans.
How to make it your own: Not intended for bands comprised of bearded, flannel-sporting dudes because, you know, that's just too easy. (No offense – over-the-top personas are not for everyone!) But if you or someone in your band has a truly unique appearance or style, a lookalike contest, if done correctly, could be really funny, and might just reach a lot of new listeners who share your sense of humor.
4. Design contest
Example: This one's been done countless times, no matter what Compton-based rapper Game says. Nevertheless, it's not trite if you do it right! You can go the T-shirt or album cover route, sure, but there are also buttons, prints, hoodies, or even air fresheners. The possibilities are practically endless – just make sure it's something you can actually manufacture.
How to make it your own: Provide interested parties with a prompt. Whatever the product, offer a song, theme, or other descriptive tools for inspiration that's specific to your band.
5. Make light of a minor setback
Example: When Jake Orrall, one half of the Nashville duo JEFF the Brotherhood, broke his hand in 2012, they had to cancel a tour with Best Coast. Instead of wallowing, however, the guys initiated a Twitter hashtag – #jakebrokehishand – and gave prizes to folks who accurately guessed just how broken Jake's hand was.
How to make it your own: While injury and sickness are absolute bummers for anyone, you have an opportunity as an artist to turn that misfortune around, at least a little. Especially if you've had to cancel shows, a contest like this can outshine that last bad-news post and transform the situation into another opportunity to engage fans.
Jhoni Jackson is an Atlanta-bred music journalist currently based in San Juan, Puerto Rico, where she juggles owning a venue called Club 77, freelance writing and, of course, going to the beach as often as possible.