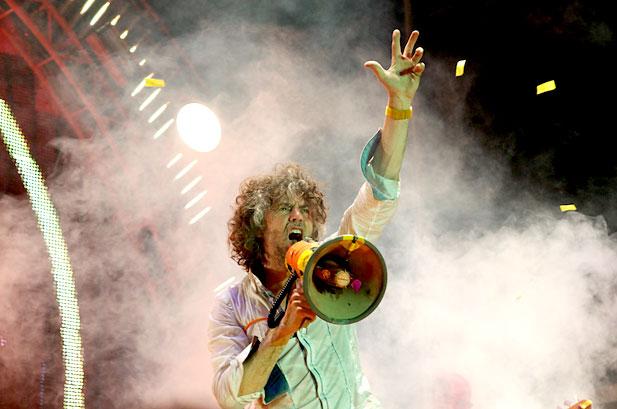 Last week we announced that Wayne Coyne of The Flaming Lips would curate two performance slots at this year's Bonnaroo festival, in partnership with Billboard. So we thought it'd be cool to speak with the man himself and see what he thinks of the whole idea...
If you haven't heard about the opportunity, here's the gist:
Wayne Coyne and Billboard will choose two bands or artists to perform at this year's Bonnaroo Music & Arts Festival. Anyone can apply and all entrance fees will be donated directly to the Bonnaroo Works Fund. And if you're chosen to perform, you'll score a cool $1,000 payment, a full-page spread in Billboard Magazine, a full bio on the Bonnaroo website, a pair of VIP tickets and more. And for those who apply but aren't chosen, you're still entered to win two VIP tickets to the Fest!
We caught up with Coyne to hear what he's looking for and why he's excited about this year's Bonnaroo and giving two lucky bands an opportunity like this. It'll be interesting to see which bands he picks! Here's our full conversation with him. Enjoy!
What was the genesis of your involvement with picking 2 lucky bands to play Bonnaroo? How did they approach you to do this?
Well, I'm not in charge of picking [all] the main bands. I don't want anyone to get the wrong impression [or think] that I'm one of the curators of Bonnaroo. But it was a friend of mine who talked to someone who was involved, and they said they were trying to have someone who would have some credibility with the unknown bands of the world listen and then pick. You hope that whoever doesn't get picked would [still] be satisfied that they were considered by a real living, breathing musician that plays Bonnaroo. So, I accepted like, "Sure, I'll be one of the judges!" It seems like it could be fun!
Absolutely! And you know the registration fees that bands pay through Sonicbids will go to the Bonnaroo Works Fund...
When I think about all the cool things that Bonnaroo does, I never question it. I love Bonnaroo and the whole way they do things and I think that [positivity] shows in the number of people who go every year. [Especially people who make plans to go] before they even know who's playing! I think people thoroughly appreciate it.
The Flaming Lips and Bonnaroo have a pretty long history, going to all the way back to 2003. Can you tell us a little more about your background with the Fest?
I think in the beginning—now, I don't know if this was true—but I think most people thought of it as being in the realm of, like, a hippie festival. Maybe it was or maybe that's just what it was thought of as.
I think that's accurate. What I always like to say about Bonnaroo is that it's the one festival that went from hippie to hip with lightning speed.
So it isn't like we didn't pay attention but I think we thought, "Oh, we know what that is" and we didn't think we would ever [play it]… not that we wouldn't be considered for it, because I think there [are] elements of us that are kind of open for whatever… but, at the time, it felt like [Bonnaroo] was about one style of music and we're not that style. So it wasn't considered that much by us [at the time].
But then it started to change. Or what was considered hippie music started to change! [laughs]. We became more interested in it. And we started to learn more about the way they did things. [Then] it started to become a more high-profile festival where, if you played there, you could have a significantly new audience just by having one great appearance there.
What will you be looking for from the applying artists? What types of things would catch your ear?
I guess it would be impossible to say what would surprise you. I guess it'd be easy to say the things you wouldn't be looking for—people trying to sound like other popular acts or something. If we'd done this last year or the year before, I can imagine we'd have heard a lot of groups trying to sound like, I dunno, Bon Iver or something. Not that that's a bad thing if you want to sound like that. I just sort of feel like, for me personally, I'd love to hear something that's like 'Oh my God! What are they doing there? What are these people thinking? This sounds like they've got their own world! They have their own thing that they're saying.' You know: "I've never heard this before!"
That's a big part of it and I've heard a lot of music… and I hear [things that catch my ear] all the time! That's why I think this will be exciting. I'm not a cynical person at all when it comes to new music and new ideas. I don't know if those [will be the bands applying to] the contest, but we'll see!


Note: We'll catch up again with Coyne after the winners are announced! If you want to put your name in the running, don't forget to apply here by 11:59pm EST on Friday, April 25.