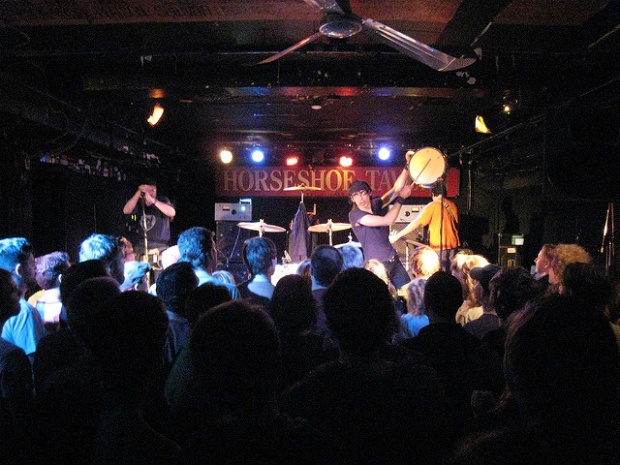 Image via Flickr / CC 2.0
When you're a young band just starting out, it can be hard to imagine breaking into the Toronto scene with any effectiveness. Basically every other person you meet in the city is an artist of some kind, and a good chunk of those are aspiring musicians. Talent seems to leak from the city's sidewalk cracks and competition is steep. Add to that the abundance of different and diverse music scenes, and it can be hard to know where to even start.
Fortunately, we've gathered two local experts to pick their brains about how to successfully book gigs in Toronto. Matt Black is the booking manager at Coalition, a venue that caters to the heavier side of the city's music scene. Coalition has only been around for a year or so, but it's already gaining a really positive reputation around town – and it's no wonder, considering how long Matt has been putting on shows around Toronto. Craig Lasky is part owner and talent buyer at the legendary Horseshoe Tavern. He's also part owner of Collective Concerts, which books shows at most of the city's biggest venues, including The Drake, Opera House, Mod Club, Phoenix, Danforth Music Hall, Massey Hall, and occasionally the Air Canada Centre. This August will mark his second decade booking shows in Toronto.
What's the most common payment structure in Toronto for gigs?
Craig Lasky: Payment structures can vary at the Horseshoe Tavern. Majority of the shows are where bands come and take 100 percent of the door after minimal expenses. When a band comes and plays a "No Cover Development Shoeless Monday," they even get $50 payment to go towards gas money, etc.
Matt Black: Usually bands will split the door evenly. Sometimes, depending on if there is a touring band who really needs a bigger cut to pay for gas, then it will be divided in their favor.
Compared with other cities, what's the most important thing that bands need to know about working with promoters in Toronto?
Matt: Have an appearance of professionalism, such as showing up on time for load-in and soundcheck. Be ready to play at your set time, set up and tear down quickly, stick to your allotted time, and don't give the sound tech or staff a hard time. And don't book local shows too close to each other. Unfortunately, most bands don't do any of these things.
Craig: I think this would be the same in every city in Canada. A band needs to do their homework and some research first before reaching out. Find out what clubs and promoters would best be suited for their band. If they're a straight-up rock 'n' roll band, then they probably want to reach out to the Horseshoe Tavern. If they're a metal band, then Noel at Inertia Entertainment is the best person to contact. Noel strictly books 99.9 percent metal music.
In your experience, is it better to go through venues, promoters, or other bands to successfully book shows in Toronto?
Craig: I think it depends on the band. If you're just starting out, you don't need a promoter per se. Your goal would be to just get out in front of as many people as you can, and network as much as possible. [At clubs] you would be seeing what indie development nights they have. [The Horseshoe Tavern] has "No Cover Shoeless Mondays" and "Indie 88 Tuesdays No Cover."
Also, a lot of bands ask for big opening slots, [but] most clubs don't have those kind of gigs. Bands should be proactive and be up front, saying, "Hey, we're new to Toronto, but we have some friends and family in the TO area, so we'll do our best to bring out 30 or 40 people early to a show." Trust me, club bookers want to hear that.
Matt: I get emails all the time – even today, in fact – from local bands that have a link to music online and saying they're looking for shows. I always write back the same thing: go to shows and meet people. Meet the promoters, meet the bands you just saw, talk to people. Support your scene. This is the best way to get shows for a band starting out.
[How to Be a Good Music Citizen in Your Local Scene]
What will venues normally provide for entry- and mid-level bands?
Matt: In Toronto, it's usually just beer tickets. We supply a house drum kit, but even that isn't the standard.
Craig: At the Horseshoe Tavern on a "No Cover" or four-band $5 night, here's what they can expect: load in at around 7 p.m., get some sort of quick soundcheck, one to two drink tickets per band member. They're encouraged to go build open guest lists of 50-plus names if that will help get people out to the show. Bands will get promotion via the [Horseshoe Tavern] website, and social media like the Horseshoe Tavern's Facebook and Twitter. They will get at least one to two weeks' worth of advertising in our weekly Now Magazine strip ad.
What do Toronto venues typically expect of bands they book?
Craig: I can't speak for other venues, but here are some expectations on my end when booking an act at the Horseshoe Tavern. Ideally, you don't have any other local TO shows booked at least two to three weeks before or after. This gives the band proper lead time to promote. If a band books three Toronto shows in the span of seven days, they're going to burn out their audience and not be in a position to properly focus and put 100 percent attention and detail into the gig that is required.
I also hope they show up on time, play the length of time that is asked of them, and that band members are nice and friendly to our sound tech and staff. Hopefully the band is in a position to get a few folks out to see them. Most importantly, they should play to the best of their ability and try to put on a great live show.
Matt: Get excited, tell your friends, and help get people in the room. Shows are a group effort, and they're always better when everyone works together. If you bring a big crowd out, promoters and venues notice that, and will invite you back and are more willing to put you on an opening slot for a bigger-name band.
What's the best way for a band to break into the Toronto scene?
Craig: I think I answered this a bit above. Do some research first and find out what small clubs might be suited to your style of music.... Another good idea is maybe do a gig swap, if you're in a position to put on a show in your hometown and draw a couple hundred people. Maybe you invite a Toronto band down to be first of three or four acts, and in return they can do that for you in Toronto.
What's the biggest difference between booking shows in Toronto and other major cities?
Matt: Toronto is the biggest music market in Canada and one of the biggest in North America, which means that there is a lot of competition – not even just bands getting shows, but getting people to come to them. Music fans in Toronto have a huge pool to choose from when deciding what shows and bands they want to support.
Ty Trumbull is a Canadian musician and writer living in Mexico City. He's played banjo and guitar with a bunch of bands you've probably never heard of.