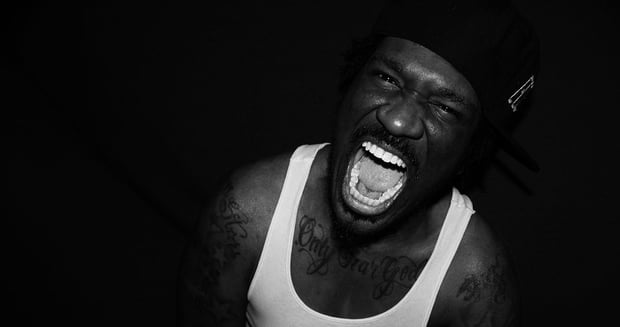 Image courtesy of the artist
Any budding hip-hop artist knows that performing at the A3C Hip Hop Festival & Conference in Atlanta is akin to a right of passage. Not only does it look tremendous on your EPK, but it gives you the opportunity to be a part of a huge creative hub of talented artists and industry pros.
We recently spoke with New York-based rapper Young Chizz, who wowed the audience with his performance at last year's festival. He's been on tour with huge artists such as Lil Wayne and Young Jeezy, has had his music played on MTV, and has reached nearly half a million views on VEVO. It was only natural that on his way up, he landed at A3C. Check out our interview below to learn more about his experience, and apply for your shot to perform at this year's A3C (it's free if you submit by July 31, 2016!).
Through Sonicbids, you were selected to perform at last year's A3C Hip Hop Festival. Tell us about your experience – how did it compare to everything you'd heard?
I really didn't know what to expect before I touched down in Atlanta. I heard a lot about the festival before I was voted to be a performer, but hearing about it and actually being there amongst all these artists and fans was most certainly an experience I will never forget. I would say that A3C exceeded the hype, and I would recommend that anyone who loves music or is a part of the hip-hop community should make it their business to attend the festival at least once.
Reason being, hip-hop anything always comes with a negative stereotype, [but] while I attended the festival, it was all love from everyone. People came up to me in the street and talked to me about my show and what they liked about it. It was like a huge family reunion. The A3C staff was very organized and hospitable. I can't wait for this year's festival.
When applying for the festival, what did you hope to get out of the opportunity before you were accepted? Were there any specific goals of networking or making a particular impression?
I wanted to perform at A3C for a few years before I was selected. So, for me, it was sort of like a dream come true. A lot of important people are at A3C, and if you're an artist that's trying to break through, you need to be around those people, especially in an environment where you can speak to them and ask them questions.
I also wanted to showcase my music to new fans. A lot of hip-hop fans are in Atlanta for A3C, so that exposure alone is extremely beneficial.
What stood out the most about your A3C experience?
There's way too many highlights to just choose one, but if I have to choose, it was probably seeing Young Jeezy close the night on the same stage as that I performed on. That was epic.
[How A3C Can Help Take Your Hip-Hop Career to the Next Level]
Tell us about the other artists you saw perform at A3C. Did the festival give you some worthwhile connections and inspiration?
There were a lot of dope artists that I saw perform that I linked up with after. Shout out to Rippa Da Kid. Manolo Rose was fire. I think I saw over 20 shows while I was out there. Big shout-out to everyone that performed and all the guest speakers that dropped so much knowledge at the conferences. Pete Rock was probably one of my favorite [speakers]. Not to mention J over at Pandora who assisted in making my album go live on Pandora after I met him at the Loudermilk Conference Center.
[Top Music Career Insights from Industry Pros on Sonicbids' 2015 A3C Panel]
What opportunities came about for you after performing at A3C?
After my performance, I was contacted by several other artists to collab on music together. I was also contacted by ATLHiphop.com to do an interview, as well as the good folks at TuneCore to do an interview after my performance. They also informed about other TuneCore Live events that I could possibly be a part of.
You've had a very impressive music career thus far. How did A3C champion your career and help push you even further?
It wasn't just me going out there, performing, and then leaving. One of the best things about A3C, in my opinion, is the networking opportunities. You get to meet people that can help push your career forward in various ways. If you need beats, there are thousands of producers that you can network with and exchange contact information. If you need more press, there are thousands of bloggers and PR [professionals] that are looking for the newest, hottest act. If you take your career seriously, you will not miss the 2016 A3C Hip Hop Festival.
[10 Steps to Master Networking at Music Conferences]
Looking back, what's the best advice you could give on making the most of A3C?
Make sure you follow A3C on Twitter, Facebook, Instagram, etc., because you want to be aware of all the festivities that are taking place, so you can plan and make sure you attend the ones that are most beneficial to you. If you're selected, make sure you promote yourself so you can get new fans that may be interested in seeing you perform live in Atlanta, GA. Even if you aren't selected to perform, it's still a great place to network and meet new connections. Have fun and enjoy the experience!