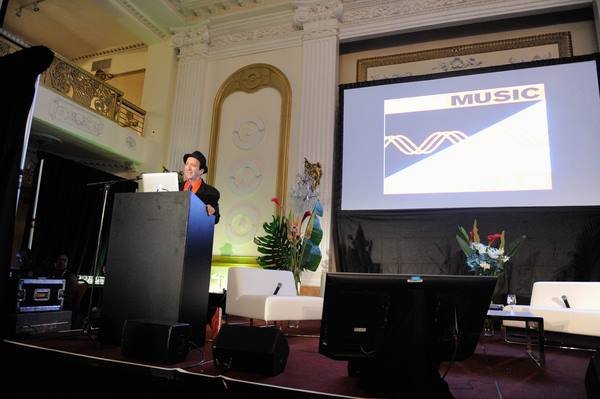 Tom Silverman speaks at the 2015 New Music Seminar. (Image via facebook.com)
Over the past several years, there has been a lot of talk both in and out of the music world about the role that streaming plays and what its future is, with all of the major players chiming in. Companies like Pandora, Spotify, and iHeartRadio constantly tout the impressive number of users they have, and it seems like every conversation is focused around who's paying, who isn't, and how services can further convince people to switch from free tiers to paid ones. While we're still in the early stages of streaming, artists and those in the music world have to wonder if all of this is enough. Are things really going to get better, and if not, can we survive?
If we're being blunt, probably half of those currently paying for a subscription to a streaming service probably don't actually need to. We live in a world where music is everywhere on the internet, and if listeners really don't want to, nobody needs to pay for it. Sure, a catalog of 20 or 30 million tracks is impressive, but many of those songs are available elsewhere. Except for a few artists, songs, and albums – I'm looking at you, Taylor Swift – everything is pretty much out there, and very few services have a leg up on any others.
[Taylor Swift, Spotify, and the Musical Food Chain Myth]
Now, when I say that almost everything is available for free, I'm not even thinking about piracy, which is still a problem for the industry. Between free levels of services like Spotify and Pandora, YouTube, SoundCloud, and several other options, is there really any doubt that almost all of recorded music can be accessed for free?
In spite of the fact that there are millions of people in the world who will simply never pay for music again and free tunes are more accessible than ever, there's hope for the recorded music industry. The numbers at subscription services keep going up. Worldwide, there are now tens of millions of people who do choose to hand over their money in exchange for music. Not in the same way that they used to, but it's better than them paying nothing, isn't it? Even as users of free options on the biggest streaming platforms increase, the premium ones are growing at faster rates.
"People are starting to see that they have to have a subscription," said CEO of Tommy Boy Entertainment Tom Silverman during a press conference at this year's New Music Seminar in New York City. "It's becoming cool to have a music subscription, and there's almost a status that comes with it. It was an outlier until now."
[Success With Streaming Services: Is It For Everyone?]
While music is available elsewhere, many people are reaching a point where they don't mind paying for the music, because they realize that they're actually getting a great deal. Sure, free is "cheaper" than paying anything at all, but having all the music you could ever want in front of you is convenient, and as Silverman mentioned above, it's something people now want to do.
While individual payouts to artists might not be as impressive as they should be, they are growing. In fact, in the first quarter of 2015, one in 10 dollars in revenue for record labels in the United States came from Spotify, according to the streaming company's Director of Economics Will Page on a panel at the New Music Seminar. Like it or not, streaming has already taken the industry's crown, and it's only becoming more powerful by the day.
In addition to that, more people are figuring out what they really want as they experiment with the various ways of accessing music. While some will only ever need their Spotify account, many others want to listen in a multitude of ways. I personally have my streaming account for when I'm at my computer, but I like buying songs and albums and keeping them on my phone for when I'm moving around. I have now been given many different choices in terms of music consumption, and because of it, I'm now more than willing to spend a somewhat insignificant (to me at least) amount on songs I care minimally about (those I only sample or listen to once or twice on Spotify), while I'll pay a premium for those albums and singles I love. Many others are learning that they do, in fact, still want to buy CDs or shop on iTunes, and vinyl sales haven't been higher in decades.
So, while there seems to be a new story every day that talks about the damage that streaming is doing to the industry and how it's now impossible for artists to make a living, it may only be temporary. Things are getting better, and new money is coming in all the time. At the New Music Seminar, all of the panelists seemed to agree that it's futile to measure the success of streaming by average revenue per stream. "Average revenue per user is the most important thing we can look at right now," said Sony Music's Julie Swidler. "Average revenue per stream is the absolute wrong way to look at it." Hopefully with big players like Apple entering the space, more people than ever will decide they want to start paying for music – and, at least in theory, the more money there is, the more music creators get paid.
Hugh McIntyre is a freelance pop music journalist in NYC by way of Boston. He has written for Billboard, The Hollywood Reporter, and MTV, as well as various magazines and blogs around the world. He is also the founder and editor-in-chief of the blog Pop! Bang! Boom! which is dedicated to the genre of pop in all of its glory.