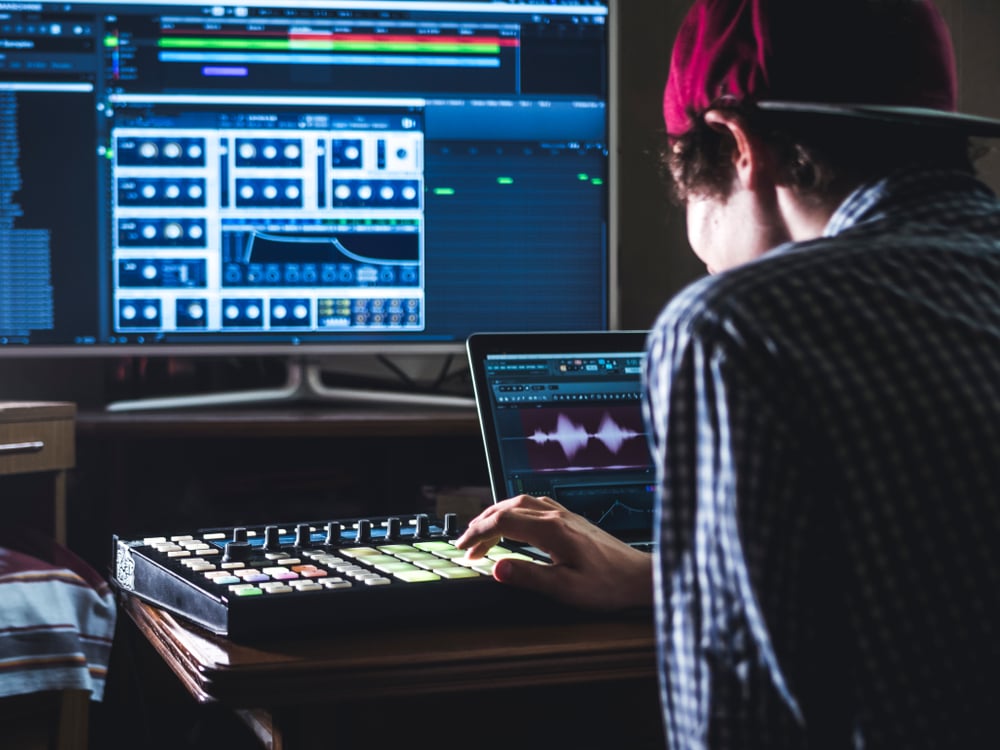 Image via Shutterstock
This article originally appeared on Soundfly.
It's true. You can make a song that can hang with Charlie Puth's or Avicii's on a Spotify playlist. And you don't have to spend a single penny.
That's right, I said no money. Zippity. Nada. $0. Here's how you can do it.
What you need (and don't need)
If an 18-year-old can use an iPhone to produce a song for Kendrick Lamar's hit album, you can find a way to record a song for nothing.
First, I'll assume you have a laptop, as most people do. If you don't, you literally can use your smart phone in most cases. iPhones in particular come preloaded with GarageBand. You can record your instruments direct-in (you can borrow a friend's guitar cable and cable-to-phone adapter). And you can record vocals using the phone's mic (more on that below).
But for those of you with a laptop, you'll first need a digital audio workstation (DAW). In my experience, here are the best free DAWs:
Reaper and GarageBand come with built-in effects and virtual instrument plugins. GarageBand's free library of instruments and loops is huge and very good. Reaper's is smaller and mediocre. But to grab some free virtual instruments compatible with Reaper, just Google "VST virtual instrument [your choice of instrument] Reaper" and you'll be golden.
Here are some free instrument plugins I like to use with Reaper:
Audacity, on the other hand, has basic effects available, but not virtual instruments and does not support MIDI notation. But you actually don't need MIDI.
You can build a song with free audio samples, which is super fun. You can take samples and pitch them, slow them down, reverse them, and generally mangle them until you've made your own melodies, music beds, and beats.
Here are some places you can get free (and perfectly legal to use) samples:
Next, you'll need a microphone to record vocals or maybe an acoustic guitar. Newsflash: You already have a decent microphone. Check your pocket. There you go — your smartphone.
If you're recording vocals, listen to the music you've recorded with your DAW (with the free earbuds you already own that came with your phone) while singing along into your phone using the voice recorder app. Just keep the mic far enough away from your mouth that the audio doesn't peak; you can always turn the vocals up during the editing and mixing stage.
Then email that audio file to yourself, import it into your project, and make it sound prettier with effects.
Now let's talk about mixing.
Learn how to mix
Teaching yourself how to mix (or letting the internet teach you) is a big task. It can feel overwhelming, and that's why Soundfly offers a bit of relief pairing you up with an engineering Mentor so you can work on your mixes with the help of a professional.
But if you'd like to start with the utter basics, you can still get pretty far and make pretty great sounding tracks. Here are some YouTube videos to get you started on the basics of mixing:
Those are all free video lessons available to you right now that teach you how to mix. What an amazing time we live in.
One mixing trick that really helps is using a reference track. So when you're mixing, import a commercially mixed song into your project. Then compare how your song sounds next to the pro-level song and try to bring yours up to that standard.
Master your own tracks
Obviously, hiring a mastering engineer is the best option — to get another pair of (professional) ears on your mixes — and using a paid automated mastering service is a solid alternative. But if you have no money for mastering your recording whatsoever, you can learn how to do it yourself.
Like learning how to mix, you can learn how to master online for free. And here are two video tutorials to get you started:
During this process, I would highly recommend getting feedback from other musicians and producers with good ears. Tell them to be blunt with you. Ask them for constructive criticism on your mix and your master. And ask them to listen on a few different speaker set ups. You can't do this process with your subjective ears alone.
Bonus: Distribute your song for free
Alright, now that your $0-song sounds professional and is ready to jump into the ocean of available music, you'll need a distributor. These are the companies that send your music to Spotify, Apple Music, TIDAL, etc. And two music distributors I can personally recommend are Amuse and Soundrop. Both of them offer completely free distribution to all or most major streaming services.
Amuse is 100% free and you keep 100% of the royalties. How is that possible? Well, Amuse is actually a record label and they sign artists they like who have also distributed music using their service. Then they make money from the artists they end up signing, making it possible to offer free distribution to all without taking a cut. (Note: if you distribute through Amuse, they do not own your songs or your masters, you do.)
Soundrop is also completely free, although they take a 15% commission from any streaming royalties you make. But that's not too crazy of a number, especially after offering free distribution.
If you're a musician with no budget, I hope you feel energized and motivated. I hope you see that, yes, you can record and release a professional-sounding song for literally no money.
Next up: How to Build an Incredibly Effective Home Studio for Under $800
Caleb J. Murphy is a songwriter and producer based in Austin, TX., and the founder of Musician With A Day Job, a blog that helps part-time musicians succeed.