Image via minimaldesks.com
With consumer-grade recording gear becoming more and more affordable, almost every musician out there either has, or knows someone who has, a home studio of some sort. These setups are a great place to do some pre-production work for a studio session, work out songwriting ideas, edit audio for YouTube or other social media posts, and are overall an excellent asset to the modern musician. The Voice Memos app on your smartphone can only go so far as a recording device, and having access to something with a little more horsepower can be a welcome advantage.
As with anything in the music and tech world, the sky is truly the limit for how much you can spend on a home studio, and for those just starting out, knowing where to begin can set your head spinning. Having a setup that allows you to get the most for your money while maintaining an acceptable quality standard that leaves room for modular upgrades can be a bit of tightrope act. The following is where I would suggest you start your search to get the most flexible and effective turn-key setup on an in-debt-up-to-my-eyeballs-for-going-to-college budget.
Note: For the sake of this list, I'm assuming you have access to a stable, moderate-to-high-power laptop/desktop computer (doesn't necessarily need to be a Mac). Otherwise, you'll want to begin by getting yourself a decent computer before venturing any further into your home-recording endeavors.
Interface
This is going to be your method for getting things in and out of the computer in the audio realm. Most interfaces you get are effectively a mic preamp, line mixer, monitor controller, headphone amp, and AD/DA converter all rolled up into one box. And since you really do tend to get what you pay for, it can be hard to find all of that effectively rolled into one quality unit at any price point, but especially on the low end of things. For our budget, my suggestion is:
Lexicon Lambda: $100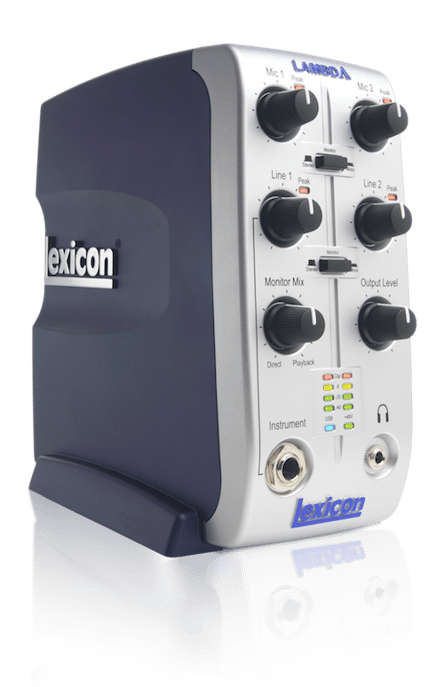 Image via harmanpro.com
It's hard to beat the quality and features of this unit in this price range. This interface boasts:
two mic preamps
two line inputs
MIDI in, MIDI out
DI input
headphone out
zero-latency input monitoring
USB power
Cubase LE
Lexicon reverb plugin
All of your input and output needs with a DAW and a third-party plugin from arguably the name in reverbs included.
Microphone
The best bang for your buck is to get a mic that can cover a wide range of sound sources and to find something that does it well for its price point. For our budget, my suggestion is:
Blue Microphones Spark: $200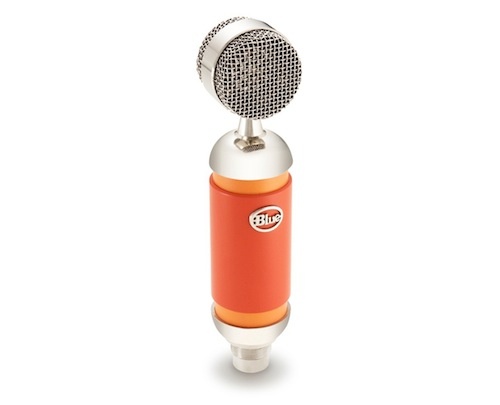 Image via proaudiostar.com
Blue mics are hard to go wrong with for mojo and quality, and now I can finally say that at a true entry-level price point. The Spark is a great sounding jack-of-all-trades type mic with a unique "focus" button that gives your sound a bit of a presence edge in a very musical and usable way. On top of that, it comes in an attractive case, with a shock mount and metal pop filter included. You'd be hard pressed to find a better first mic for your project studio at this price for both the sound and the features.
[9 Mics Under $500 That Sound Incredibly High-End]
Studio monitors
You need to be able to accurately hear what's going on within your recordings and do so outside of headphones. Not all speakers are created equal, and you need something that's reliable and that you can learn to work on to get the results you're looking for. All the plugins and all the gear in the world don't matter if you can't hear what they're doing. For our budget, my suggestion is:
M-Audio BX5 Carbon: $300 (pair)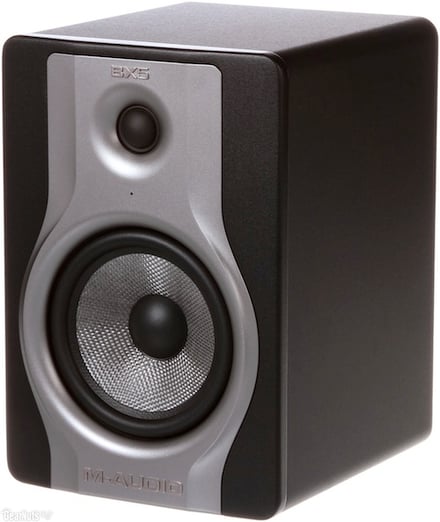 Image via gearnuts.com
These monitors may seem small, but their economical desktop footprint still packs enough punch for most any project in a near-field situation. While you may not be able to feel rumbling sub-bass on these boxes, they have a shockingly detailed bass response both for the price and the driver size. These monitors also give a relatively accurate picture that, with some learning, will yield very functional mixes.
Headphones
Fairly self-explanatory: a pair of headphones will give you something to monitor on while tracking, and also will provide you with another playback option for checking your mixes. For our budget, my suggestion is:
Sony MDR-7506: $100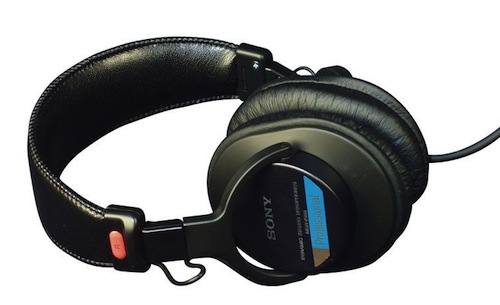 Image via frishfresh.com
Heralded by some as the "NS-10s of headphones," whether or not you buy into that line of reasoning, there's a reason you'll find at least one pair of these headphones in every major studio and among many live engineers' accessories: they just work. With good isolation and an accurate reproduction and response, I encourage you to try and find a better pair of $100 headphones. Sure, there are a slew of higher end headphones on the market, but as far as getting a pair that will accurately show you what's happening in your recordings at a budget-friendly price, they're nearly peerless. Take advantage of being able to get yourself an "industry standard" at such an entry-level price.
[7 Must-Haves for Session Musicians Recording at Home]
Accessories
You'll also need some cabling to put everything together and some place to put that mic of yours. This can be accomplished with:
Five-foot Pro-Co TRS-XLRM (pair): $34
15-foot Pro-Co XLR cable: $22
Onstage Euro Boom mic stand: $30
Home studio grand total: $786
There you have it: getting your home studio started for under $800. Now, there are a number of other considerations and options not addressed here that would be worth your while to look into as your budget increases. Things such as:
External hard drives for session data, samples, etc.
Control surfaces
How many inputs you'll need to record at any one time
Dedicated monitor controllers
Are you eventually looking to build an "in-the-box" setup or a hybrid setup involving outboard gear?
MIDI keyboards, pads, input devices
Plugins and soft-synths/samples
More application-specific microphones
What DAW do you ultimately want to work with?
The list goes on and on, because as I said earlier, the sky is the limit. The above setup, however, will get you going and on your way to creating music and capturing ideas the day you take it all out of the box without having to switch to a Top Ramen-only diet.
For more tips on getting the best sound every time, check out more from our resident "Angry Sound Guy."
Aaron Staniulis is not only a freelance live sound and recording engineer, but also an accomplished musician, singer, and songwriter. He has spent equal time on both sides of the microphone working for and playing alongside everyone from local bar cover bands to major label recording artists, in venues stretching from tens to tens of thousands of people. Having seen both sides at all levels gives him the perfect perspective for shedding light on the "Angry Sound Guy." You can find out more about what he's up to at aaronstaniulis.com.