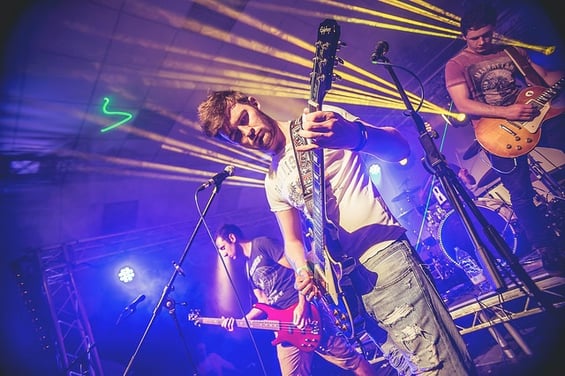 Image via flickr.com
When we think of gigging, we usually picture ourselves on the road, hitting big venues in cities across the country. And, as a result, a lot of bands try to jump to that way too soon, skipping out or cutting short the vital stage of local gigging.
For many musicians, playing your hometown just doesn't seem "cool." You might feel awkward promoting to people you know, or maybe you feel like the success isn't real because your friends feel obligated to be there. But the fact is, if you can't figure out how to make money in your hometown, you won't be able to make money on tour, so it pays to really own this stage in your gigging career.
After you learn about the top three qualities of bands that consistently sell out their hometown shows, you can go even deeper with my free online gigging workshop on Tuesday, October 20 at 7:00 p.m. EST. Ari Herstand and I will go through tips to book local gigs, promote your shows, and most importantly, get people in the door, so be sure to sign up!
1. They practice and perform as though the show is much bigger than it is
There's a common mindset that your local crowd doesn't matter. Many musicians see their local audience as just a stepping stone to bigger and better gigs in bigger and better cities, and as a result, they get sloppy.
Every time you play is a chance to make a new fan. Especially at the local level, just because someone came in the door doesn't mean they're your fan. They may have come for the beer or the company of their friends, so it's up to you (and your performance) to make the connection. Treat your local gigs like a huge stadium gig, practice like you're playing for 1,000 screaming fans, and perform like the crowd is hanging on every note you play.
2. They don't play the same area too often
If you're playing your hometown, you're probably going to be seeing the same people in the audience time and time again. These people could be your local fans, or they could be people who frequent that bar or club. Either way, you don't want them to become sick of you.
Think about it like this: even if your favorite band of all time was playing a local club every Saturday at 7:00 p.m., eventually, after seeing them for the umpteenth time, you'd probably get bored. The novelty and excitement disappears when you know you can just catch them next week when they play again.
With that in mind, you want to spread out your shows to keep the excitement levels up. Ari Herstand has found that playing a big local show every six to 12 weeks hits the mark. Of course, you need to make a living too, and live shows can be a big income boost, so try supplementing your bigger local gigs with house concerts, smaller gigs, or community and corporate events. They key is to keep it fresh and get in front of new crowds.
3. They give each and every show a purpose
Building off the previous point, another way to keep your shows exciting is to give them a purpose. Of course, an album release is a great purpose, but you can't exactly release an album every few weeks, so it's time to get creative.
Think about the last big concert you went to. If if was a part of a tour, it probably had some cool title that made it seem like a cool and exclusive event. Now, you probably shouldn't name every single small gig you play, but it's a great way to get more people out to those bigger gigs you play every six to 12 weeks.
One of my favorite examples is "The Unknown Order" show Ari and a few other bands did in Minneapolis. The performance order was drawn from a hat a few minutes before the show started, so all bands were on an equal level. The key is to really get creative with this. You could do a gig where all the bands perform their own unique cover version of the same song during their set, or maybe you ditch your usual distortion for a completely acoustic set.
[5 Ideas to Make Your Show Especially Memorable]
Of course, there's a lot more to booking and performing a successful local show than the points we covered in this article, so if you really want to own your local scene, make sure you join Ari Herstand and I in our free online gigging workshop. If you can't make it live, be sure to sign up to get the replay.
Next up:
Dave Kusek is the founder of the New Artist Model, an online music business school for independent musicians, performers, recording artists, producers, managers, and songwriters. He is also the founder of Berklee Online, co-author of The Future of Music, and a member of the team who brought midi to the market.